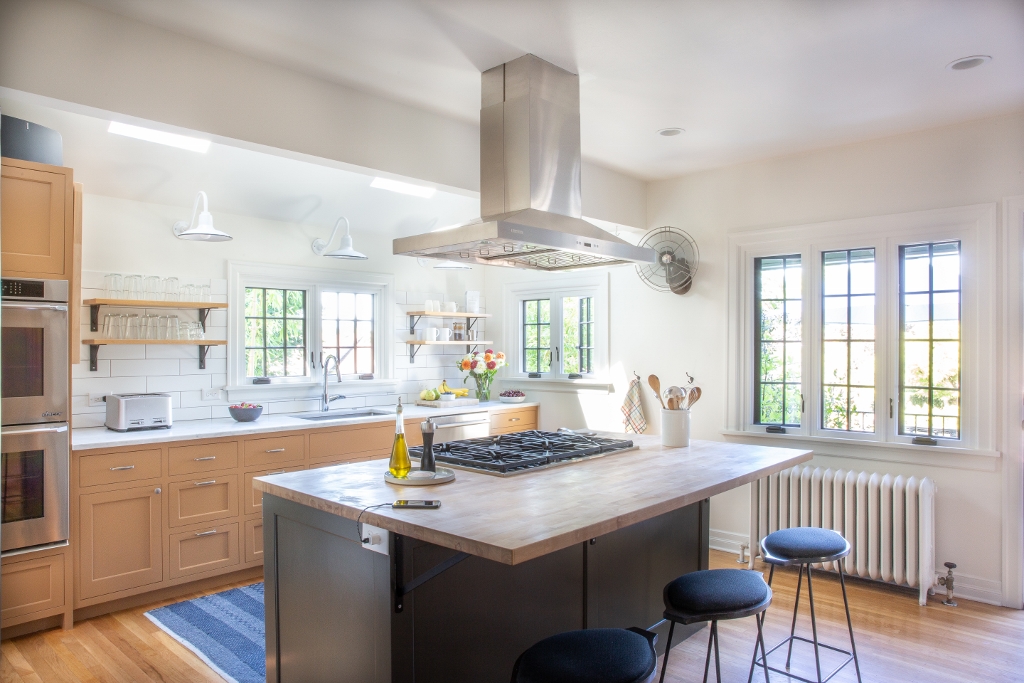 Gooseneck Lights in the Kitchen? Oh, But Yes!
When you consider kitchen lighting, it's easy to think of recessed cans, pendants, or even multi-light pendants for this much-used space. But we have begun to notice, dare we say, a trend, of gooseneck lighting in the kitchen.
We shared this gorgeous kitchen just last week where eight Aero Gooseneck Lights add a bold pop of Orange color to the space.
Today, we visit with Arielle in the Alameda neighborhood of northeast Portland, Oregon. As the owner and lead designer of Weedman Design Partners, Arielle tackled the complete remodel of her 100-year-old Tudor-style home with her husband and design partner Travis. Their efforts captured the Kitchen of the Year Award in 2018 from Oregon Home Magazine.
"The home is 3,000 square feet, and we wanted to update it to feel modern yet fitting with the historic nature of the house," Arielle says. "We wanted to keep it very simple and utilize a clean color palette."
For the kitchen, Arielle searched for lighting with a classic design that still fit with the contemporary framework they sought for the home.
"I have used Barn Light Electric for years on other projects," Arielle notes. "We like the assortment of sizes, finishes, and custom options as it makes it easy to find something to fit almost every style."
Arielle and Travis chose the Dominion Gooseneck Light for their renovated kitchen. They customized these handcrafted wall lights with 12″ shades, a crisp White porcelain enamel finish, and G26 gooseneck arms.
"With our vaulted ceiling, the functionality of the arm was important," Arielle explains. "The lights needed to come off the wall far enough to light the counter well."
Arielle notes that the white finish is historically appropriate for the home and she especially likes the black rim on the shades.
"That little black detail of the rim matches the trim of the windows and differentiates it from a solid color fixture," she says. "We're very minimalist and white is such a classic color."
Every porcelain shade Barn Light manufactures sports the black rim. Shades are coated with a black base then finished with multiple layers of the chosen color. Arielle's gooseneck lights add the warm, contemporary touch she envisioned.
"We wanted the space to feel comfortable and inviting," she says. "The lights look great!"
Photos courtesy of Corey Bruce