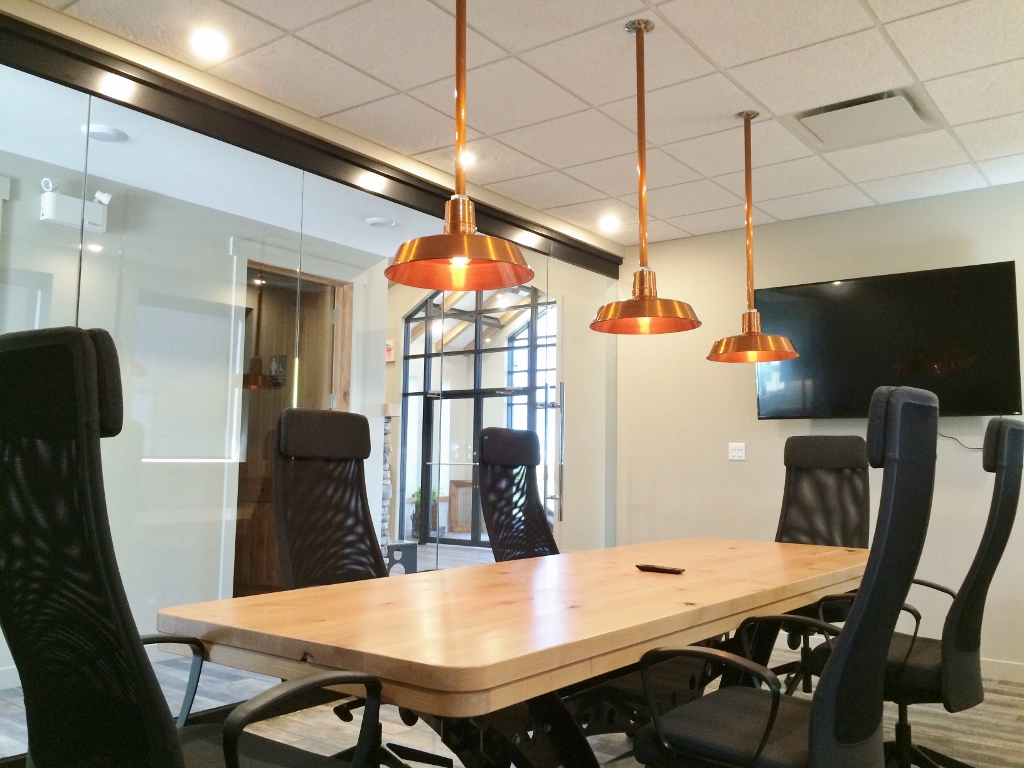 All You Need to Know | The Original™ Stem Mount Pendant
It all started with The Original™ — this iconic warehouse shade represents decades of classic style and has been one of Barn Light Electric's most popular shades for years. The Original™ was inspired by the gas station lights of the early 20th century, but is now found in almost every setting from traditional farmhouses and urban lofts to breweries and high-rise conference rooms.
Today we're featuring The Original™ Stem Mount Pendant and exploring how it can be customized and adapted to different spaces. Thanks to the sturdy stem mounting which houses and protects the wiring, this fixture can be installed indoors or out.
As Liz searched for the lighting for her photography studio, she wanted to customize the fixtures with a baby blue finish to match her Something Blue Photography brand. The Original™ Stem Mount Pendant provides the perfect solution with 16″ shades in a Delphite Blue finish. The wire guards and clear glass protect the bulbs on the busy street.
In this upstairs hallway, an Original™ Stem Mount Pendant adds the perfect touch of light and classic style. This hand-spun, 12″ ceiling light, which adds illumination to the stairs as well, features a Galvanized finish and is mounted on a 12″ stem.
Carol fell in love with the Original™ Warehouse Gooseneck Light for her garage. She coordinated the look for her front porch with two Original™ Stem Mount Pendants also with 12″ shades and a White finish.
Like all of our American-made lights, the Original™ is handspun from commercial grade aluminum and finished by hand in our Florida manufacturing facility. It's rugged enough for commercial and residential settings and, yes, even a barn. Carrie installed Original™ Stem Mount Pendants in her livestock barn with no worries. She customized these with 20″ shades, a Galvanized finish, and 6″ stems to keep them well out of the way of wandering animals.
Jennifer opted for the vented version of The Original™ to provide some uplighting to her porch. The Original™ Vented Stem Mount Pendant features a 14″ shade and narrow slot vents in the neck. The Galvanized finish was the perfect neutral choice to complement the surrounding 100-year-old barn wood, plaster, and reclaimed brick and stone.
Thanks to its versatility, The Original™ can also go upscale as shown in this executive board room. Three Original™ Stem Mount Pendants, crafted from raw copper, serve as a focal point and light source above the handcrafted table. These 16″ shades add an elegant air with their Raw Copper finish and 24″ copper stems.
And if you love the look of The Original™ but want a high-gloss finish, consider the porcelain enamel finish shown here in a Florida church. These warehouse shades are the same shape and style as The Original™ but are crafted from steel and finished with multiple layers of porcelain enamel.
Like all of our lighting, custom options are available such as extra-long stems and custom colors. Our award-winning sales team stands ready to help and can be reached by calling 800-407-8784, via email at sales@barnlight.com, or via Live Chat from our home page during regular business hours.