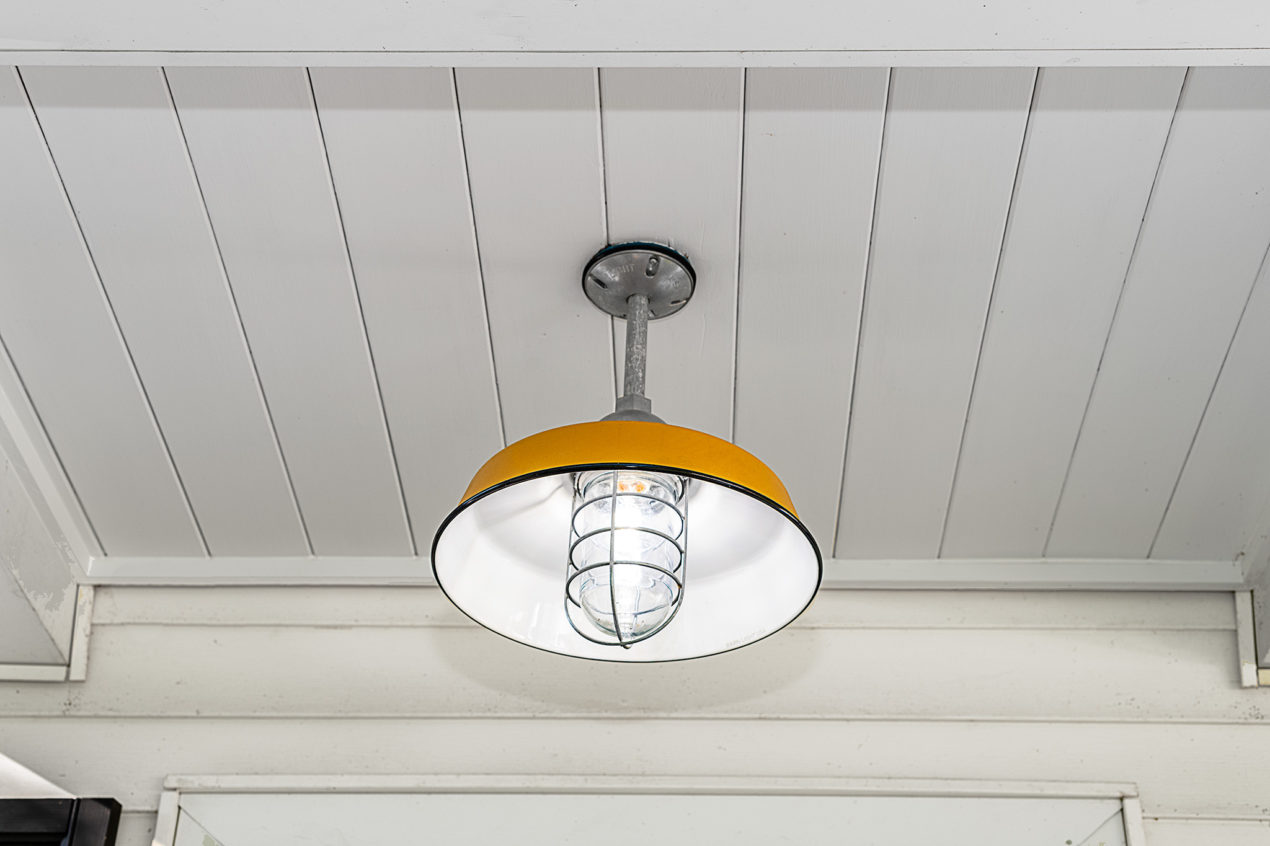 Vintage Industrial Style Updated for Today's Contemporary Spaces
Here at Barn Light Electric, we take the phrase Where vintage and modern collide to heart. It's more than just a clever tagline. Starting with classic designs and profiles, our artisans create fixtures with an expanded palette of finishes and modern options all without losing the character that makes vintage styles so appealing.
Our collection of Vintage Industrial lights is a perfect example. These pendants and gooseneck lights have roots in early 20th century explosion-proof lighting, but their high-gloss, porcelain enamel finish and updated customizing options give these fixtures a modern vibe.
Cindi chose the Chicago Vintage Industrial Gooseneck Light to adorn her refurbished barn as the classic style fit the aesthetic of the older building. She opted for a Metallic Chrome finish for the curvy, half-dome shades to add a touch of modern style. The generous 20″ shades are supported by G24 gooseneck arms.
This gorgeous barn is highlighted with 12″ Bridgeport Vintage Industrial Gooseneck Lights. These vintage-inspired shades are hand spun from commercial-grade steel and finished with a durable Black porcelain enamel finish that will never fade.
Our friend Loi Thai, featured here, recently transformed his garage into an inviting studio. His goal was to keep the utilitarian spirit and sensibility of the garage so he opted for industrial-style lighting. Two Rochester Vintage Industrial Cord Hung Pendants, customized with 18″ shades, a Graphite finish, and black-and-white cloth cords, take center stage in the space.
Jennifer also fell in love with the vintage style of the Rochester. Though she considered a gooseneck, the configuration for her front door didn't allow for a wall light. But a Rochester Vintage Industrial Stem Mount Pendant suited the space perfectly. This wet-rated pendant sports a 14" Yellow shade mounted on a six-inch stem. Jennifer rounded out the look with a Galvanized cast guard and clear glass.
Commercial spaces also benefit from an eye-catching, vintage industrial vibe. This new facility in Florida boasts a contemporary coastal look with the flared shade of the Cleveland Vintage Industrial Gooseneck Light offering the ideal combination of vintage style with a sleek profile. These fixtures feature 16″ White shades, G15 gooseneck arms, and clear glass for maximum light.
All five shade styles in this collection — the Chicago, Rochester, Bridgeport, Syracuse and Cleveland — come in gooseneck, cord hung, stem mount, and chain hung mountings to accommodate a variety of spaces.
All are easy to customize with shade size, finish color, cord color, plus cast guard and glass options. The high-gloss porcelain finish will never fade and is easy to maintain with simple cleaning. All styles are also available in LED!