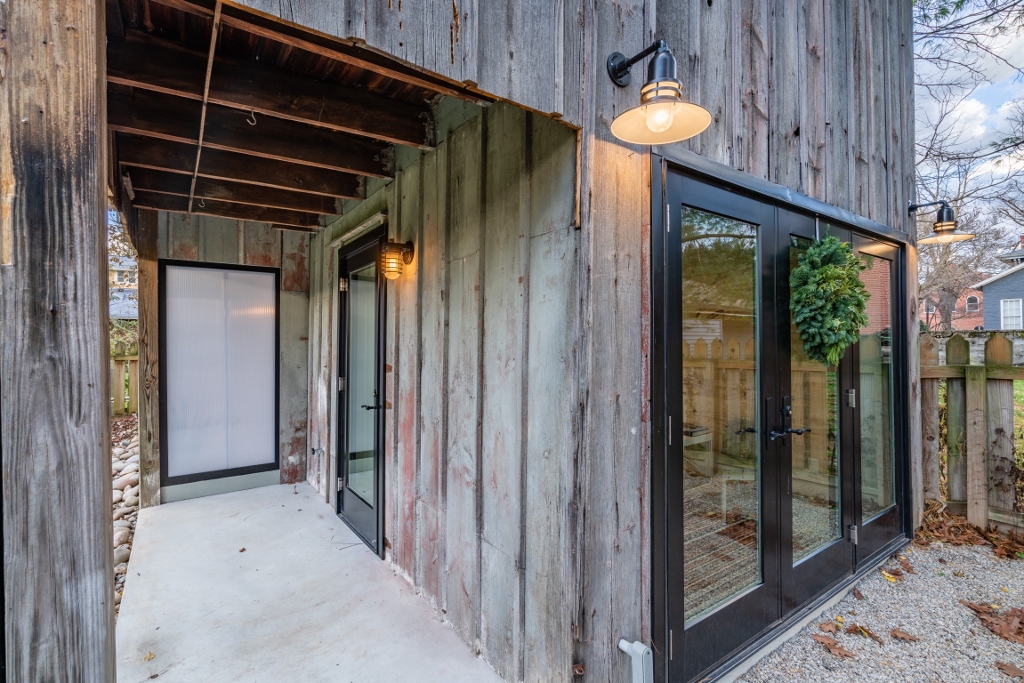 Barn Lights Offer Clean Design with Nod to Historic Past
With the advent of sites like Airbnb and VRBO, you can find a vacation spot with all the comforts of home in just a few clicks. Thanks to our Instagram feed, we recently discovered a beautiful Airbnb in the small town of Granville, Ohio, just 30 minutes from Columbus. 
The Granville Barn is a two-story, 500-square-foot structure fully renovated with modern amenities, A/C, heating, and wifi. When owners Elliott and his wife tackled the renovation, the 100-year-old barn was in sad shape.
"It was still standing, but tension cables strung east to west on the second level of the barn allowed the walls to give slightly," Elliott says. "Most historic barns of this sort get torn down or replaced by garages around here, but we wanted to preserve it."
A new concrete pour under the structure was anchored to new framing. This saved the historic exterior which is now supported by the new foundation.
"My wife and I had an awesome opportunity to put our fingerprints all over the design," Elliott explains. "We worked with the amazing architect behind Minoh who helped take our inspiration photos and ideas — from bleaching the concrete to dyeing the pine with wood lye — to get a clean, Scandinavian-inspired look."
When it came to choosing exterior lighting, Elliott searched for a company that offered clean designs with a nod to the past that would pair with the historic nature of the barn. Those keywords brought the couple to Barn Light Electric.
They chose the Cherokee Uplight Gooseneck Light to flank the French doors leading to the exterior gathering space. They customized these handspun lights with 12″ shades, a Black finish, G1 gooseneck arms, and frosted glass.
"The classic nature of the Cherokee's design paired great with the historic barn," Elliott notes. "We love the frosted look as it diffuses the light a bit and doesn't take away from the design of the shade."
By the front door, an Industrial Static Topless Ring Sconce adds a hint of industrial flair without losing touch with the historic roots of the barn. This cast-guard-and-glass fixture features a Black finish and frosted glass to match the gooseneck lights.
The barn has already received interest from folks visiting the local university or those staycationing from Columbus and Cleveland.
"They look like they've always been there," Elliott says. "They look very comfortable, but they also deliver a nice touch of style to illuminate how the barn has been modernized." For more photos of the barn, be sure to check out @thegranvillebarn on Instagram!
Photos courtesy of The Granville Barn