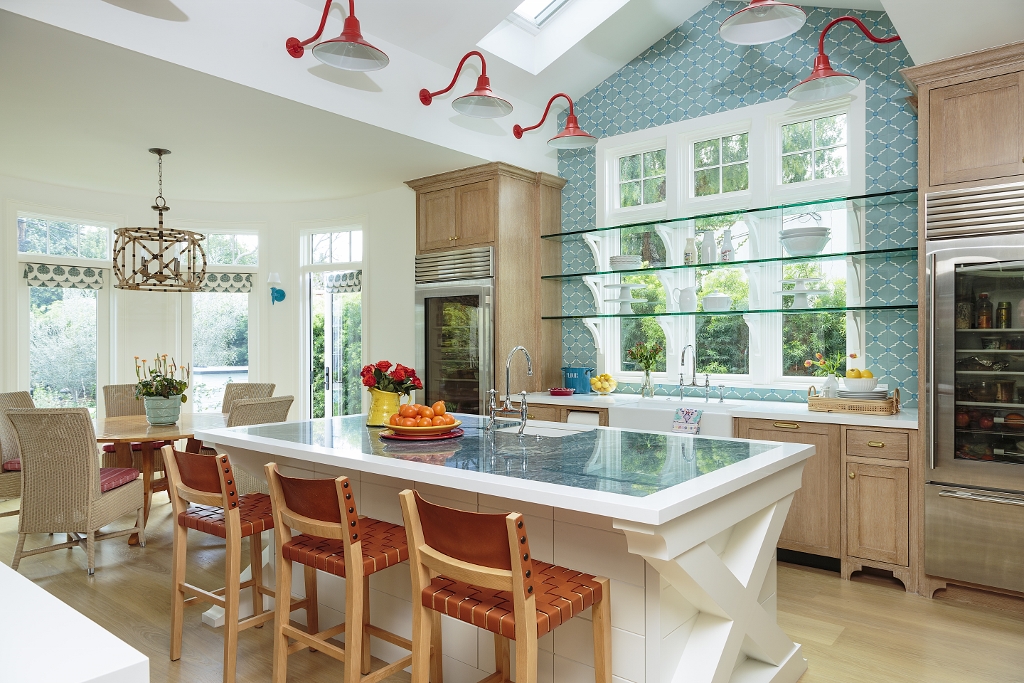 Bold Gooseneck Lights Add Wow Factor in West LA Home
Let's be honest. Adding color to a home design scares a lot of people. Choosing black, white, or maybe a galvanized finish for your new kitchen pendant light is a much safer bet.
Luckily, interior designers possess a keen eye for how and when to add color to a space. And one of our favorites is Alison Kandler with Alison Kandler Interior Design. We spotted one of Alison's recent projects on Instagram, and the kitchen photos were the talk of the office last week!
"This was a new construction home in the Brentwood neighborhood in west Los Angeles," Alison says. "Our concept was 'beach house' and I wanted to use all of the colors of the beach, sand, sea, sky, and coral."
The kitchen is a bright, open space filled with natural light. Anchoring the space with a white island in the center, Alison added sand-colored cabinets, sea-colored walls, and a splash of sunshine with eight gooseneck lights.
"I needed lights that would make a statement, fill a large space, and were easy to customize," she explains. "I also wanted a very casual look." Alison opted for the Aero Gooseneck Light for the kitchen. She customized these American-made wall lights with generous 16″ shades and G22 gooseneck arms all with a lively Orange finish.
"The gooseneck added a wonderful graphic shape to the large, open dormer," Alison notes. "I wanted fixtures that would really add personality and contrast to the space. Scale is very important and the large size was key."
While some homeowners may have balked at the suggestion of bold, orange gooseneck lights in the kitchen, Alison notes that the couple loves color.
"The lights are unexpected and they trusted me," she says. "The lights add a fresh accent to an otherwise monochromatic space."
Photos courtesy of Alison Kandler Interior Design
and Mark Lohman Photography