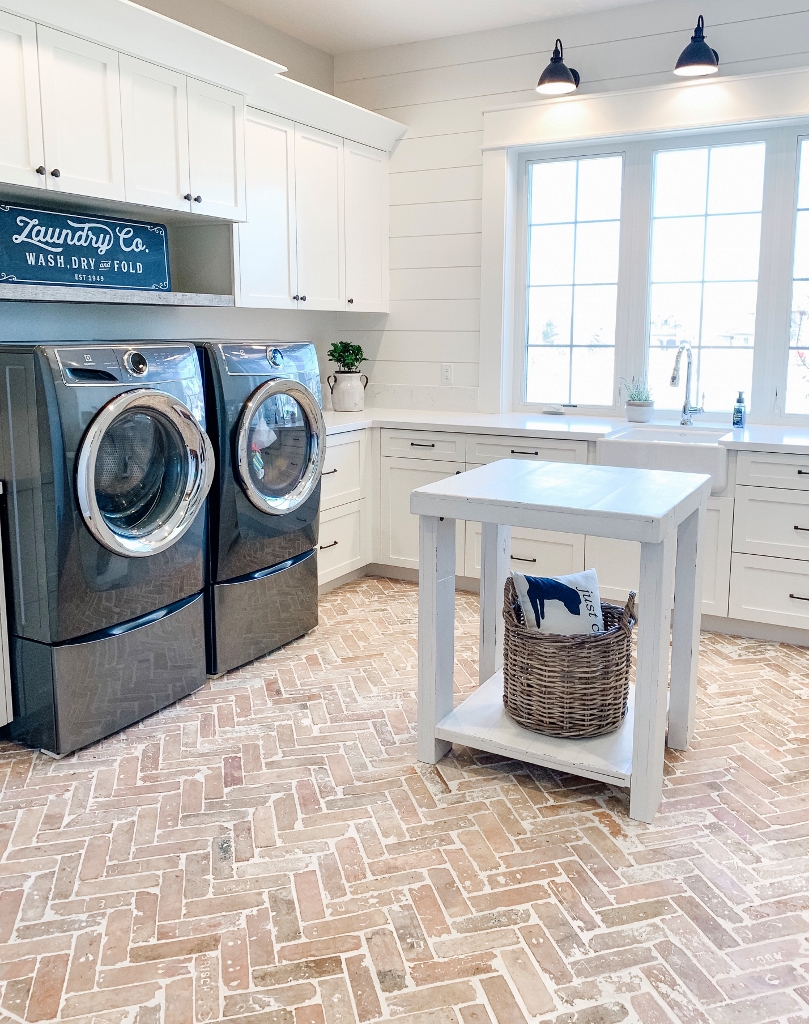 Barn Wall Sconces are Icing on the Cake in Laundry Room
According to a recent study,  roughly 35.5 million Americans move each year. And while a new job, a new home, or an easier commute may spark a change in location, many people leave a piece of their heart in the place they first called home.
Such is the case for Megan — a resident of Reno, Nevada, who has a deep love for her home state of Indiana. Her recently completed custom home in Reno gives a nod to her midwestern roots with its blend of modern farmhouse, cottage, and traditional design.
When Megan posted a picture of her new laundry room on her Instagram feed, the likes and positive comments started rolling in.
"The laundry room was inspired by my Indiana roots," Megan says. "I wanted to incorporate brick, shiplap, and farmhouse lighting into the laundry room because it is 'my space' and a reflection of who I am and where I came from."
Megan found Barn Light Electric through Pinterest where she shopped for room inspiration.
"I was always drawn to the large gooseneck lights I would see on the exteriors of farmhouse homes," she notes. "I really wanted to incorporate a smaller version of this light in my laundry room." Megan discovered the Gladstone Wall Sconce which was easy to customize with an 8″ shade and Black finish to suit her new space.
"I fell in love with the Gladstone Wall Sconce for this space the minute I saw them on your website," Megan explains. "I love that it is American made and that it has a farmhouse chic vibe to it. The fact that it comes in multiple sizes was icing on the cake because I needed a specific size for it to work and the 8″ is more than perfect!"
With its vintage details and deep shade, the Gladstone Wall Sconce provides the classic style Megan envisioned for her laundry room.
"I could not be happier with these lights," she says. "They are beautiful and functional. Everyone that comes over compliments these lights and remarks how great they flow with the room."
Photos courtesy of the homeowner