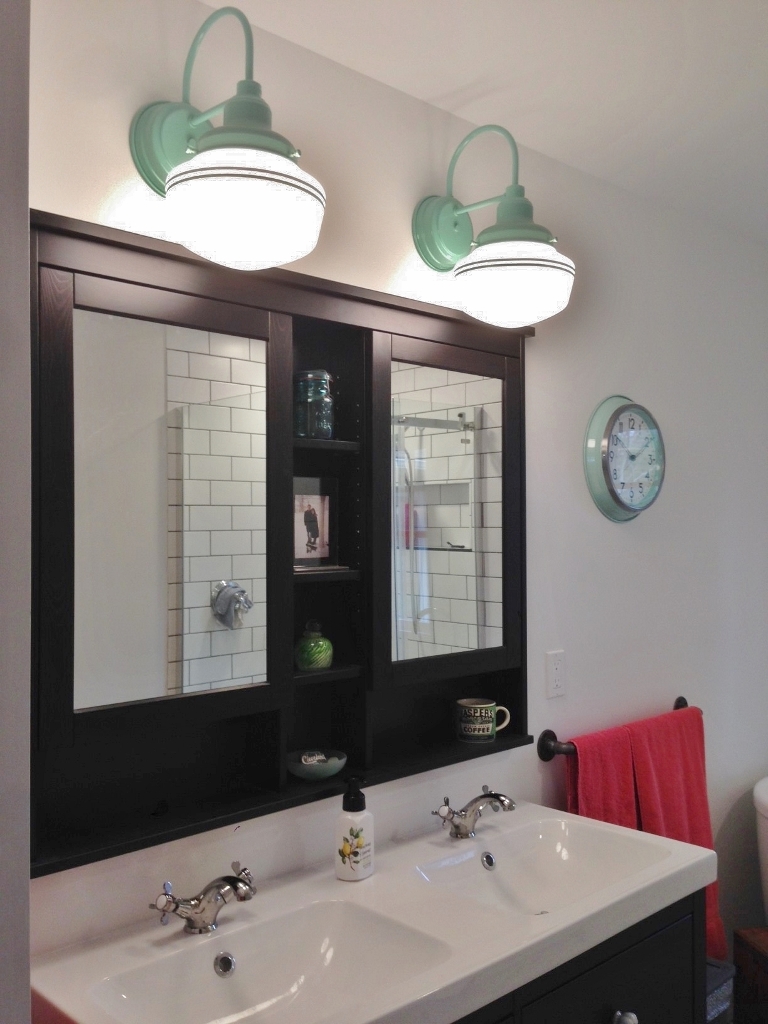 Add Personality to Easy-to-Customize Schoolhouse Wall Sconces
We see dozens of photos each week from customers who share their spaces with us on Instagram, Facebook and Pinterest. Lately we've spotted, dare we say, a trend in bathroom lighting.
Schoolhouse lights — classic fixtures first made popular in the 1930s when bare bulbs were tucked behind opaque glass globes — seem to be popping up in bathrooms more and more.
Like in this lovely space where Heather used the Primary Schoolhouse Gooseneck Light to brighten her morning and evening routines.
And above, the same fixture in Christina's bathroom is mixed with more modern Downtown Minimalist Adjustable Sconces for a perfect blend of vintage and contemporary styles.
Today's Featured Customer, who lives in a ranch-style home in Cleveland, Ohio, also wanted a classic style of light for her bathroom which had not been updated for more than 60 years.
"I wanted something fresh, classic, warm, and updated," Angela says. "Something that makes me smile every morning and something that says 'me' without alienating my husband." Angela removed peeling laminate and flaking brown tile and enlarged the phone-booth-sized shower. Her toilet is now hidden in the former linen closet, and her new tub sits underneath a new, larger window.
"Honestly, I thought I would buy a warehouse shade with a galvanized finish," Angela explains. But then she found our Schoolhouse Lighting and fell in love with the Primary Schoolhouse Sconce, a decorative wall light with all the charm of a schoolhouse light but with a compact mounting. She customized these American-made sconces with a Jadite mounting and fitter and double Jadite bands of color.
"I didn't want a clear globe and adding the stripes gave it so much more personality! This was a way to really make the bathroom something different from anything I'd seen before," she adds. "Once I picked the awesome Jadite color, the rest of the room's personality fell into place."
The Primary is easy to customize with dozens of finish colors ranging from Textured Black and Barn Red to Buttery Yellow and Angela's creamy Jadite. The sconce even has a plug-in option for those who want the convenience of moving the fixture easily.
"I love the lines of the sconce and that I could customize the color and globe," Angela says. "No matter how fancy the shower is or how modern the tub looks, the lights keep everything fun!"
Photos courtesy of the homeowner