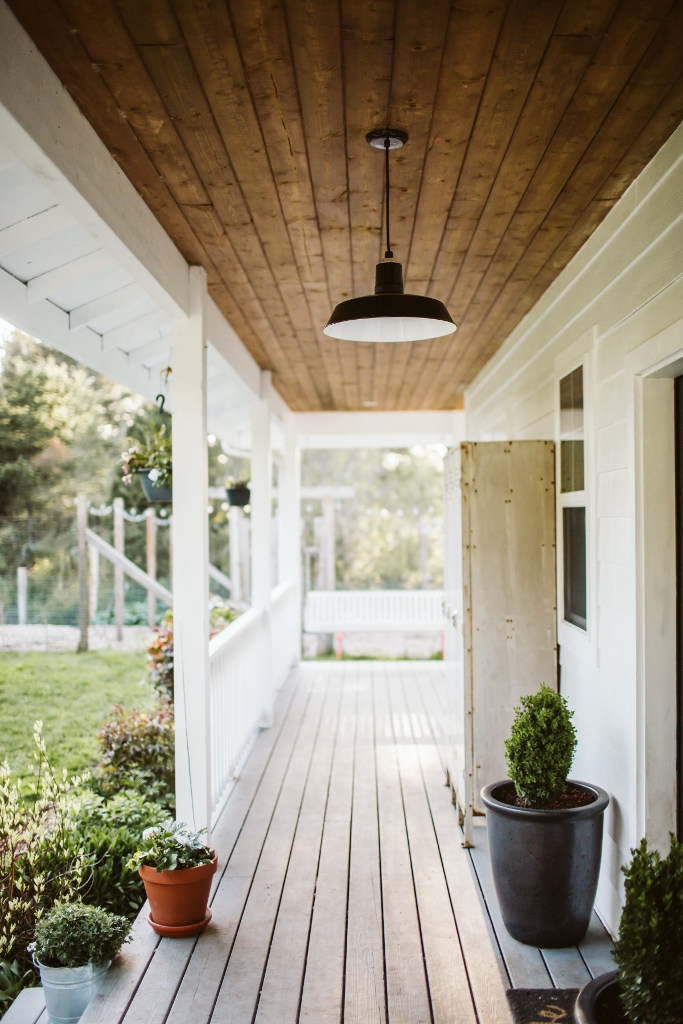 White Farmhouse, Classic Barn Lights a Dream Come True
When Sara Parsons and her husband Sean built their farmhouse almost 13 years ago in the beautiful Pacific Northwest, it was a dream come true.
Except for one small detail.
"I always wanted the farmhouse to be white," Sara says, "but everyone convinced me not to do it." Fast forward to today and Sara's dream is finally fulfilled as the couple recently repainted the exterior of the home a brilliant white.
"It was a happy day when my dream of a white house finally came true!" Sara says. The only problem after the paint dried? Sara's lighting suddenly looked tired. And so it goes with home renovations — one thing leads to another!
"Once our house was painted, I knew we would need to update our lighting," she notes. "I love mixing styles, and I think it's OK to mix old with new, modern with rustic." For the perfect mix, Sara chose classic RLM-style warehouse shades from our exclusive Porcelain RLM Collection. On the deep porch, the Original™ Warehouse Pendant Light highlights the front door with its generous 16″ shade.
Sara customized this American-made ceiling pendant with a porcelain enamel Black finish and standard Black cord. The cord is damp-rated which is suitable for spaces protected from direct exposure to the elements.
"I love this light because I think it's the style you would see on an old building, but it still has a modern feel with the shiny black finish," Sara notes. "I love that you can go to the Barn Light Electric website and find exactly what you want — size, length, everything!"
For the attached garage, Sara stayed with the traditional warehouse shade and installed two Original™ Warehouse Gooseneck Lights. These also sport 16″ shades and Black finish to complement the porch light. These handcrafted gooseneck lights are affixed to G15 gooseneck arms to bring them about 17″ away from the mounting surface.
"When deciding on the size for these lights, we factored in how far we wanted them to come out from the garage," Sara explains. "Our children play basketball out there, so we knew we didn't want them to get in the way. These are the perfect size for what we needed." Sara loves the style of her new lights and how they disperse light throughout the space.
"I love the feel the lights give the house and how they stand out against the white walls," Sara says. "It's amazing what new lights can do to change a space and these Barn Light Electric lights are the perfect finish to our home!"
Photos courtesy of Sara Parsons Photography