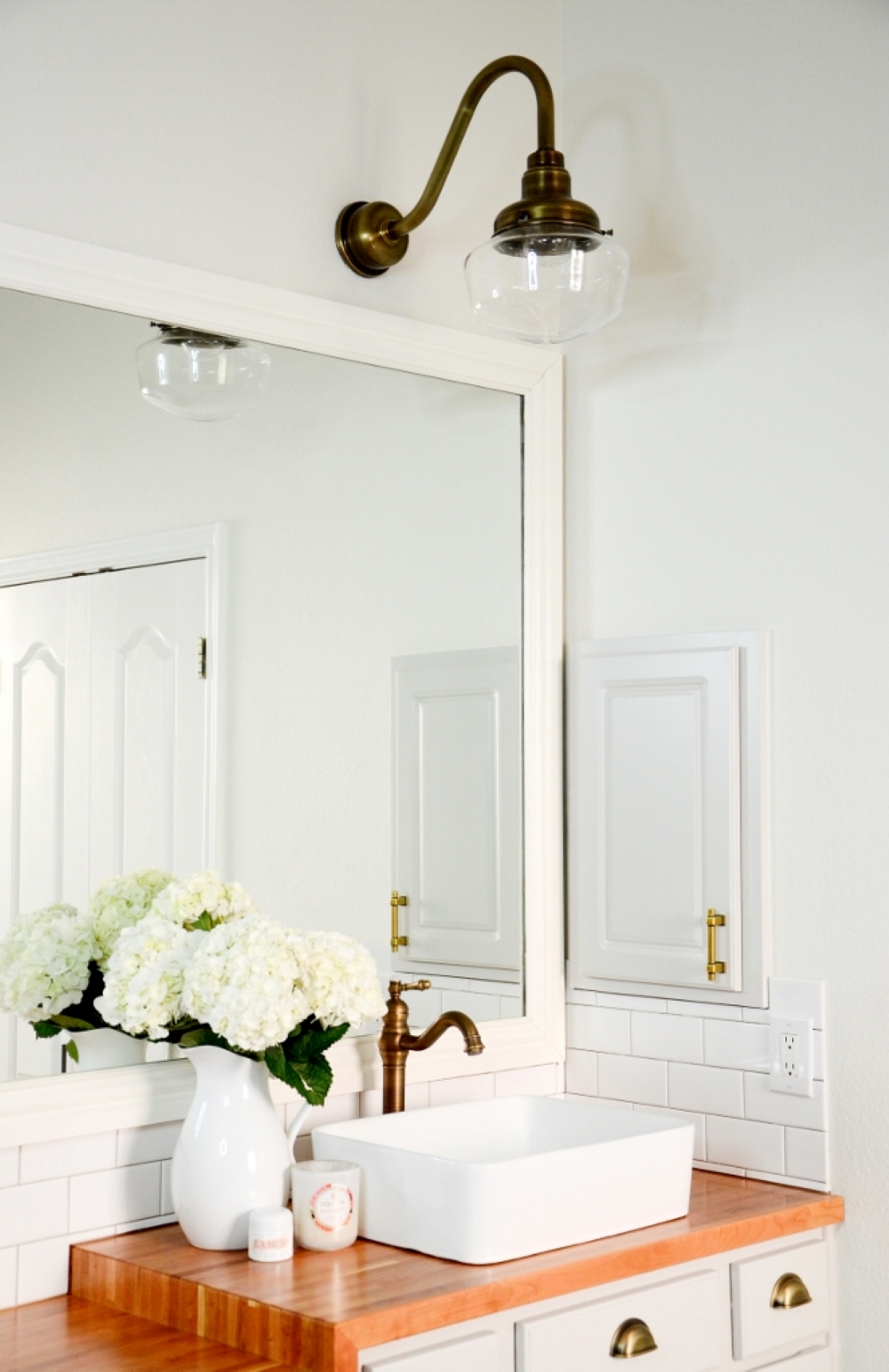 Brass Schoolhouse Lights Add Glamorous Touch to Bath
As the founder and creator of Celebrity Style Guide, Heather Campbell-Green's career is fueled by her passion for fashion. With an extensive network of set costumers and celebrity stylists, Heather explores the latest fashions with her legions of followers and often consults on television and movie sets. When the time came to remodel her own master bathroom, Heather looked to celebrity homes for inspiration.
"I found out your beautiful light fixtures are staples in celebrity style homes so I think this is the perfect fit!" Heather says. She wanted to replace the "ugly, wall mount" fixtures currently in place with lights that could jazz up the mirror and add depth and dimension to the space.  She chose the Primary Schoolhouse Gooseneck Light to handle the task.
"This classic schoolhouse light design offers a stylish yet unique look," Heather explains. "It brings a certain wow factor and that thoughtful design touch I was looking for in the space." Heather customized these handcrafted lights with small glass globes, a Weathered Brass finish, and G11 gooseneck arms.
"I have to admit that, in the past, I had no interest in brass, copper, or gold of any kind. And now my tastes have done an about-face," Heather notes. "I loved the weathered brass because it fits so well with the warmth of the butcher block countertops, sink, and pulls we chose. The weathers brass looks so luxurious. I love it!"
A Raw Brass finish is also available for this light as are optional painted bands of color on the globe.
"I wanted the look to be clean and simple yet glamorous," Heather says. "The lights speak volumes all on their own without being overwhelming to the space. I love how they complement the other design elements in the bathroom and make the space feel uniquely ours." To see the transformation of Heather's bath including great before-and-after pics, check out her reveal post here!
Photos courtesy of Celebrity Style Guide