Outdoor Lanterns Lend Classic Nautical, New England Style
One can just imagine standing inside this home and peeking through the porthole window to gaze at a rocky shoreline and crashing waves beyond. This entryway just screams New England — from the shingle siding with its soft gray tones to the bright white accents and, of course, the perfect touch of an outdoor lantern providing a warm welcome to those crossing the threshold. The lantern has been a quintessential element of New England culture for hundreds of years. From the tales of Paul Revere's famous use of the fixture to simple coastal cottages that left a light burning for fishermen coming home after dark, the lantern has a lasting legacy within colonial America. Today, the lantern provides accent and ambient lighting proving itself to be both functional and decorative in a variety of home styles.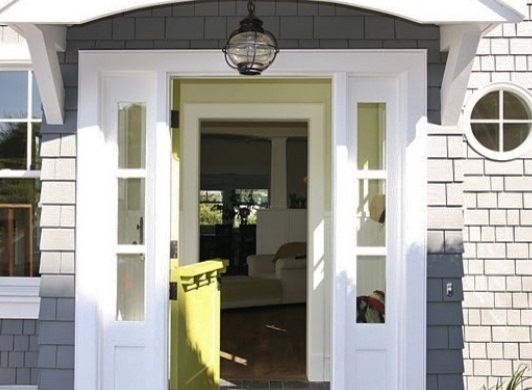 This handsome light looks very much like our Portsmouthe Exterior Pendant, part of our collection of Outdoor Lighting which includes not only the Exterior Pendants, but Outdoor Lanterns, and Copper Gas and Electric Lanterns as well. The Portsmouthe Pendant comes in both medium and large sizes and sports nautical and colonial features. Constructed of hand forged iron, the chain hung Portsmouthe Pendant has clear glass and is finished in a Boston Bronze with rust accents.
A beautiful complementary fixture is the Portsmouthe Barn Lantern, a wall mounted lantern that would serve as a handsome addition to any garage, front porch, carriage house, or hallway. Available in three sizes ranging from the small, nine inch model to the large, 12 1/2″ wide version, the Portsmouthe Barn Lantern comes in the same Boston Bronze finish with rust accents.
And just because these lights are classified as "outdoor" lanterns, don't let that stop you from hanging them indoors! Both the Portsmouthe Lantern and matching Pendant feature the same large glass globe with a wire guard that will give your interior spaces a sweet nautical flair!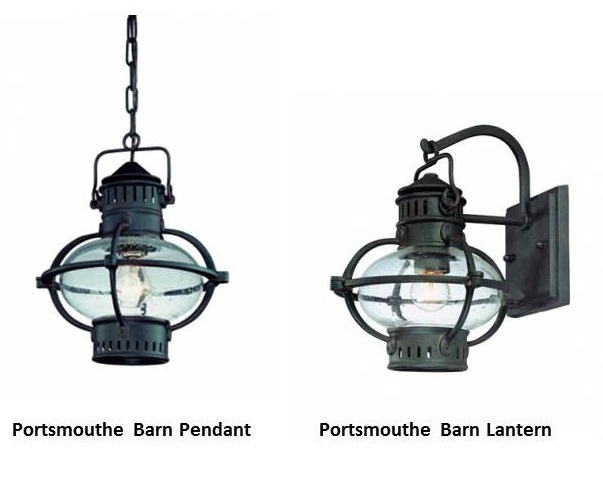 Top photo courtesy of Farmhouse Studio for Houzz