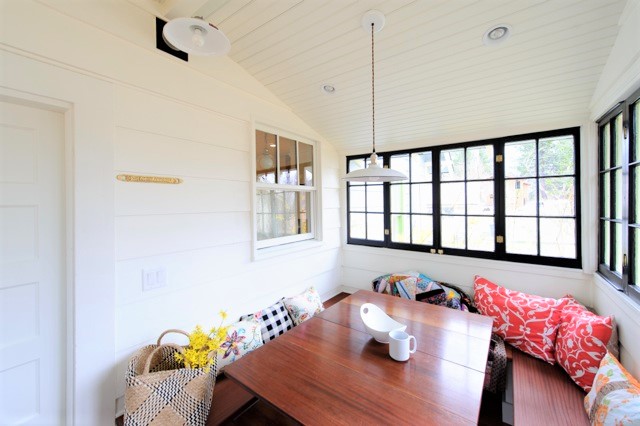 Porcelain Enamel Pendants Add Exclamation Point to Design
In a recent blog post, we visited with Sarah Phipps, a resident of Bend, Oregon, who has been flipping houses for a number of years. Recently, Sarah finds herself spending more and more time in design consultation. Clients are eager to tap into Sarah's eclectic style, her skill set, and years of on-the-job knowledge. On a recent project, she transformed a tiny kitchen in an old mill cottage into a functional and funky space. Today we check out the living area of another original mill house located on the west side of Bend near the Deschutes River.
"I own three cottages here and remodeled them as a group intending to use them as vacation rentals," Sarah says. "I wanted the house to feel fun, fresh, and modern but also refer back to its history and the history of Central Oregon and the Northwest." As she has done many times, Sarah de-modeled a lot of things that had been tacked on to the original structure and tried to reuse the best parts of its past.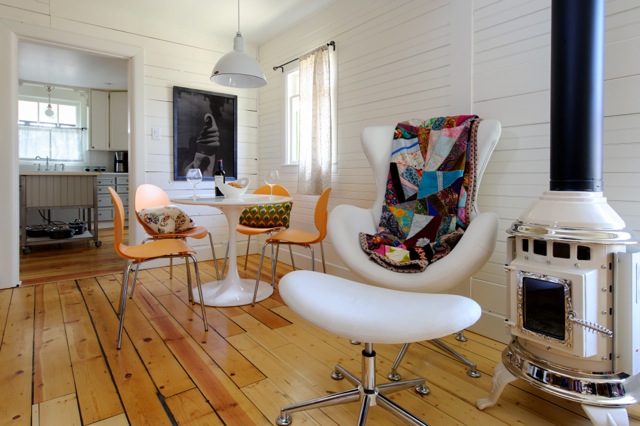 For the breakfast area, Sarah wanted a simple, oversized pendant. She chose Barn Light Electric's Wilcox Deep Bowl Pendant Light and customized it with a 16″ White shade.
"I was so excited when I opened it because it is so big!" Sarah explains. "It makes a statement and I like the contrast with the smaller table. It makes the corner feel larger than it actually is."
In the sunroom, Sarah imagined a place where people would gather on a summer night to play cards or sit with the paper drinking their morning coffee. She wanted the space to feel simple and classic like a cross between a summer house and an old library. She chose the American-made Sinclair Industrial Pendant Light for its sleek profile and the option for a high-gloss , porcelain enamel finish. She customized this light with a polished nickel socket and knob switch and a brown cotton twist cord.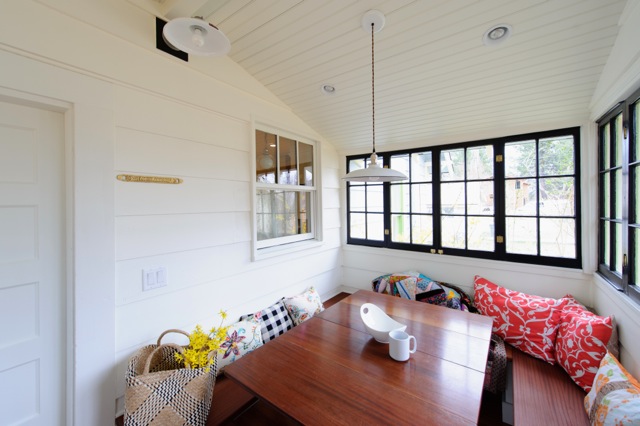 "The white porcelain finish is really beautiful. It's very thick and sturdy looking," Sarah says. "It looks like something that was made 100 years ago just like the house. And the cloth cords are a nice tactile addition that add to the vintage character."
Sarah also wanted a light that could be left on at night for when people returned to the house. The 12″ Marathon Gooseneck Light was perfect for that job and she installed one on the porch and one on the exterior of the house as well.
"When I open the box, I'm never disappointed. The quality is always there," Sarah says. "The lights are always heavy and beautiful and well built. I love the fact that someone is still making these lights and that Barn Light keeps coming up with new styles that are classic and vintage but also work in modern settings."
Photos courtesy Sarah Phipps and photographer Joseph Eastburn