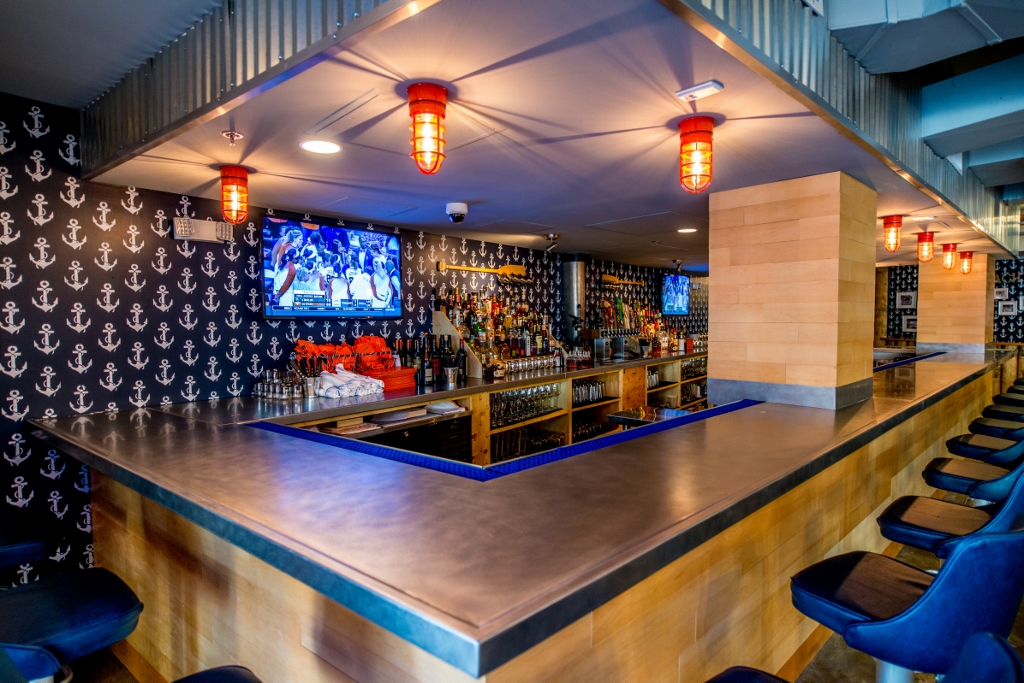 Nautical Lighting for Waterfront Restaurant
The name says it all. What would you expect to find at the newly opened Orange Anchor restaurant located in the Washington Harbour at the Georgetown waterfront? A nautically inspired space filled with playful pops of brilliant orange to complement the wide variety of fresh seafood, steaks, burgers, and craft beer.
Reese Gardner, owner of the Wooden Nickel Bar Company which created the Orange Anchor, embraced the location and carefully chose colors, decor and nautical lighting to support the name and concept of the venue.
"We wanted it to resemble a yacht," Reese says. "We wanted a chic look with clean lines and pops of orange and steel." For the bar area, Reese went bold with the Flush Mount Guard Sconce in a vivid orange powder coat finish color. Inspired by nautical guard-and-glass fixtures, these American-made ceiling lights bring an industrial vibe to the bar. Reese customized these rugged flush mount lights with a standard cast guard and clear glass.
"They fit with the theme and concept," he notes. "We wanted all of the accessories to have a pop of orange to fit the venue name or pay homage to the boating/yachting theme."
Reese also selected several Anchorage Bulkhead Wall Mount Lights for their space-saving profile that projects only a few inches from the wall. These wall lights are reminiscent of the portholes found on ships and are rugged enough for commercial lighting needs but stylish enough to suit any residential space.
"We couldn't ask for anything more from the lighting. They fit the venue perfectly," Reese says. "All of them resemble something you would find on a yacht or boat. Plus, they're very unique and are a great conversation starter. We get a lot of compliments on them. They are the smaller details that all add up to be a large part of the overall feeling of our restaurant."
Photos courtesy of Orange Anchor