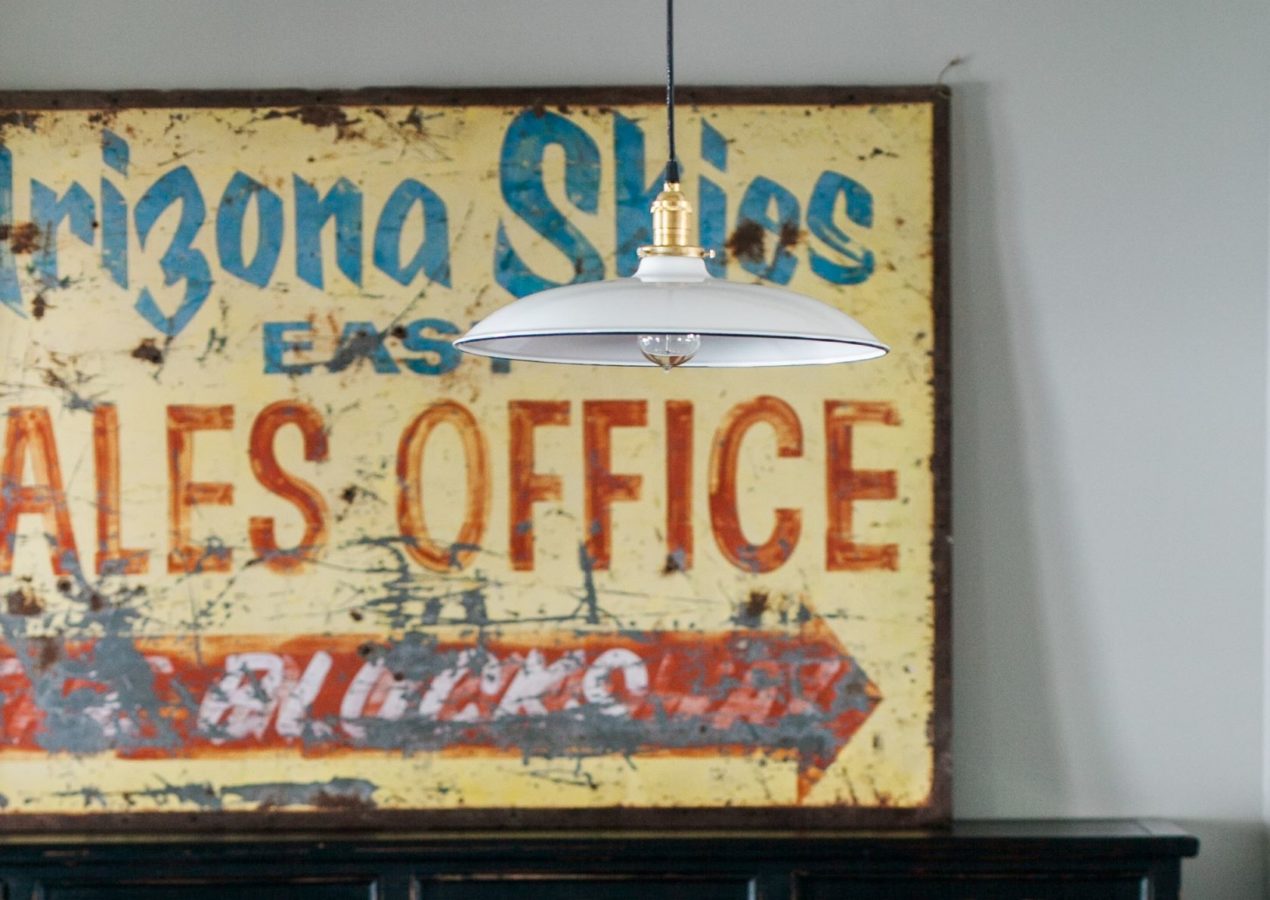 Discount Barn Lighting Lends Farmhouse Feel to Dining Room
We love people with a passion. And just like our fervent devotion to vintage-inspired lighting, the people at Rafterhouse are dedicated to the careful renovation and preservation of post-war era ranch homes. Austin King and business partner Chris Liles have focused their Phoenix, Arizona, business on transforming these spaces into modern-day dream homes.
"We hate seeing ranch homes lose their charm," Austin says. "We strive to build, enhance, and upgrade these homes while staying true to their historical roots and the character and integrity of the neighborhoods they reside in."

A recent project, located in the Arcadia neighborhood of Phoenix, involved a thorough remodel where a "substantial chunk" was demolished and another 1,000 square feet of living space was added. In the dining room, the design team chose a pair of 16″ Porcelain Sinclair Shades in a bright white finish. These fixtures were customized with a standard black cord and a polished brass socket with a paddle switch.
"A good chandelier is hard to find, so we wanted to go with a double pendant — something we had never done before," Austin explains. "The farmhouse style of the pendants paired well with the rustic, natural feel of the large, truss-like beam cross crossing the great room."
These lights are hand spun from commercial grade steel and hand finished with three layers of porcelain enamel glass. Because of this hands-on process, minor faults sometimes occur. The shades that don't pass our rigorous inspection process may have small chips, bubbles, or color variations. The lights are fully functional and loaded with character.
"The white color pops appropriately with the gray wall color and the brass socket ties in well with the brass fixtures and cabinetry hardware in the adjacent kitchen," Austin says. "The Sinclair Pendant is a bit softer and gentler in shape than a traditional barn style shade. This allows the vintage Edison style bulb to be seen and the light to disperse a bit more evenly across the dining room table."
"We have known of Barn Light Electric for quite awhile now," Austin says. "You guys have some of the best lighting in the industry!" To see more pictures from this beautiful renovation, check out this Rafterhouse Gallery.
Photos courtesy of Karie Denny and Rafterhouse