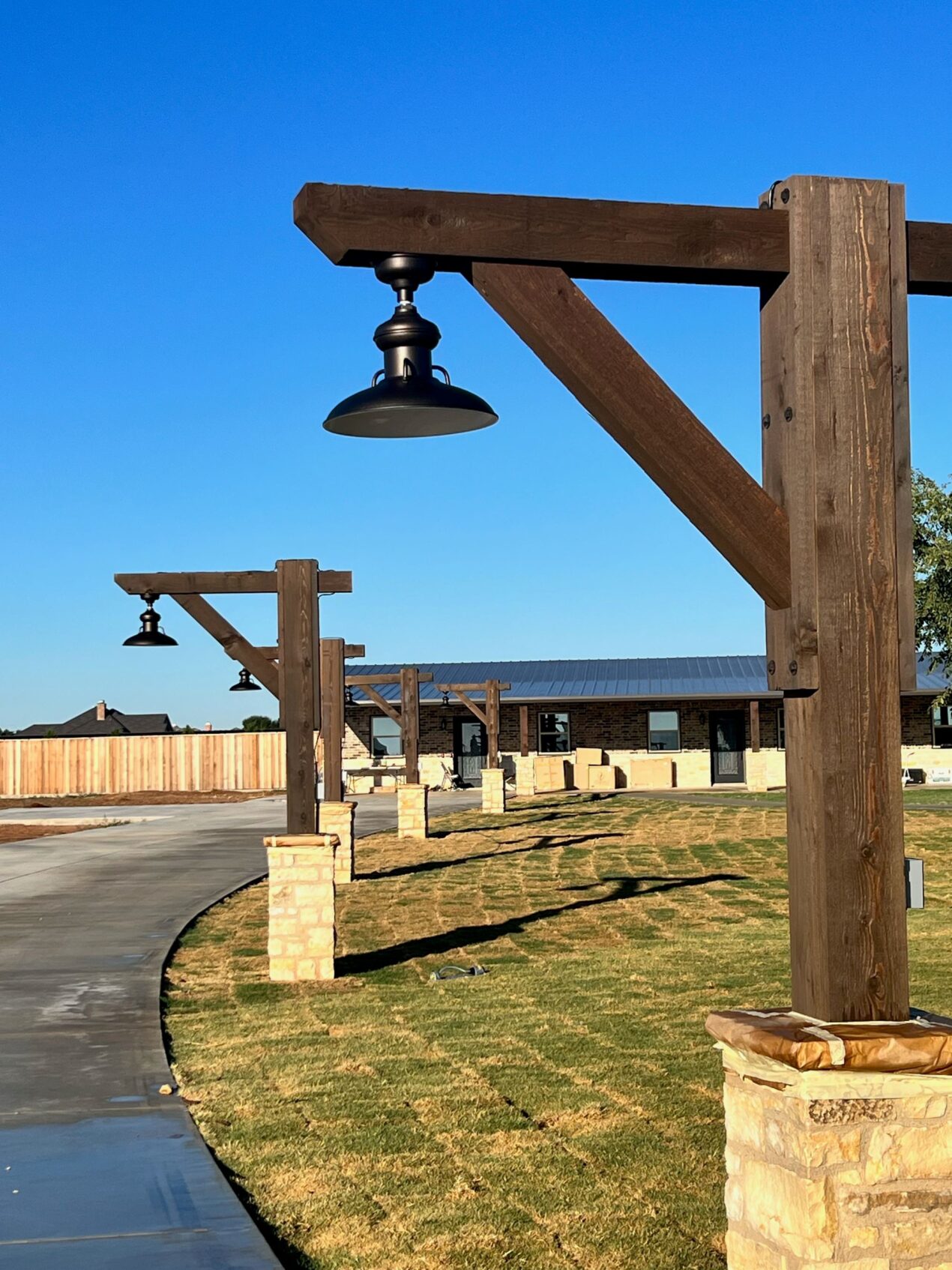 Blend of Vintage & Modern Creates Warm Farmhouse-Style Welcome
Outdoor lighting serves many needs from providing security after the sun goes down to creating an aesthetic accent to your home or property.
Any fixture used in an exterior setting that is exposed to direct rain or snow must be wet rated. These fixtures ensure that all of the electrical wiring is enclosed and protected completely from moisture. You can read more about wet vs damp vs dry ratings in this blog post.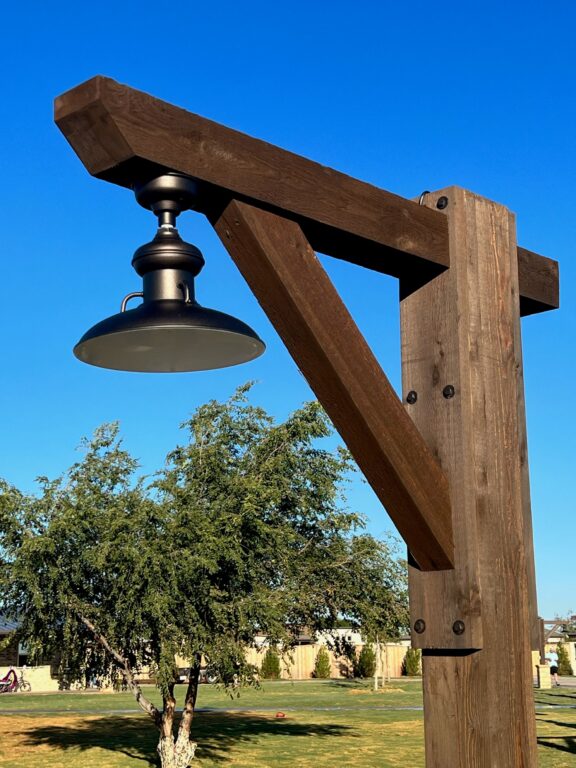 When Jennifer wanted to add new landscape lighting to her driveway, she searched for wet-rated fixtures that could be customized easily. Cost was also a driving factor in her hunt for lighting that was not only functional but that would add another design element to her property.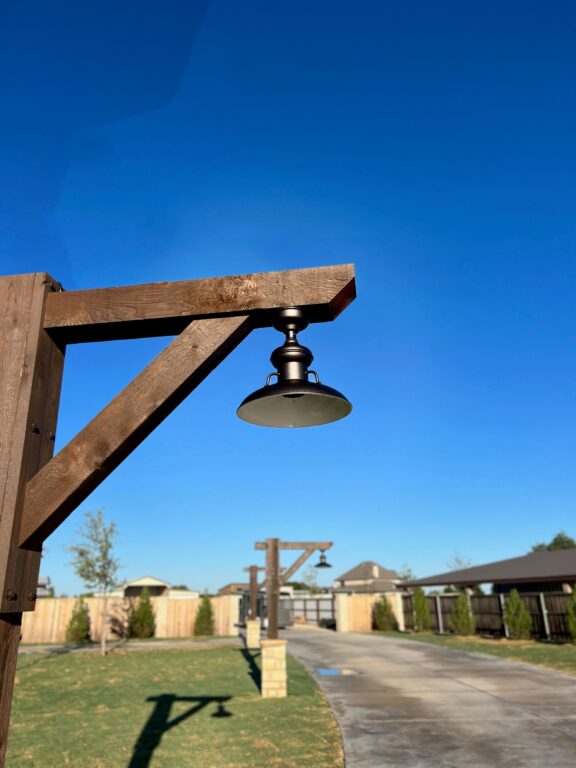 During an internet search, Jennifer discovered Barn Light Electric where she browsed our collections of high-quality, American-made lighting suitable for exterior installations. She selected the Laramie LED Stem Mount Pendant to highlight her driveway. She customized these handcrafted lights with 16″ shades in an Oil-Rubbed Bronze finish. She also selected the 850 lumens package, 3500K bright white color temperature, and a flat lens for each fixture.
"We were going for a rustic farmhouse feel," Jennifer says. "Everything on the interior and exterior of our home is Oil-Rubbed Bronze so we wanted to keep it all the same color." The fixtures are wired into wooden mounting arms set in stone along the driveway creating a warm and inviting welcome to family and friends.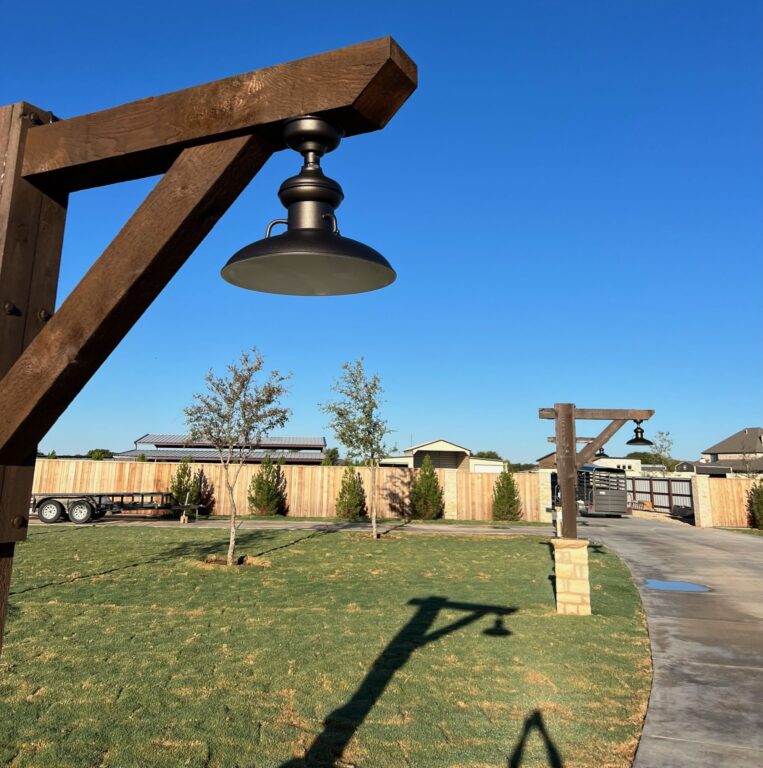 The Laramie is a classic RLM-style shade with slender arms connecting the shade to the stacked neck. An integrated LED module provides energy-saving, environmentally friendly illumination with no light bulbs to change. It is also available as a gooseneck light, wall sconce, cord-hung pendant, and flush mount light.
"We love the design of the lights," Jennifer says, "and the light they give off in each section of the drive."
Photos courtesy of the homeowner