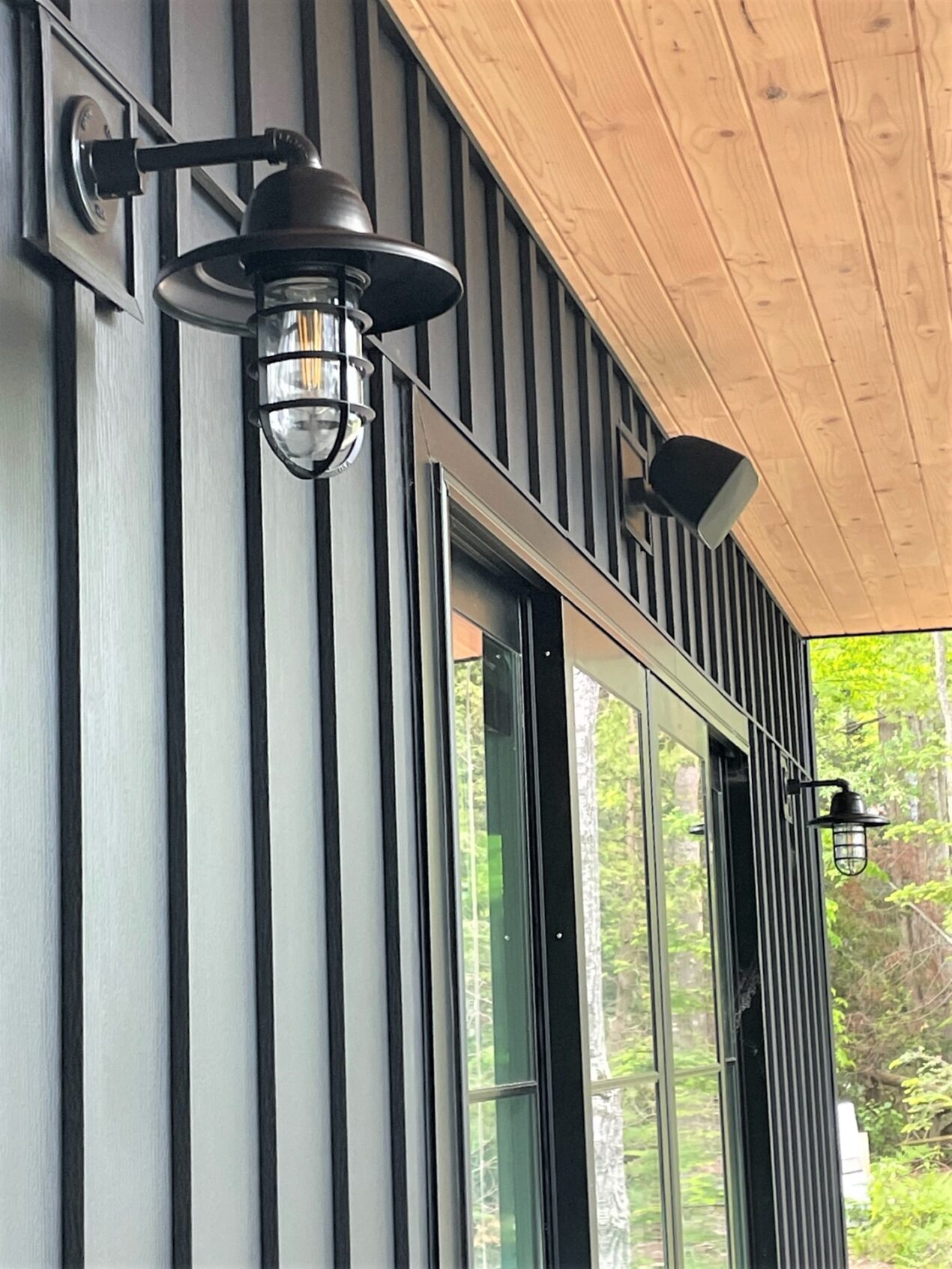 Handcrafted Lighting Stands Up to Harsh Michigan Winters 
About eight years ago, on a leisurely stroll through the island town of Key West, Florida, Howard spotted a home that stopped him in his tracks. It wasn't the style or the color that caught his eye, but the exterior lighting from Barn Light Electric.
"I took a picture to show my wife Kristi," Howard says. "We ended up buying 10 lights for our Texas home." When the couple recently built a new home in Kewadin, Michigan, they turned again to Barn Light for quality, easy-to-customize lighting.
Howard and Kristi's new home is surrounded by farms that grow apples, cherries, and grapes for nearby vineyards. The couple opted for a contemporary farmhouse to pay homage to the surrounding environment.
"The exterior is all black steel, board-and-batten siding with a stone-covered chimney," Howard explains. "There are large Douglas fir timbers in a reddish hue to accentuate the feel. We knew Barn Light's quality and style were exactly what we wanted on this build."
For the entryway, Howard and Kristi chose the Syracuse Vintage Industrial Stem Mount Pendant. They customized these handspun fixtures with 18″ shades, a powder coat Black finish, and 36″ stems. Standard cast guards and clear glass complete the look they desired.
"Elegance is sometimes defined as 'more is less' and these two lights are simple but, at the same time, make a bold statement to the entrance," he notes. "The 18″ diameter shade is just the right size to not be cumbersome but not so small that they become lost in the design."
Two Original™ Warehouse Gooseneck Lights flank the stone fireplace while another highlights the garage door. These American-made gooseneck lights are customized with 16″ shades, a powder coat Black finish, and G22 gooseneck arms. The fixtures also feature standard cast guards and clear glass to match the entryway lights.
"We chose these options as the south end of the house is exposed to Grand Traverse Bay. In the winter, we can have 60-mile-per-hour winds," Howard says. "We didn't want too large of a 'sail" in the wind, plus we wanted to stay proportioned to the size of the doors."
The west side of the couple's new home also gets battered by winter storms so they chose the Industrial Guard Sconce to light the decks. They customized these wall lights with the same powder coat Black finish, a warehouse shade, standard cast guard, and clear glass.
"We have six of these lights on our Texas house and we like their durability," Howard notes. Crafted with commercial-grade materials, these wall sconces are rugged yet stylish, and the wet rating means they can handle whatever Mother Nature dishes out.
"We have gotten many compliments on this home. The barn lights are the perfect touch to pull together the entire retro farmhouse look," Howard says. "These fixtures are great quality and great durability as well."
Photos courtesy of the homeowner