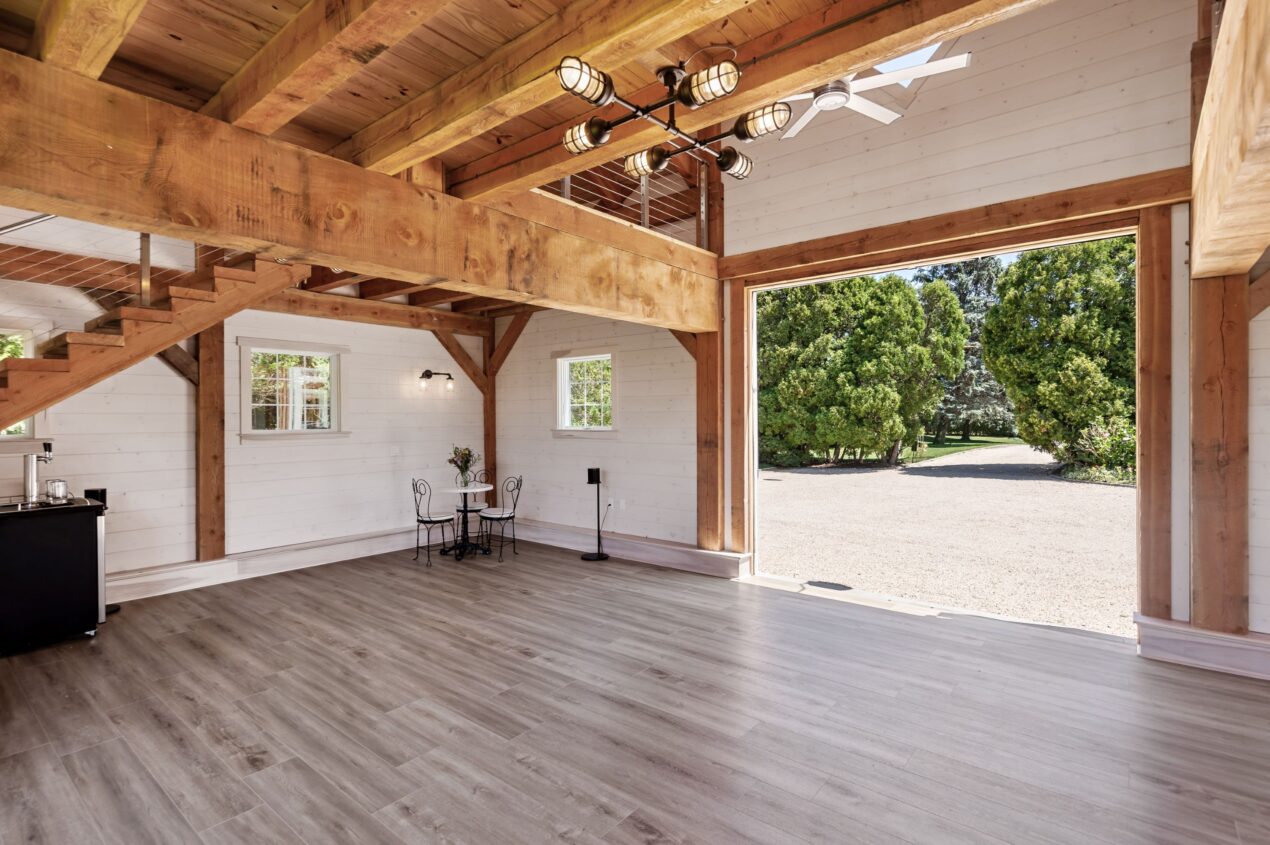 Zen Meets Strength: New Barn Houses Yoga & Karate Studio
Last week, we shared the story and pics of a new barn built in Colorado that not only stores cars and bikes, but has plenty of room for fun, games, and entertaining on the second floor. Today, we're taking a look at Robert's new barn in Southampton, New York, that serves as his karate and yoga studio.
"The design is post-and-beam construction with an open floor plan to match my home," Robert says. "The goal was to make it seem like it's been there forever."
Robert chose a balsam green semi-transparent stain and American-made barn lighting for the exterior to help achieve that vision.
"The lighting had to be made in the USA without exception and of the highest quality," he explains. After discovering Barn Light Electric via an online search engine, Robert selected the classic Bomber Gooseneck Light to highlight the exterior doors. He customized four of his new RLM-style wall lights with 17″ Raw Copper shades, G22 gooseneck arms, and copper backing plates.
"I have six-inch copper gutters on my home so I wanted to carry the look over to the barn," Robert notes. "The Bomber Gooseneck has the right vibe for the barn." Over the man door, he chose a smaller 13″ shade and a G14 straight gooseneck arm.
"The G22 gooseneck arm style looks very traditional above the large door," Robert explains, "while the straight arm over the small door is simple and not distracting."
For the spacious interior of the barn, Robert chose industrial-style, guard-and-glass fixtures from Barn Light's Chandelier Collection. For the first floor, the Factory Overhead 6-Light Chandelier caught Robert's eye. He customized these three chandeliers with an Oil-Rubbed Bronze finish, standard cast guards, and clear glass. They are mounted on 48″ stems with heavy-duty canopies.
"I like the look of this fixture because it's totally utilitarian and retro-factory style," he says. "The Oil-Rubbed Bronze is both classic and classy."
Upstairs, Robert chose slightly smaller fixtures in the Sputnik 4-Light Chandelier. These three lights are customized with a Teal finish and heavy-duty cast guards in a contrasting Galvanized finish. Clear glass offers maximum illumination while the 6″ stems offer appropriate drop for the space.
"These shapes provide eye-friendly light and fill the space perfectly," Robert notes. "I didn't want Oil-Rubbed Bronze everywhere and wanted to brighten it up. The Galvanized guards are super cool and look amazing."
For accent lighting along the stairwells and by the windows, Robert chose the Westerfeld 2-Light Ball Jar Sconce. Two ball jars are affixed to an industrial pipe mounting for a creative spin on a classic design. The 1910-era, 40-watt Edison bulbs give off a soft glow.
"I'm a home distiller with a penchant for mason jars, and these sconces are spectacular," Robert says. "All of the lights are singular pieces of American artistry and hand-made workmanship, but together, masterpiece."
Photos courtesy of Lena Yaremenko