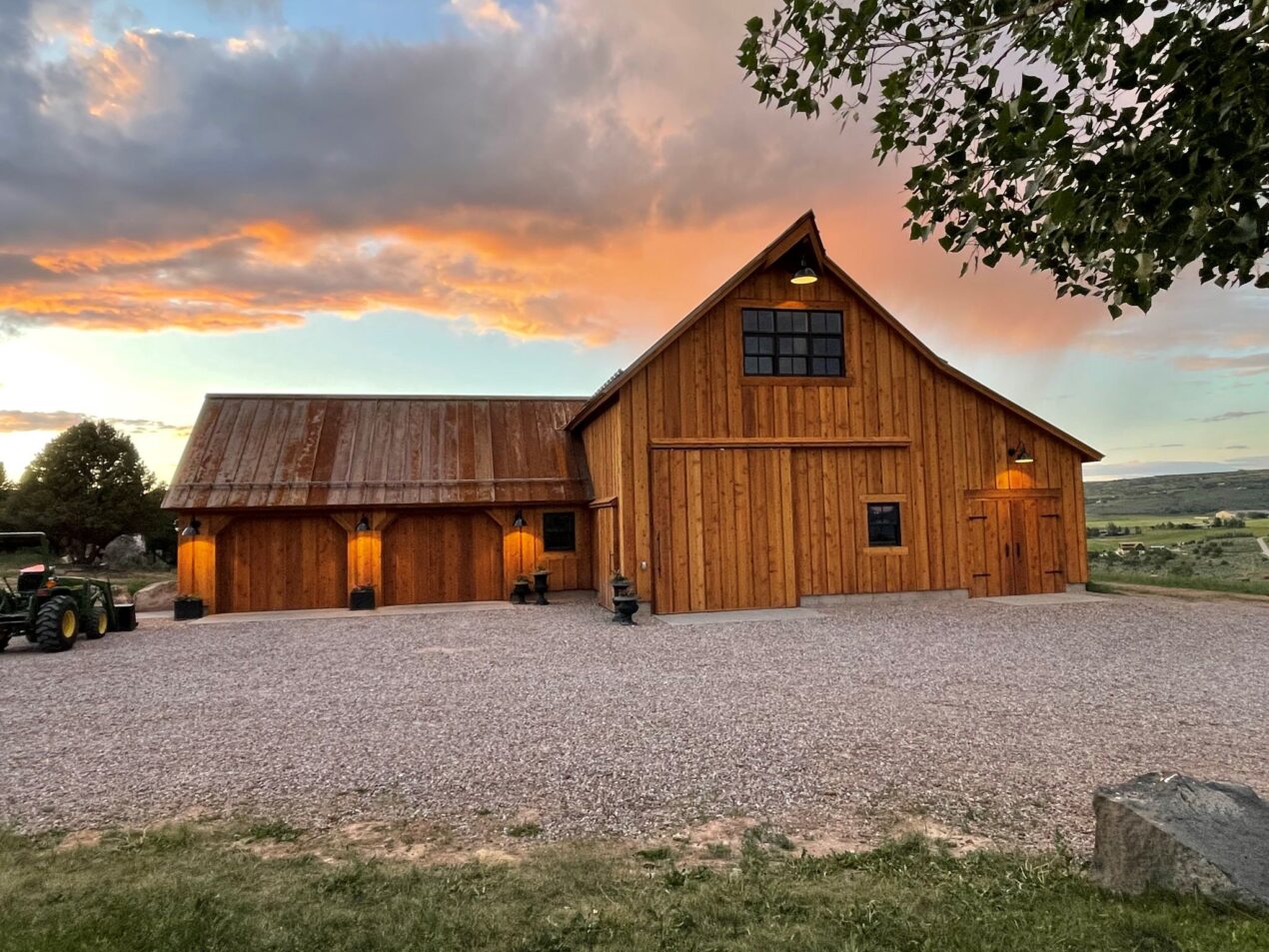 New Barn Offers Storage Space, Play Space All in One
One of the latest and, dare we say, our favorite trend to follow is the advent of the party barn. Homeowners who love to entertain are building or renovating barns that serve as a rustic and casual space for eating, dancing, playing games, or just hanging out with friends and family.
One Colorado family recently built a 2800-square-foot barn that offers a beautiful space for fun and games on the second floor with plenty of room for cars, bikes, and storage on the first floor.
The exterior of this stunning building is decked out with Barn Light Electric's classic Wilcox LED Deep Bowl Gooseneck Lights. These handcrafted lights offer plenty of RLM-inspired style with the bonus of energy-efficient and environmentally friendly integrated LED modules.
High up in the peak is a 20″ Wilcox with a porcelain enamel Black finish. This fixture is mounted on a G22 gooseneck arm and is customized with a flat lens, 2000 lumens, and a 2700K warm white temperature. The matching Wilcox Gooseneck Lights over the doors feature smaller 14″ shades on G26 gooseneck arms with the same LED options as the larger gooseneck.
On the first floor, the family chose to illuminate the space with the Avalon Stem Mount Pendant from our new Barn Light Basics collection. These sturdy pendants are customized with 16″ shades and a powder coat Black finish. Over the windows and in the stairwell leading to the upper level, matching Avalon Gooseneck Lights offer an additional pop of barn style and illumination.
Upstairs is a popular destination for the family who have plenty of room to play ping pong, cards at the table, or just enjoy a drink and the gorgeous view of the mountains from the windows. Three Original™ Warehouse Pendant Lights highlight this space and are customized with generous 20″ shades in a Metallic Chrome finish. Black-and-pink cloth cords add another touch of color and texture to the fixtures.
All of Barn Light's fixtures are crafted with care in our Florida manufacturing facility. Each light is built by hand according to the customer's specifications of size, color, mounting, and other accessories. With dozens of options to choose from, you can create the perfect lighting for your own party barn!
Photos courtesy of the homeowner