Warehouse Lighting Combines with Modern Simplicity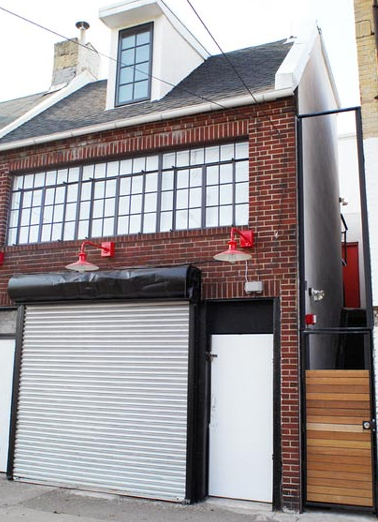 Impressive designs incorporate visually appealing elements from various sources – and the Everglade Warehouse Shade is a perfect example of modern efficiency fused with industrial simplicity.
The Everglade (shown in the first photo below) boasts a distinctly shaped, flared shade which was a popular feature found on lighting fixtures that were used throughout workshops and barns during the 1930's and 1940's. A series of rings separate the Everglade's solid upper hub and shade. Features like the slotted rings and a built in glass unit around the light bulb, add a subtle touch of contemporary style to complement any Victorian, Historic & Colonial Revival or Arts & Crafts home. Sizes for the Everglade range from 8 to 24 inches and can be customized with multiple styles of gooseneck arms.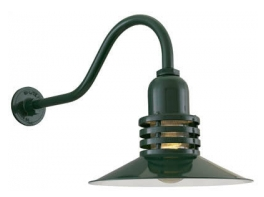 The Comanche Barn Light is another similar warehouse shade with a semi-open neck that spreads additional light across the lower portion. The Comanche's blend of nontraditional styling and simplified lines make it versatile enough to adapt to historic or modern homes. Customization is a given thanks to the nearly 40 finishes, 9 shade sizes and almost 40 different gooseneck arms available. Rustic and traditional finishes such as Rosewood or Galvanized metal are ideal choices for a log cabin or outdoor setting. For a more contemporary look, consider or Trans Red or Black (shown in the very top photo). Specialty finishes include Chrome, Burnt Steel or Copper. Outdoor areas that are heavily trafficked, such as porches or driveways, are ideal placements for the Comanche. Similar coordinating wall sconces that can be paired with this gooseneck light include the Wall Mount Sharp Sconce, which shares the semi-open design and jelly jar glass unit.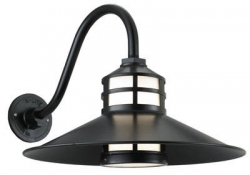 The Fanning Warehouse Shade (shown to the right) starts at $382 for basic styling and features a very modern flared shade that encompasses a sealed lantern. It is available with various glass options, such as Opal or iridescent colors, and over 50 finish choices to compliment its final placement.
Top Photo Courtesy of Apartment Therapy