Spring is the Season for Outdoor Lighting Upgrades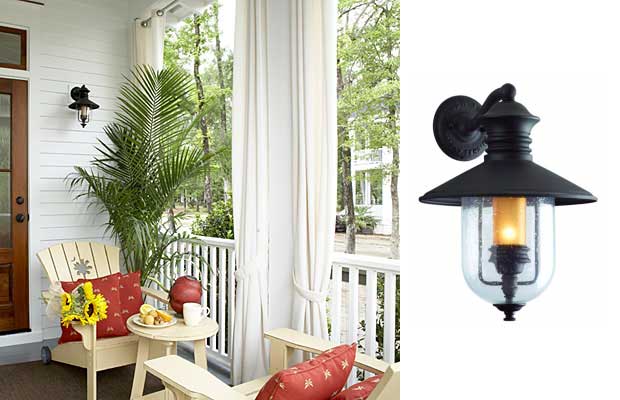 During the brutally cold winter we all endured, it was easy to neglect our outdoor spaces for longer than usual. Now, Spring's warmer temperatures and gentle breezes invite us to venture back outside to till the garden, grill a few steaks or watch a sunset from the porch.

If you haven't enjoyed the outdoors since the warmer months of last fall, your first return may reveal areas that need to be tweaked, including your outdoor lighting. Proper lighting creates a relaxing environment where you're much more likely to spend some quality time with family and friends.
Barn Light Electric provides an extensive selection of outdoor lights and lanterns that represent a wide variety of eras and styles to enhance your home's exterior. Many of the top selling lanterns resemble the original gas lights used in colonial American neighborhoods, such as the Old Town Barn Lantern. A light resembling this barn lantern is featured in Southern Living's special section titled: "60 Breezy Porches and Patios." This gallery of porch photos showcased the most inviting and inspiring porches from America's most historic southern houses.
As you can see in the top photo, the size and the style of the Old Town Barn Lantern adds just enough charm to be noticed among the miniature palm tree and the pale yellow Adirondack chairs (which sport cutouts of the South Carolina state logo).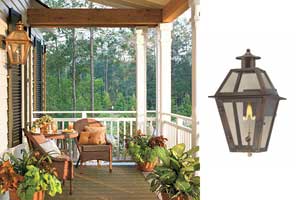 Another porch pictured in Southern Living's porch gallery features a quaint coastal cottage in Covington, Louisiana. A Copper Gas & Electric Lantern resembling our Gardendale Lantern hangs next to the contrasting black shutters. The copper finish on the lamp complements the wooden accents of support beams and pillars found around the porch. Copper is a great finish choice that will age gracefully and will give your home a high end look year round – especially areas of the United States that feature crisp Fall colors.