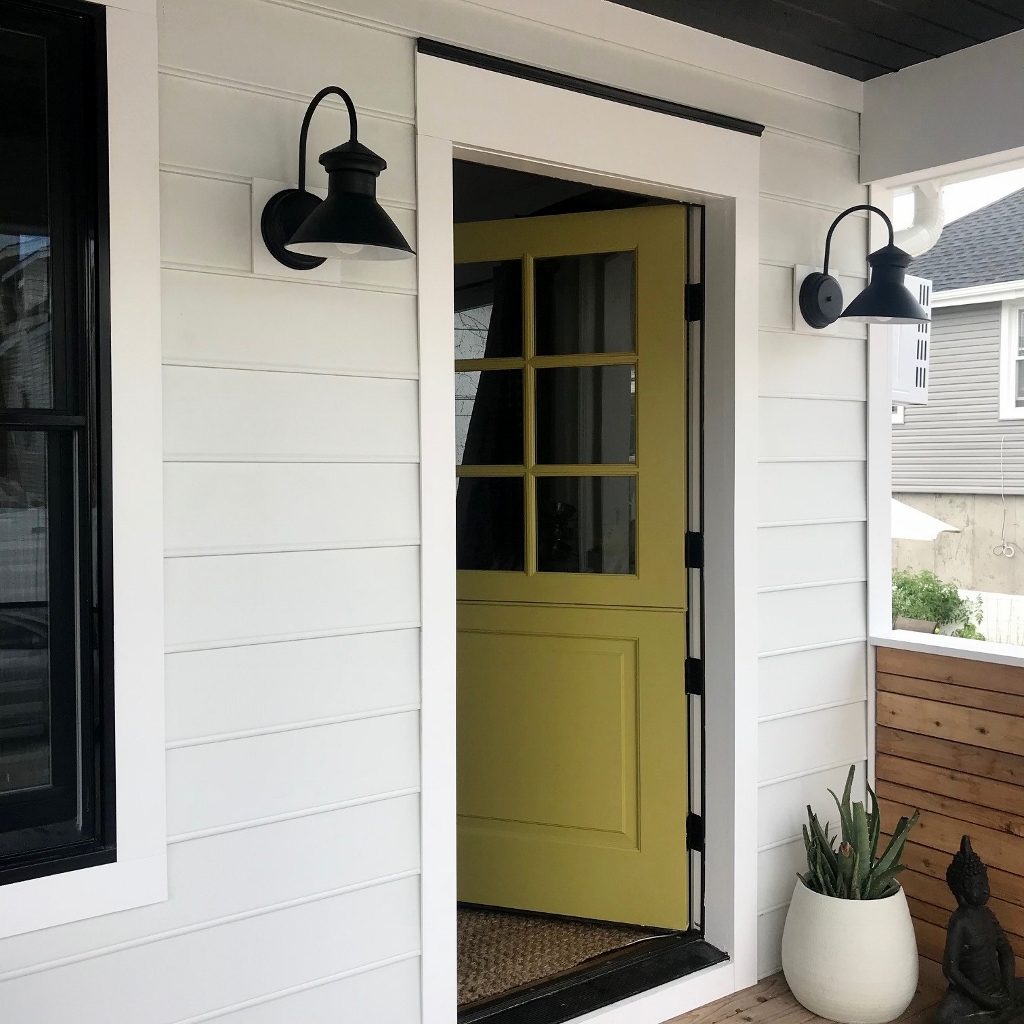 Barn Wall Sconces Enhance Front Porch Renovation
The tiny barrier island of Long Beach, New York, lies just south of Long Island and is home to 35,000 people within its two-square-mile footprint. It's also home to one of our favorite design firms — Wolf and Wing Interior Design.
Wolf and Wing co-owner Keri Venti recently turned her designer's eye to her own Long Beach home located on the west end of the island in an area of small bungalows.
Although many homeowners enclose their porches to gain more interior space on the notoriously small lots, Keri planned to expand her outdoor living area.
"One of my favorite parts of the house is the covered porch and I just couldn't see giving it up," Keri says. "I wanted to keep the original historic look of our bungalow but bring it up to date." Her small project to extend her porch took a dramatic turn when she discovered rotting wood in the columns supporting the roof.
"We decided to do a full porch renovation at that point, removing the columns, side walls, and siding," she explains. "We went with a beaded, hardie board siding in white with black accent windows, and a board-and-batten porch skirt."
For porch lights, Keri sought a classic, yet modern, look. She chose Cooper Wall Sconces with a Textured Black finish to flank the doorway. Her pup Hops kept watch over the Barn Light Electric boxes until the electrician arrived!
"The entrance of a house is so important. It's the first thing people see when they arrive, and more importantly, it's the first thing you see when you come home each day," Keri notes. "I was looking for a good quality fixture with a timeless look. I love all the options Barn Light offers. They are a go-to vendor when sourcing for my clients for that reason."
The Cooper Wall Sconce exhibits a refined barn style that offers a vintage yet updated look. Its downward focused light is perfect for porches and other exterior locations where dark sky-friendly lighting is preferred.
"I just love the style they add to the home," Keri says. "And I love the way they match the other exterior elements and provide a contrast to the avocado green door. They are the perfect fit."
Photos courtesy of Wolf and Wing Interior Design