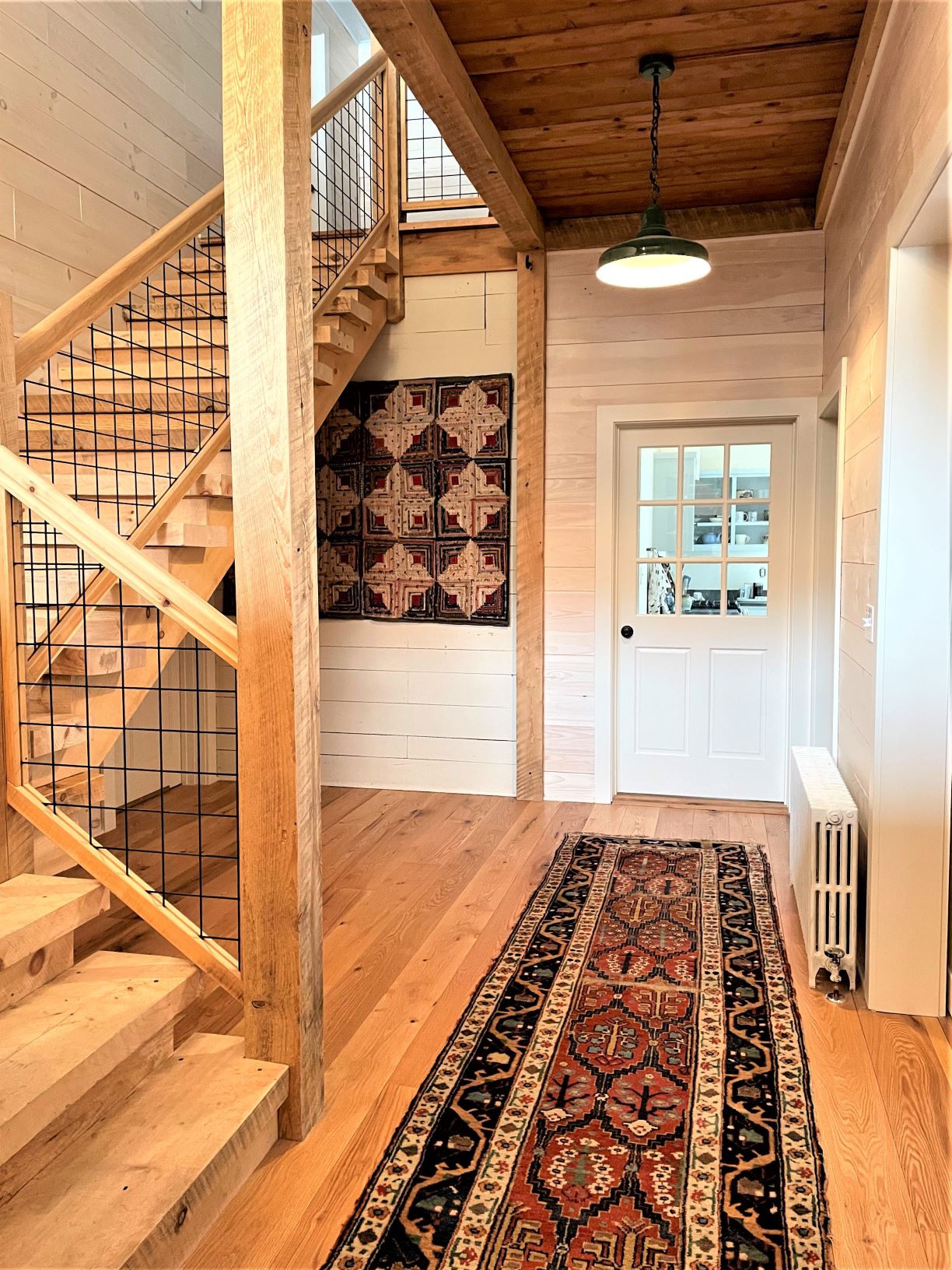 Schoolhouse Pendant, RLM-Style Lighting Lend Authenticity to Barn Reno
Built in the late 19th century, the old hay barn in northwest Connecticut served well as a storage building and shelter for farm animals for decades. Fast forward 100 years and the building took on new life with living spaces on the first and second floors.
Current owner Avice wanted to adapt the barn to suit full-time living while creating more privacy and a separate entrance for the upstairs apartment used by family and friends.
"This project has been on our minds for about 15 years," Avice says. "We spent a full year chatting with our architect and contractor, both of whom know the space very well." The result is a bright, open home with plenty of windows and oak floors with radiant heating. The main entrance to the home features barn doors on the exterior with French doors on the interior with a transom window above.
"We wanted to respect the design and shape of the barn and to use materials such as oak, pine, and iron that one would expect to find in a barn," Avice explains. "We tried to reuse as much as we could."
Two original lights in an upstairs landing set the tone for the rest of the lighting choices. Avice searched for American-made lights that would complement the style and design direction of the renovation. Her sister recommended Barn Light Electric for its high-quality, handcrafted lighting manufactured in Florida.
Avice chose the Union Chain Hung Pendant Light to accent several spaces throughout the home. She customized these RLM-style pendants with 16″ shades, a porcelain enamel Vintage Green finish, and standard black cord.
"One is in the hall, three are in the living room/dining room, and one is in the original entrance to the house which is off the kitchen," she notes. "They look great!"
Avice added a Round Schoolhouse Flush Mount Light near a bank of windows to highlight a bench made from the old barn flooring. She customized this classic light with opaque glass, a Dark Green fitter, and two painted bands of Emerald Green.
"This light works well with the Union Pendant and we love the color green," Avice says. The Round Schoolhouse Light is one of the newest additions to our Schoolhouse Collection and is available in a variety of mountings including pendant, chain, gooseneck, and wall sconce.
"All of our lights work well in the space and are in keeping with what was there before," Avice says. "They make us smile!"
Photos courtesy of the homeowner