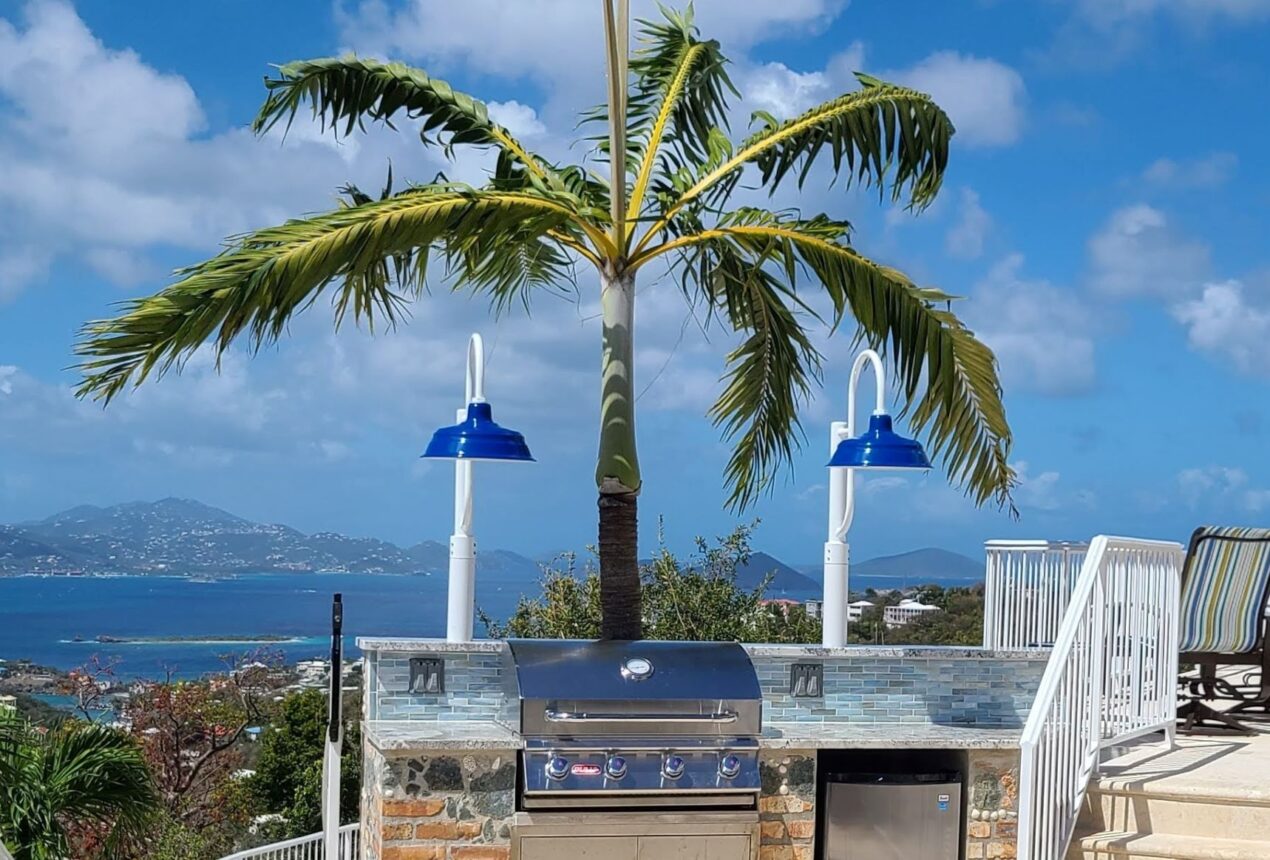 Post Top Lighting Blends Color, Style, Efficiency in Caribbean Renovation
While 2020 remains in our memories as a year we'd rather forget, for the people of St. John in the U.S. Virgin Islands, 2017 was worse. Reeling from the devastation caused by Hurricane Irma on September 6th, the island was hit again just two weeks later by a second category 5 storm, Hurricane Maria.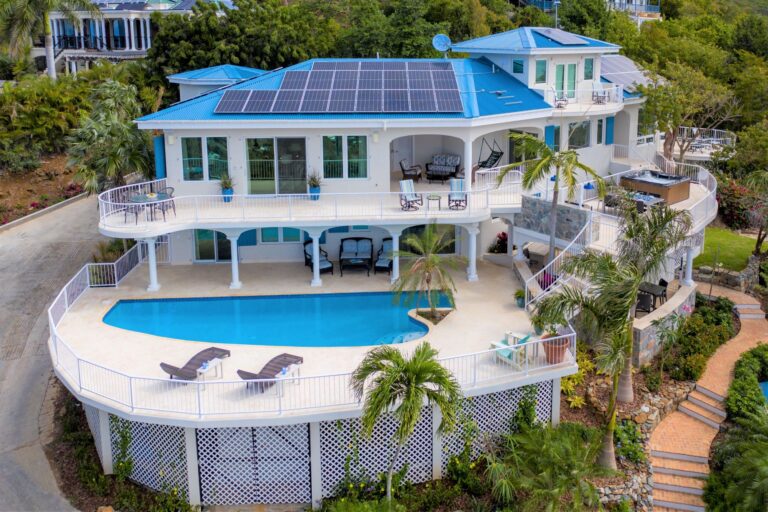 Recovery and rebuilding began soon after for many of the island's residents. Tim and Andrea's home was destroyed under the barrage of 185 mile-per-hour winds and heavy rain, but they started recreating their island paradise under the guidance of Andrew Hadley and Kyle Ryan of Andrew Hadley Architect and designer Holly Chipman of Chipman Design Services.
The new home includes expansive outdoor spaces including a pool, hot tub, lounge areas, and a grill station with a stunning view of the crystal blue waters of the Caribbean. When creating the outdoor kitchen space, Tim wanted to tie in the colors of both his home and surrounding environment.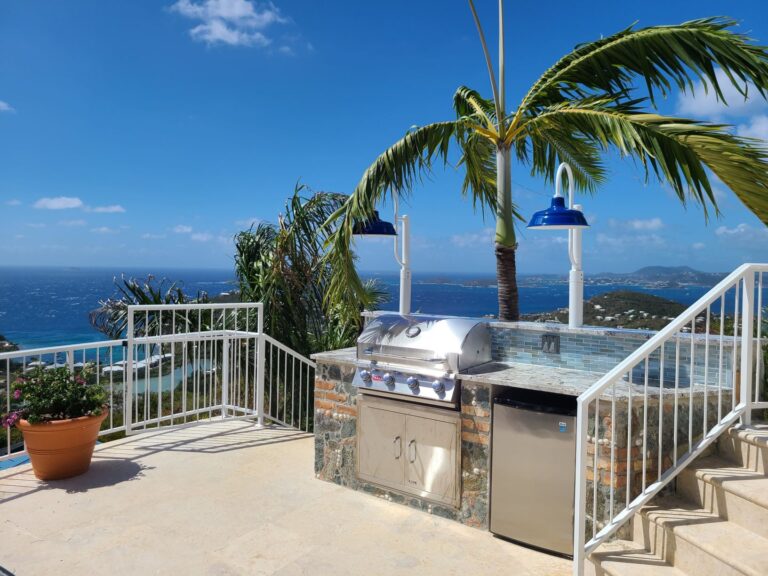 "There is some blue in the island stone that we used to create the grill station plus our roof color is blue," Tim says. "We wanted weather-resistant lighting over the grill but down lighting so that it illuminates a limited area."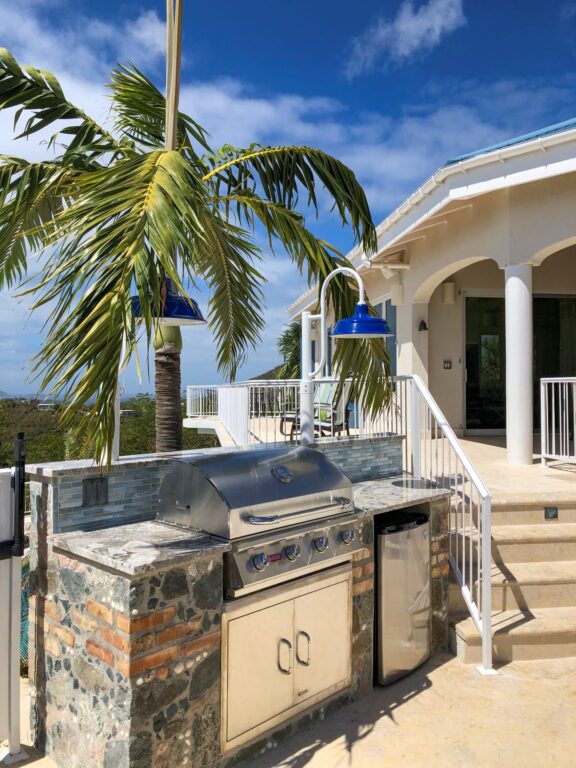 Holly adds that she wanted a fixture that would be noticed but not interfere with the gorgeous view. During an extensive internet search for both quality and durable outdoor lights, Holly discovered Barn Light Electric.
"I really liked the design of the Bomber Single Post Mount Light," she explains. "It is graceful but still very sturdy for the environmental factors that you have to consider here. I consulted with the electrician prior to purchase, and he endorsed the design and installation process."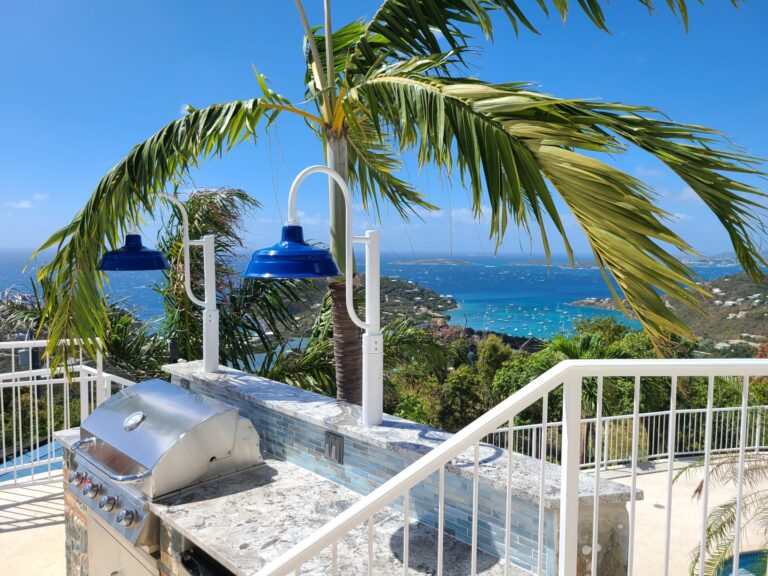 Holly customized these two handcrafted outdoor lights with 15″ shades and a Royal Blue finish that mimics both the roof and nearby waters. She also selected the decorative post mount option in a contrasting White finish.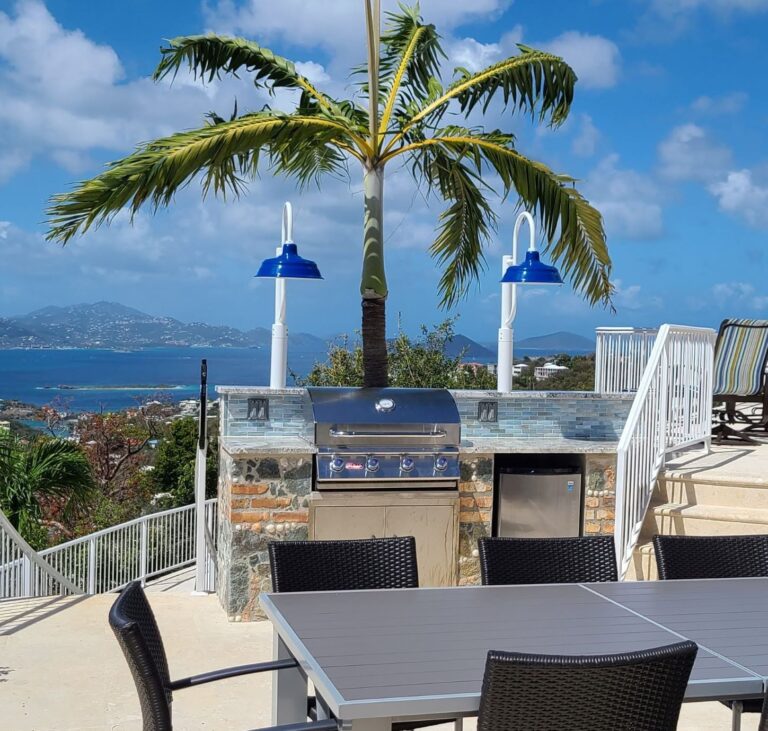 "Tim knew he wanted the Royal Blue, and the White is consistent with our railings," Holly notes. "I enjoy the aesthetic of the post and the shade, and the size is right for the application. With the added trim lights, this space is magic!"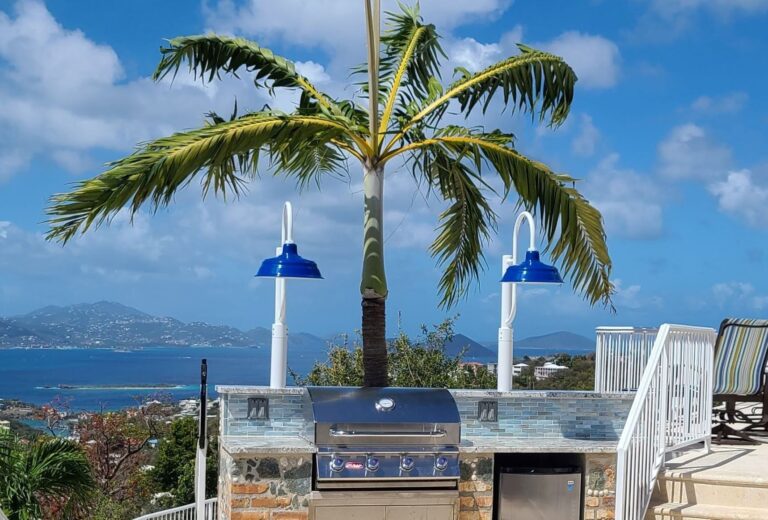 The Bomber Single Post Mount Light is one of the most popular fixtures in Barn Light's extensive Post Top Collection. Featuring dark-sky-friendly RLM shades, these outdoor lights add color, style, and safety to both residential and commercial spaces.
"I really love the way the blue shades and the palm trees play together," Holly says. "It is soothing!"
Photos courtesy of Chipman Design Services