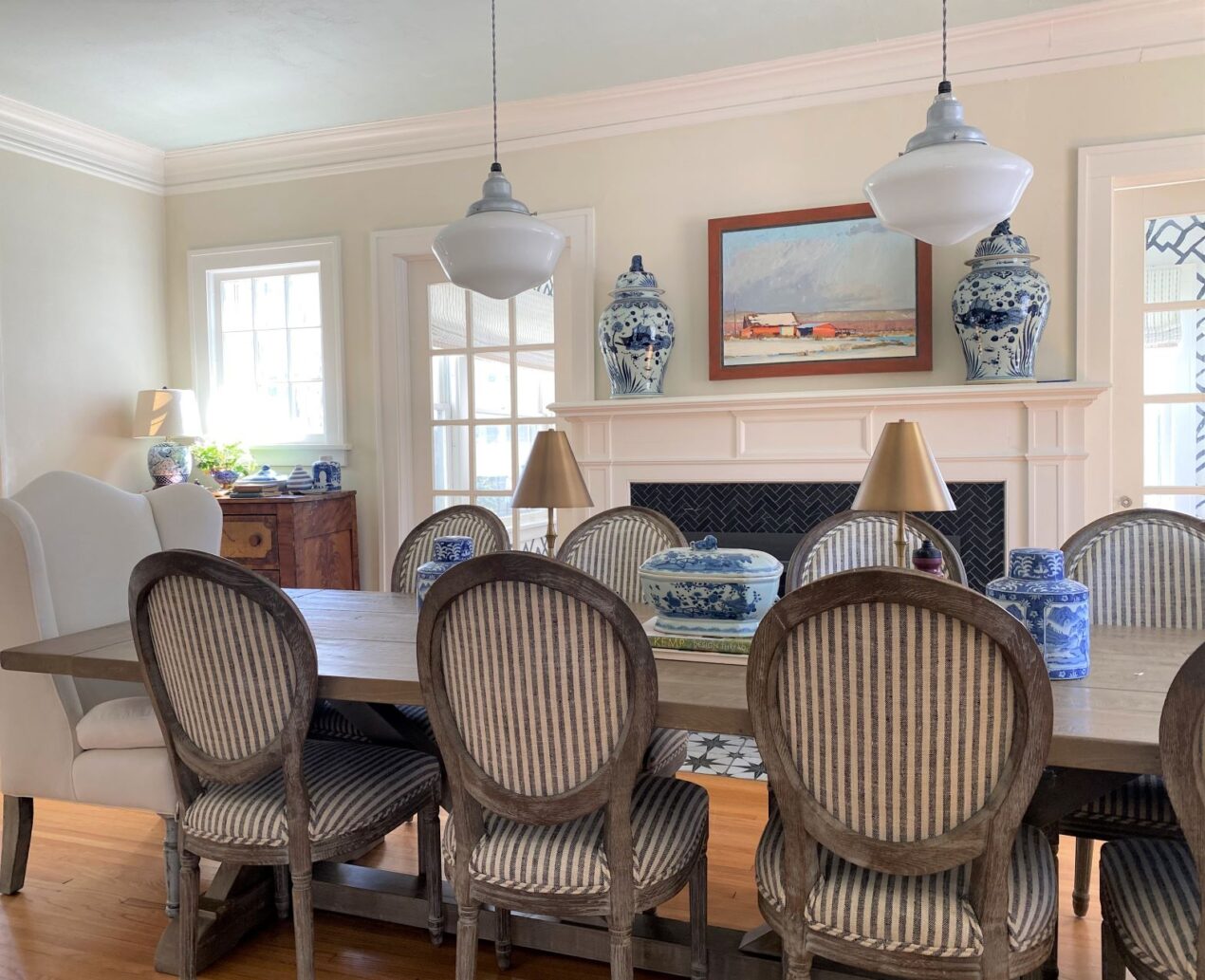 Schoolhouse Lights Bring Period-Appropriate Charm to 1920s-Era Home
As an interior designer by trade, Sara Silburn loves designing, renovating, and updating homes. The principal of Hill House Design Studio, Sara recently turned her creative eye to her own home located in the Tangletown neighborhood of Minneapolis, Minnesota.
"We bought this 1921-era home two years ago and have been slowly decorating it to make it ours," Sara says. "It has a friendly, farmhouse, traditional feel with a happy mix of colors and patterns."
The former owners repaired and replaced the floors and ceiling after some unfortunate water damage plus handled a major HVAC renovation. Sara was left with minor updates in the kitchen, baths, and dining room which, she admits, are fun!
"Our philosophy is always to respect the age and provenance of a home while infusing our style into it," Sara explains. "I like a mix of patterns, colors, and textures. Lighting pulls it all together and brings an unexpected note to the mix. And that's where Barn Light Electric came in for us."
The family dining room serves as a hub of activity for the family and is anchored by a large farm table. Sara chose the Primary Schoolhouse Pendant Light to highlight the expansive table. She customized these period-appropriate pendants with large opaque glass, Galvanized fitter and canopy, and black-and-white chevron twist cords.
"We wanted to make this room feel casual," Sara notes. "Having two pendants doesn't block the pretty view to the fireplace, but draws the eye to it and the view of the mantle. It also elongates the dining room table and references its expansiveness. The schoolhouse pendants create the perfect effect."
In the kitchen, Sara chose a similar fixture in the Primary Schoolhouse Semi-Flush Mount Light for the whimsical ceiling. These fixtures are customized with the same large Opaque glass and Galvanized fitter as the dining room lights.
"This finish is so much more unique than a silver finish or brushed nickel," Sara says. "It has a brightness to it that makes a room feel light. To me, it is such a friendly and glad finish that says, 'Welcome, people who live here are nice, wholesome, and kind.'"
Highlighting the open shelving next to the sink is a Seaside Gooseneck Light customized with a 12″ shade, Galvanized finish, and G16 straight gooseneck arm. This handcrafted wall light features a wavy shade that adds a touch of playfulness to the space.
To brighten the work zone by the stove, Sara added two Avalon Gooseneck Lights. These handspun lights are customized with 8″ shades, a porcelain enamel White finish, and G12 gooseneck arms in a Galvanized finish.
The Avalon is a modern take on the classic RLM warehouse shade that was popular in the early to mid 20th century. The shade provides plenty of downlighting making them suitable for task lighting over work tables and kitchen counters plus porches and other outdoor spaces.
"I love that these are American made and the customizing was a huge selling point for me," Sara says. "It's fun to do and allows for either consistency or differences in the flow of lighting in a home. We have used it to create a consistency in finish with a difference in style of lights. The attention to detail by Barn Light Electric is top notch!"
Photos courtesy of Hill House Design Studio