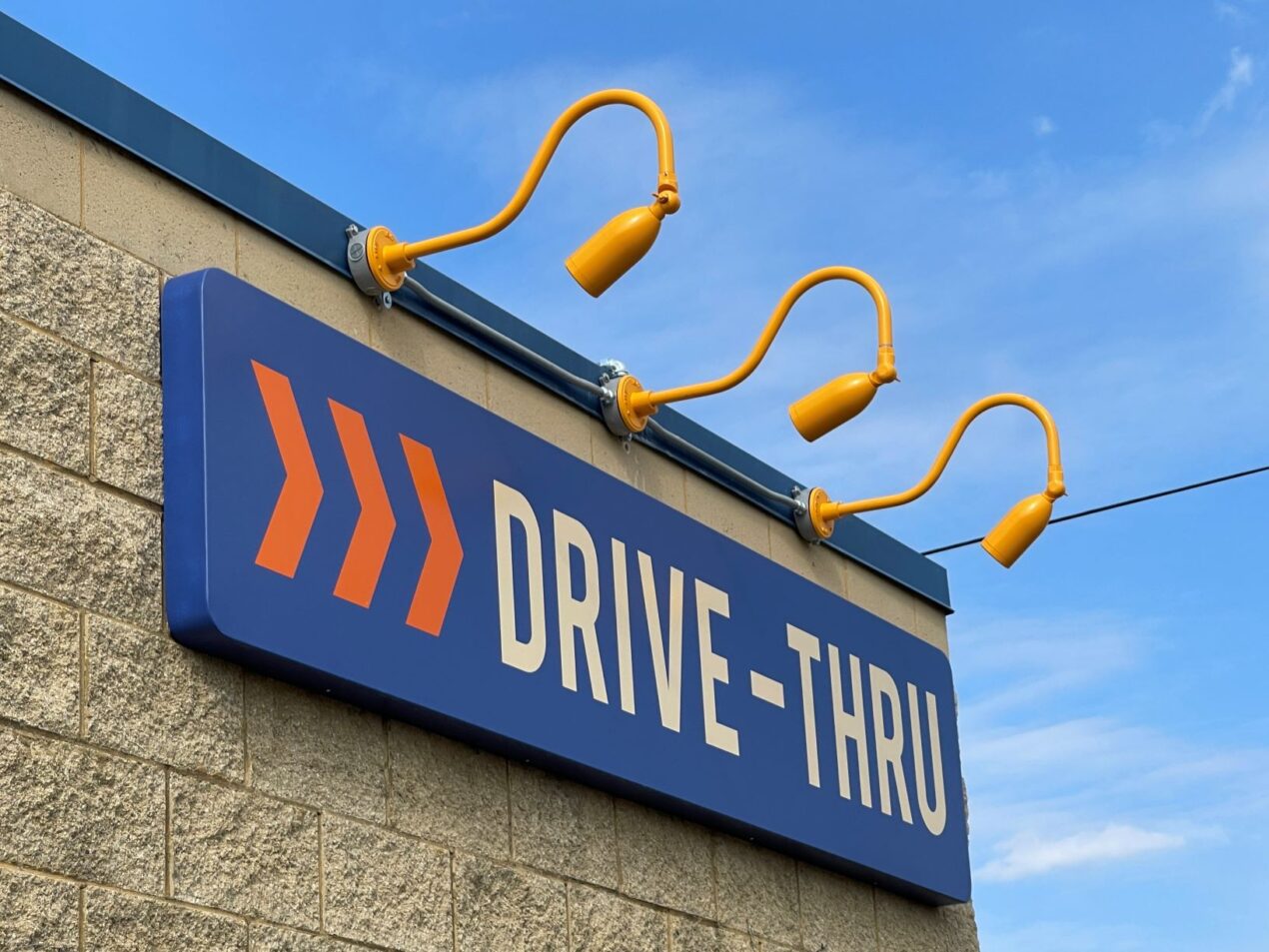 Crisp Yellow Sign Lights Draw Attention to Drive-Thru Coffee Joint
We often hear that timing is everything, and for the Water Street Coffee Joint in Kalamazoo, Michigan, the timing for a new addition couldn't have worked out better.
"We had been discussing adding a drive-through service to this location for years," explains Kirsten Field, creative director for Water Street Coffee. "In mid 2020, changes in the adjacent parking lot allowed for a traffic flow shift. And with the onset of the pandemic, we were motivated to keep contactless options available to our customers."
The new addition is small, 126 square feet, but offers room for additional equipment and the new service window which is accessed by a curbed drive-through lane. The design team added a custom menu board and several new signs to communicate the new flow of traffic.
With five locations, Water Street Coffee leans on the brand's vibrant colors of blue, orange, and yellow to tie the spaces together. When choosing lighting for the new exterior, Kirsten searched for LED lights that could be customized to complement the company's branding scheme.
"People don't realize how difficult it is to find the right fixture for a particular space and purpose," she notes. "All of the options that Barn Light offers really help dial it in and find the right fit." Kirsten chose the Bomber LED Gooseneck Light to illuminate the drive-through. She customized this handspun wall light with an 11″ shade, a Sunflower powder coat finish, and G3 gooseneck arm.
"I like its slim profile and knew it would not obstruct the signs," Kirsten says. "The photos on the Barn Light website help show the possibilities with color and installation. I saw the fixture in yellow and said, 'That's the one!'"
Two new 10-foot-high signs on both sides of the building direct traffic to the drive-through window. Kirsten mocked up an overhead view of the signs to determine the best beam spread of light to avoid dark spots on the signs. She chose the Bullet Gooseneck LED Sign Light as the best fixture to satisfy all of these needs.
The sign lights are customized with the same Sunflower finish, a G22 gooseneck arm, 1200 lumen LED, 3000K color temperature, and a frosted glass lens.
"I picked these to complement the yellow in our logo and to contrast the new siding with a pop of color," she explains. "Their shape and color bring some needed character. They are the jewelry!"
Barn Light's collection of American-made Sign Lighting and other outdoor lighting make it easy for commercial operations to find the perfect blend of function, affordability, and style. From national brands like Vans and Ben & Jerry's to local operations like Water Street Coffee, Barn Light offers high-quality, handcrafted fixtures that will stand the test of time in a busy commercial setting.
"We hope to be an authentic, smart, and approachable part of our community," Kirsten says, "and you can't do that without some whimsy, humor, and sunflower yellow!"
Photos courtesy of Water Street Coffee Joint