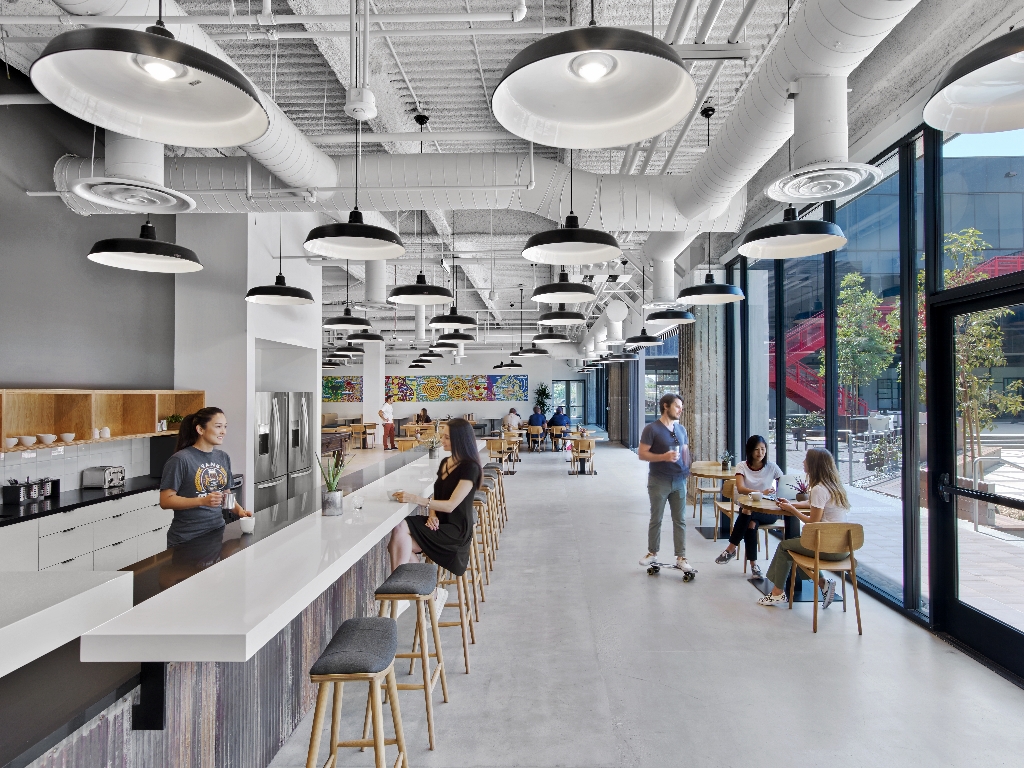 LED Barn Pendants Play Nice with Vans' Old Skool Style
Nobody does "old skool" quite like Vans. Since 1966, when brothers Paul and Jim Van Doren started manufacturing shoes and selling them directly to their California customers, the Vans name has been synonymous with creativity and self-expression.
When the Vans campus in Costa Mesa, Calfornia, recently underwent an extensive renovation, the design aesthetic played up the Vans' signature style.
"This was a designed remodel of our 170,000-square-foot building," says Tim Long, building operations and facilities manager. "The redesign of The Commons area was part of the overall remodel."
The Commons, where Vans 500-plus employees gather, eat, and collaborate, has an open ceiling with a strong industrial vibe. White walls are punctuated with colorful art, while exposed ductwork and a corrugated metal bar add to the warehouse feel. Working through LIGHTCA, one of Barn Light Electric's commercial representatives, Long chose oversized Original™ Warehouse LED Pendants to light the massive space and add visual interest.
"These fit the 'old skool' nature of Vans," Long notes. "They harken back to earlier times, to the 1960s warehouse look that was prevalent here in Orange County."
These classic American-made LED pendants feature 28″ shades and have been updated with integrated LED modules. Far more energy efficient than traditional lighting options, like incandescent bulbs and fluorescent tubing, these LED lights help lower energy costs and reduce pollution.
"The state of California requires LED fixtures, but we also wanted the facility to be as efficient as possible," Long states. "An added benefit is that the LED stays cool so it doesn't add heat to the space."
The Black finish color of the pendants complements the gray-and-white palette of the space. The fixtures feature 1250 lumens and a 2700 K color temperature which is a warm/soft white.
"These pendants simply fit the overall vibe," Long says. "I like that they are hand made as they were back in the 1960s. And the fact that they are made in Florida, providing U.S. jobs, is icing on the cake."
Photos courtesy of Rapt Studio