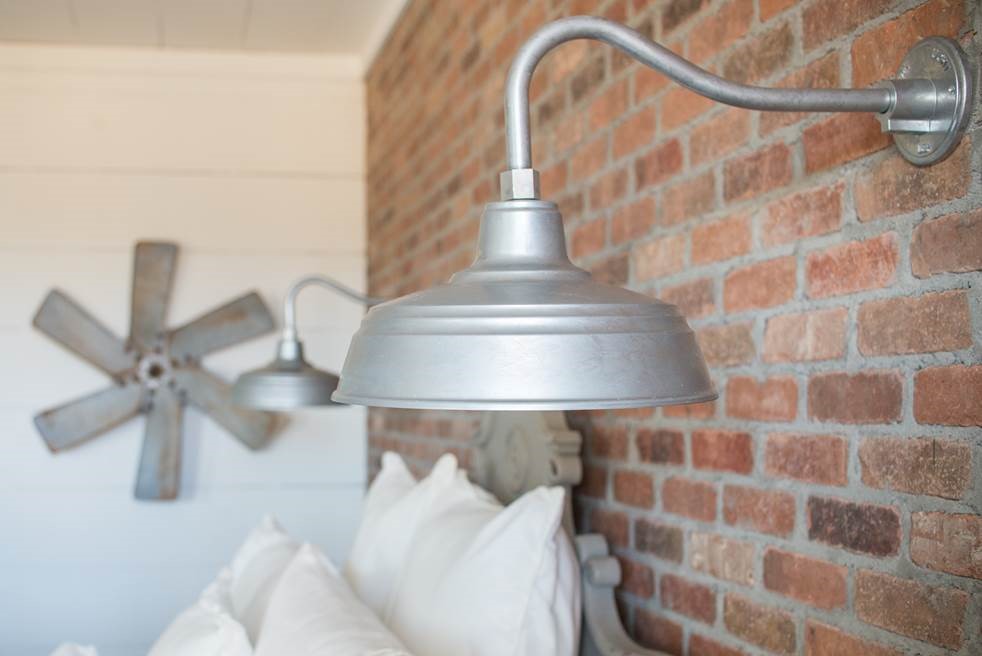 Gooseneck Lighting a Solid Choice for Indoor Spaces
When you picture a classic gooseneck light, you probably think of it perched on a barn. Or a workshop or above a garage door. Like this beauty…
But many people find that gooseneck barn lights are perfectly adaptable for indoor applications as well.
These two Marathon Gooseneck Lights are a great alternative to pendants over this banquette, and the vivid Orange finish adds a fun pop of color.
This unique kitchen island, with its integrated post-and-beam construction, posed an interesting challenge when it came to lighting. The homeowner chose Outback Gooseneck Lights customized with a Teal finish and Black cast guard to provide the perfect combination of function and style.
Michelle was going for an urban bar look in her basement and she nailed it completely with wood floors, brick, and industrial touches throughout the space. She chose Original™ Warehouse Gooseneck Lights to highlight her new shuffleboard table.
These versatile wall lights even find a place in the bedroom. Galvanized Bomber Gooseneck Lights bring the perfect touch of industrial charm to this rustic brick wall! Handcrafted from commercial grade materials, these gooseneck barn lights are easy to customize to complement any home style.
Commercial businesses also find gooseneck lighting to be a viable choice for interior lighting. The tables in this restaurant are highlighted by Dominion Gooseneck Lights — shallow bowl fixtures crafted from commercial grade materials able to withstand high-traffic areas. For more energy efficient lighting, the Dominion LED Gooseneck Light features an integrated LED module that provides 50,000 hours of service.
For even more ambiance, these Primary Schoolhouse Gooseneck Lights provide a soft glow that encourages diners to linger over dinner. With all the charm of early 20th century schoolhouse lights, these decorative wall lights are customized with Barn Red fitters and gooseneck arms to add a warm touch of color.
A truly utilitarian fixture, gooseneck barn lights from Barn Light Electric offer timeless style that is at home both inside and out!