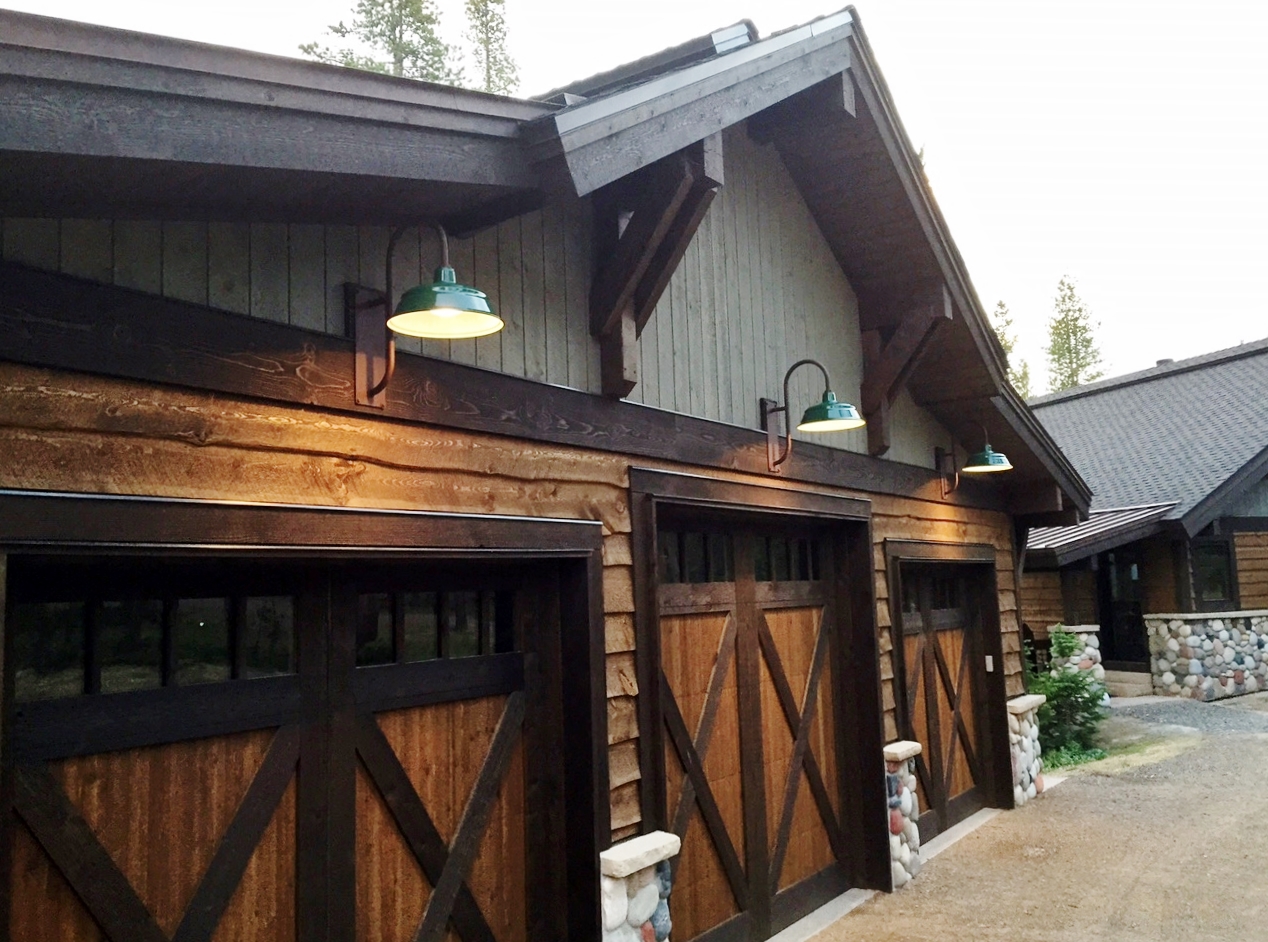 Goosenecks? Sconces? How To Choose the Best Garage Lighting
Several weeks ago, our guest blogger Melissa Andersen tackled design questions posed by our readers. (If you missed the post, you can find it here.) One of the questions concerned lighting for the garage, so we decided to expand on the topic in today's post.
First and foremost, garage lighting should be wet-rated for exterior use. Every product page on our site offers this information under the Product Details tab. For maximum durability, porcelain enamel lighting is a great choice thanks to its tough-as-nails finish. Porcelain enamel will never fade even in our famous Florida sunshine!
When choosing lights for the garage, take a close look at the size and style of the building. Garages range from compact, one-car models to extensive multi-door styles. For a single-car garage, one large fixture over the door often works well especially if you choose a gooseneck light that directs light downward onto the driveway and doorway.
This homeowner chose to install two Original™ Warehouse Gooseneck Lights over her single door to provide plenty of light to the garage which features a living space above. For homeowners who love symmetry, smaller wall sconces on either side of the door provide a balanced look and more ambient lighting for the space.
For a wide, single door, you can opt for a light on each side of the door like Robin did above. She chose Laramie LED Gooseneck Lights to not only save money on her utility bill but to save time on maintenance.
When blessed with more than one door, your choices expand. Erika fell in love with a single Bridgeport Vintage Industrial Gooseneck Light for her garage above…
…while Jamie chose to install a single Original™ Warehouse Gooseneck Light over each door.
Sara chose two Original™ Warehouse Gooseneck Lights for her garage but chose a high-gloss, never-fade porcelain enamel finish.
Wall sconces are also a viable choice for lighting up the garage and surrounding driveway. Lauren chose the Avalon Wall Sconce to place on either side of her two-door garage.
In North Carolina, Jane opted for the Atomic Topless Double Market Industrial Guard Sconce to highlight her new garage.
With three or more doors, a fixture above each door offers the illumination needed for larger driveways. These customers chose a variety of styles ranging from the Bomber Gooseneck Lights shown above…
…to these beautiful Cherokee Uplight Gooseneck Lights with a guard-and-glass design that protects the bulb and provides a touch of uplighting.
No matter what your garage lighting needs may be, Barn Light Electric has plenty of styles, colors, and customizing options to choose from. If you have questions, our sales team stands ready to help! You can reach them during regular business hours at 800-407-8784, via email at sales@barnlight.com, or via Live Chat from our home page.