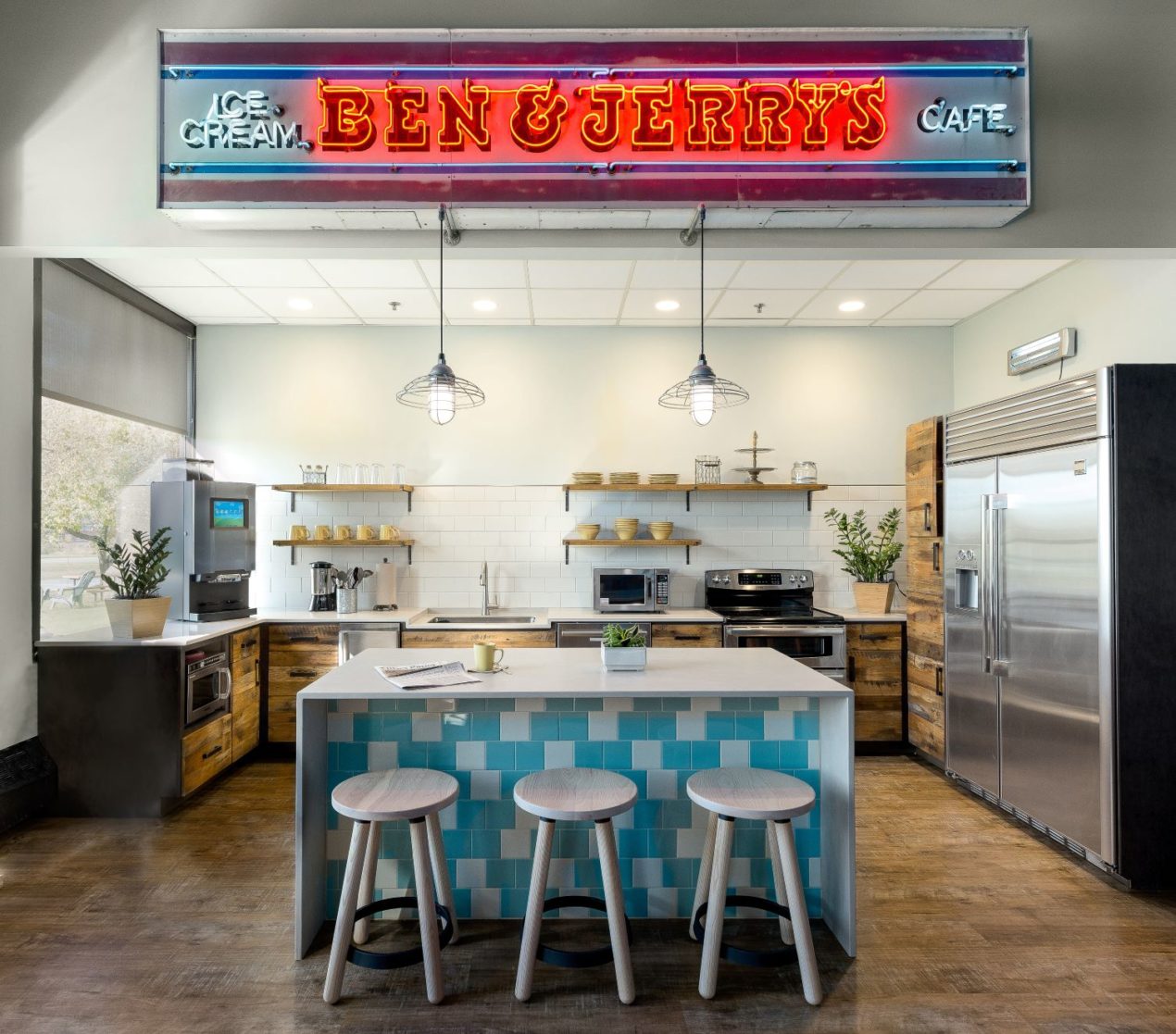 Industrial Lighting Brings Rustic Vibe to Ben & Jerry's Vermont HQ
The corporate break room has come a long way since workers simply gathered around a water cooler for a quick chat and drink. Today, businesses often provide dedicated spaces with comfy furniture, TVs, and refrigerators stocked with goodies.
But can you imagine the flavors in the fridge at Ben & Jerry's headquarters in South Burlington, Vermont? Perhaps some Cherry Garcia or Cannoli? Maybe even Bourbon Pecan Pie?!
The Ben & Jerry's break room recently underwent a much-needed makeover under the talented hands at Christine Burdick Design. The makeover included all new furniture, finishes, and lighting.
"The space was inspired by an outdoor beer garden executed in a Ben & Jerry's fashion," explains Kaitlin Mangan, interior designer with the firm. "The space includes plenty of natural light, access to a furnished patio, and a central island for food prep and quick chats." A community-style table offers space for large groups to gather while booths provide more intimate spaces. The window counter gives a panoramic view of the surrounding landscape.
Working in collaboration with Christine Burdick, Kaitlin searched for industrial-style lighting with contemporary finishes and color options. She consulted Apex Lighting, one of Barn Light Electric's commercial representatives, to find the perfect fixtures.
"The design intent was to create a rustic industrial space that felt indicative of a beer garden," Kaitlin says. "Barn-style lights are very on-trend in that sector of restaurant and hospitality design, and we wanted to replicate the look." The team chose the Blue Collar Pendant Light to accent the kitchen island. They customized these handcrafted pendant lights with 14″ shades, Galvanized finish, black cords, and frosted glass.
"We appreciated the scale and style as something recognizable from bars and restaurants serving local, craft beer which resonates very well here in Vermont," Kaitlin notes.
For the larger seating area, Kaitlin and Christine chose the Wilcox Deep Bowl Pendant Light. These handspun pendants are customized with 20″ shades, a White finish, and black-and-white cloth cords.
"We love the scale and simple form of these lights," Kaitlin says. "It feels refined but in keeping with the industrial aspects of the space; the exposed ceilings in particular." The Wilcox is one of our most popular deep bowl shades and comes in six sizes and more than 40 different finish color options.
"The white finish contrasts well with the dark ceilings and brings brightness to the space," Kaitlin adds. "And we chose black-and-white cords because it's Ben & Jerry's! We are always looking for opportunities to incorporate their brand without being too literal — no ice cream cones or cow prints!"
Barn Light's handcrafted lighting is perfect for busy spaces such as this. Constructed from commercial-grade materials and finished with meticulous attention to detail, our American-made lighting is built to last for years.
"Functionally, the lights do exactly what we need them to do," Kaitlin says. "They have a level of quality to them without being fussy or too fancy. They are simply utilitarian."
Photos courtesy of Christine Burdick Design