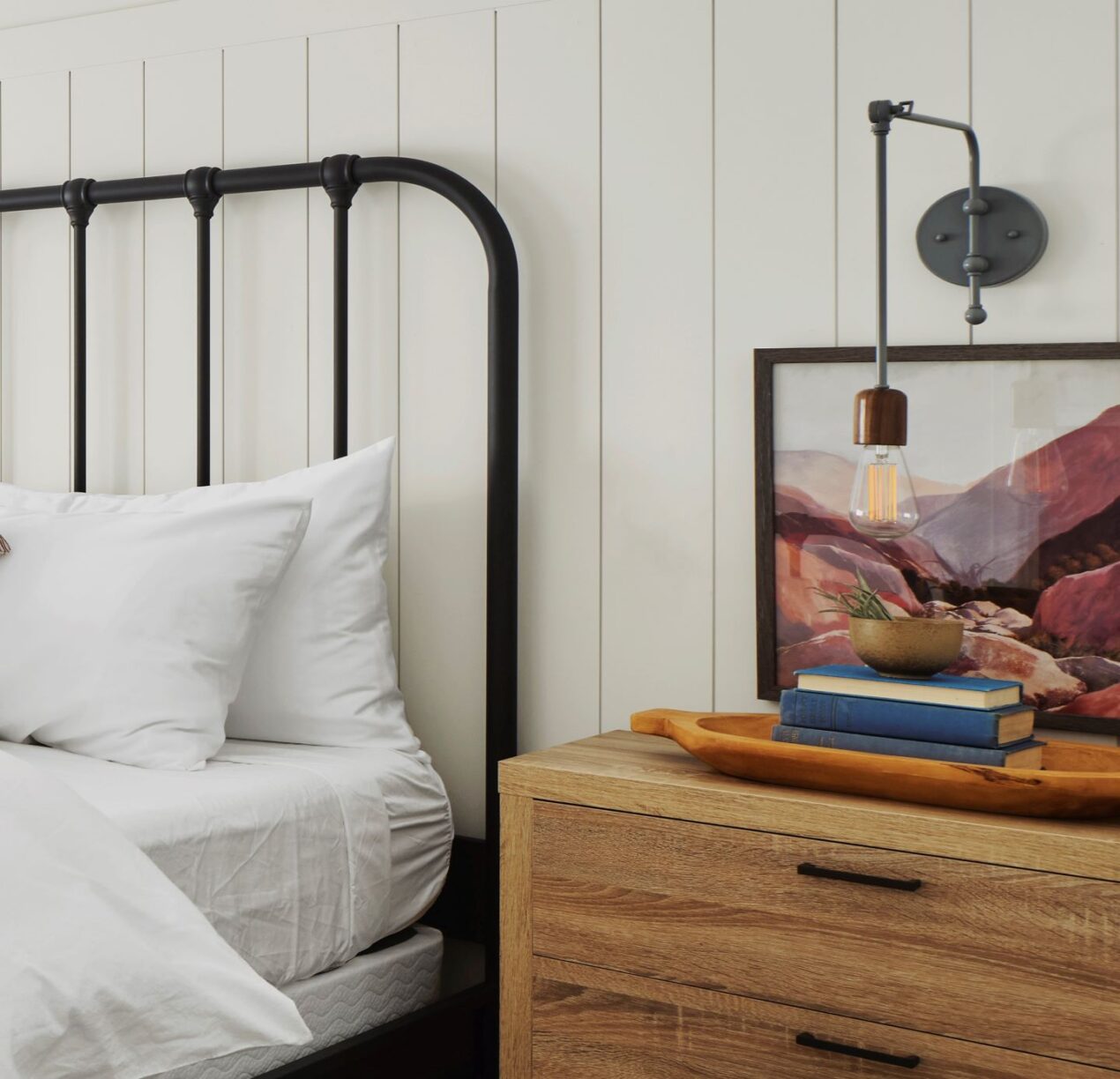 Rustic Wood & Metal Lighting Brings Warmth, Style to Arizona Rental Home
When we launched our new Timber & Ore collection last December, we knew that homeowners, designers, and lighting enthusiasts would love the addition of warm wood to our classic lighting styles. And if our Instagram hashtag, #mybarnlight, is any indication, we were spot on with that prediction!
Part of our inspiration for this new collection of handcrafted fixtures came from our friend Austin King of Rafterhouse. This Phoenix-based builder specializes in traditional American and post war-era ranch architecture that blends comfortable, yet sophisticated, styling.
We've been following one of Austin's latest projects over the past two months, and today, we're excited to continue our tour of the Early Avery. If you missed the earlier posts, you can catch the series launch here and the exterior details here. And don't miss the stunning kitchen which featured two different Timber & Ore fixtures!
Austin and his talented design team thoughtfully planned the style and functionality of each room of the home including the guest bedroom and bath.
"We wanted our guest rooms to feel comfortable and relaxing, yet stylish," he says. "This particular guest room has a bit of an eclectic feel with the pairing of a few different furniture styles." Most of the furniture pieces are neutral, so Austin and his design team added color and personality with the fixtures, artwork, and accent pieces.
They chose the Timber & Ore Downtown Minimalist Wooden Socket Swing Arm Sconce to provide a splash of style over the nightstands. These wall sconces are customized with a Grey powder coat finish and rich, deep tones of walnut wood. Ash, maple, and oak are also available as options.
"What I've always liked about Barn Light Electric is the ability to customize the colors," Austin notes. "This swing arm sconce is a nice way to provide accent lighting that complements the night stands but isn't visually overbearing."
In the nearby guest bathroom, another Timber & Ore fixture brightens the space. Austin chose the Wilcox Uplight Wooden Top Pendant and customized this handcrafted light with a 12″ shade, Black finish, and the same walnut wood as the bedroom's wall sconces.
"We wanted a statement fixture for this bathroom, and the Wilcox Uplight Pendant is perfect!" Austin explains. "We went with the 12″ shade for its presence and then offset it on the vanity so it doesn't obstruct the mirror. The Black finish complements the hardware finishes in the bathroom and bedroom while the walnut wood provides a nice bit of warmth."
All of the fixtures in the Timber & Ore collection are crafted in our Florida manufacturing facility and feature handspun metal and wood sourced from suppliers engaged in responsible forestry practices to ensure sustainability. The lights are easy to customize to suit a wide variety of styles and spaces. 
"We like our design work to tie a space together rather than fragment it," Austin says. "Whether it be lighting, plumbing, or hardware, it's important for pieces to complement one another. What I like about Barn Light is the ability to highly customize each piece to best fit a space. It makes our job easier!"