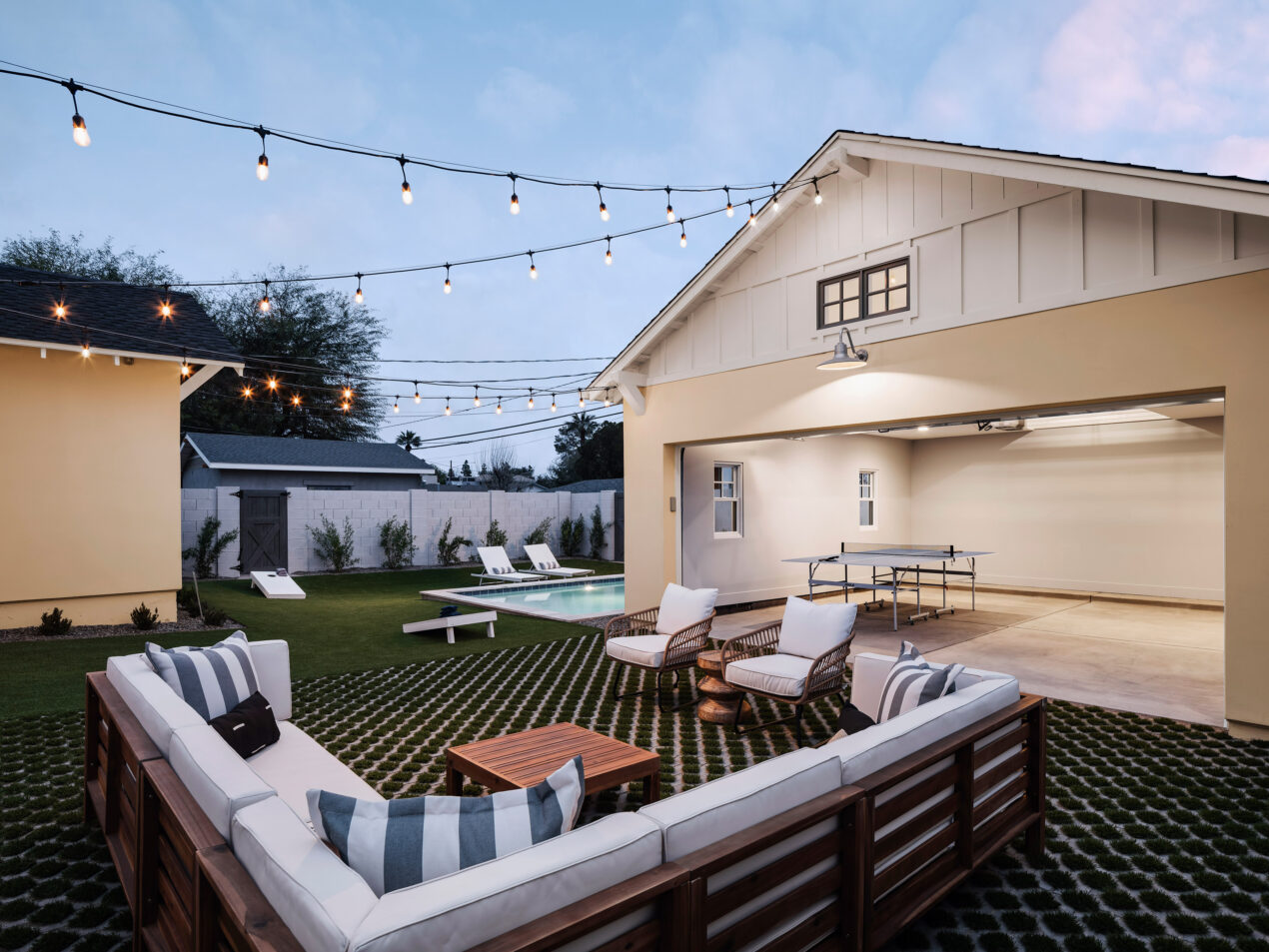 Timeless Outdoor Lights That Never Go Out of Style
Just a few weeks ago, we made the exciting announcement of our collaboration with Austin King of Rafterhouse. This Phoenix-based builder specializes in post war-era ranch architecture that merges comfortable, yet sophisticated, styling. Austin's latest project, the Early Avery, is a new construction ranch home filled with Barn Light Electric lighting.
Today, we're taking a look at the exterior of the Early Avery which serves as a short-term rental in the Arcadia neighborhood of Phoenix. Austin and his design team wanted to create a traditional feel with the exterior fixtures and finishes to complement the bungalow style.
"The most important thing we looked for in the lighting was classic styling," Austin says. "And you can't get more classic than a galvanized finish and its utilitarian, everyday feel. It's perfect!"
Austin opted for the Dominion Gooseneck Light to highlight the exterior spaces of the home which include the front porch, outdoor seating area, game garage, and pool. This gooseneck wall light offers the perfect balance between an historic warehouse-style fixture and a more modern shallow shade.
Most of the outdoor gooseneck lights are customized with 12″ shades, a Galvanized finish, and G26 gooseneck arms also in a Galvanized finish. One fixture, in front of the garage, sports a slightly larger 16″ shade which, as Austin notes, felt more proportional to the space.
"The Galvanized finish pairs well with the soft, yellow exterior body color of the home," he adds. "It also provides a nice utilitarian feel as opposed to a glossy-type painted finish."
Highlighting the grill are two Streamline Industrial Guard Ring Sconces. These rugged guard-and-glass fixtures are customized with the same Galvanized finish as the nearby gooseneck lights. They also feature a flared shade and frosted glass.
"I was most attracted to the funkiness of the Ring Sconces," Austin explains. "They have an industrial feel that is fun and different, and they relate well to the Dominion Gooseneck fixtures. The frosted glass hides the bulb to keep the focus on the fixture."
The meticulous craftsmanship of the American-made lighting complements the care and creativity Austin puts forth in every home he builds.
"I love everything about our exterior lighting package," he says. "My favorite thing is how classic they are. They are timeless and will never go out of style."
Be sure to check back as we will continue our tour of the Early Avery in September with a look at the kitchen which features one of our newest fixtures from the Timber & Ore Collection!