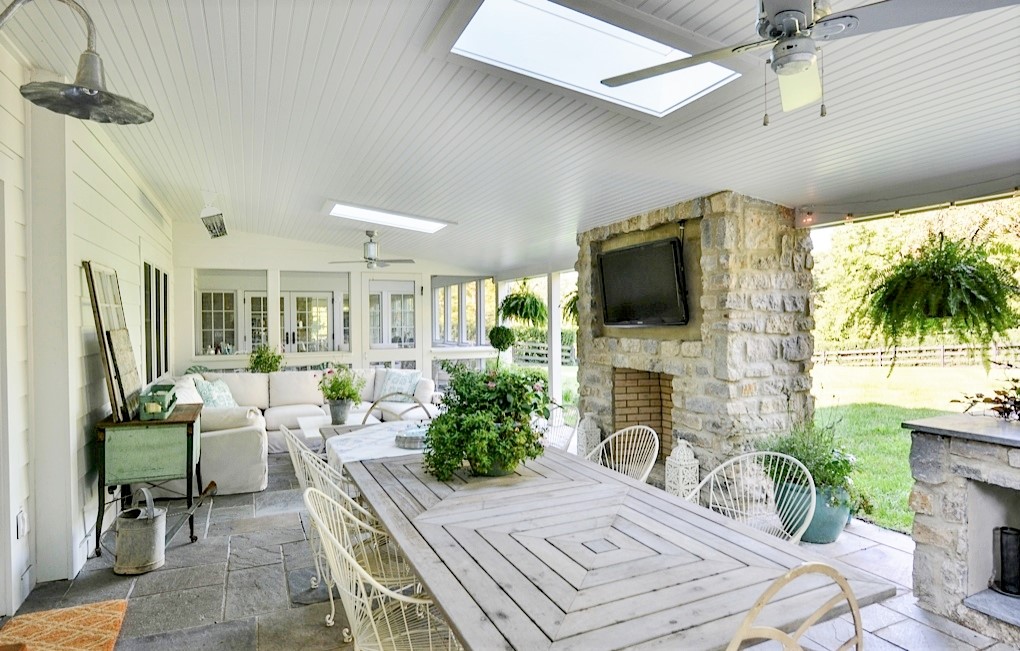 Outdoor Living Spaces More Popular Than Ever Thanks to Pandemic
Among the many things that 2020 has forced upon us, taking a fresh look at our homes where we spend an extraordinary amount of time is near the top of the list. A recent Wall Street Journal article noted a 58% surge in the demand for home renovation and design help in June 2020 compared with June 2019.
The article also quoted Houzz Editor Anne Colby describing a "particularly strong interest in major outdoor projects." While many people may enjoy entertaining around the kitchen island, the pandemic has prompted many to improve their outdoor spaces to make it easier to just relax or have people over without bringing a crowd into the house.
Scrolling through the Barn Light Electric Instagram feed revealed a number of stunning outdoor living spaces. These porches, patios, and verandas are designed with as much attention to detail as interior spaces with thoughtful lighting, fire pits with cozy seating, covered grill areas, and seasonal color.
Our friend Annie from @most_lovely_things created a welcoming back patio complete with seating and a dining table nearby. Two Industrial Guard Sconces in a Galvanized finish complement the black doors.
And who wouldn't want to wile away a few hours in this tranquil setting? Shared by @maceylaurick, this home has it all — pool, fireplace, outdoor kitchen, comfy seating, and plenty of Original™ Warehouse Barn Lights to keep the fun going long after dark!
Deep porches and wraparound porches offer great opportunities for outdoor gatherings. This rustic spot, created by @mollebytheseablog, is the perfect place to enjoy an early morning cuppa coffee or a late afternoon libation with friends. The warehouse-style shade of the Original™ Gooseneck Light provides plenty of downlighting with no glare.
Carrie and Chad, featured in this blog post, built two barns just across the yard from their home. Since they spend the majority of their time outside on their farm, they created functional space for the family including a large firepit and chairs that provide a place to relax and enjoy the stars.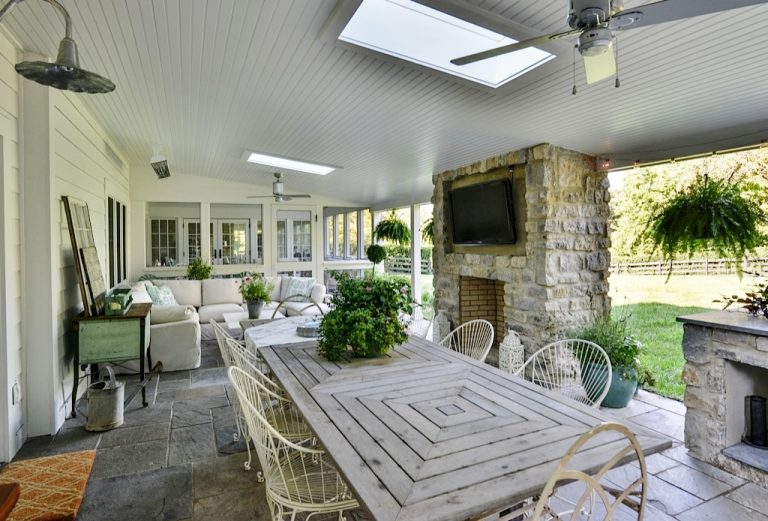 Emily, one of our long-time customers from Ohio, created an outdoor living space that reflects the same farmhouse style as the rest of her home. Featured in this blog post, Emily shared that she was going for a "relaxed, been-here-forever, added-on-over-time feel." A Seaside Gooseneck Light provides illumination over the doorway while Machine Age Ceiling Fans stir the breeze on a warm summer day.
Jocelyn and her family and friends also enjoy the fresh air, with no bugs, on their screened porch which includes comfortable seating and a farmhouse table highlighted by 14″ Wilcox Uplight Stem Mount Pendants. The fireplace keeps the porch cozy well into the fall!