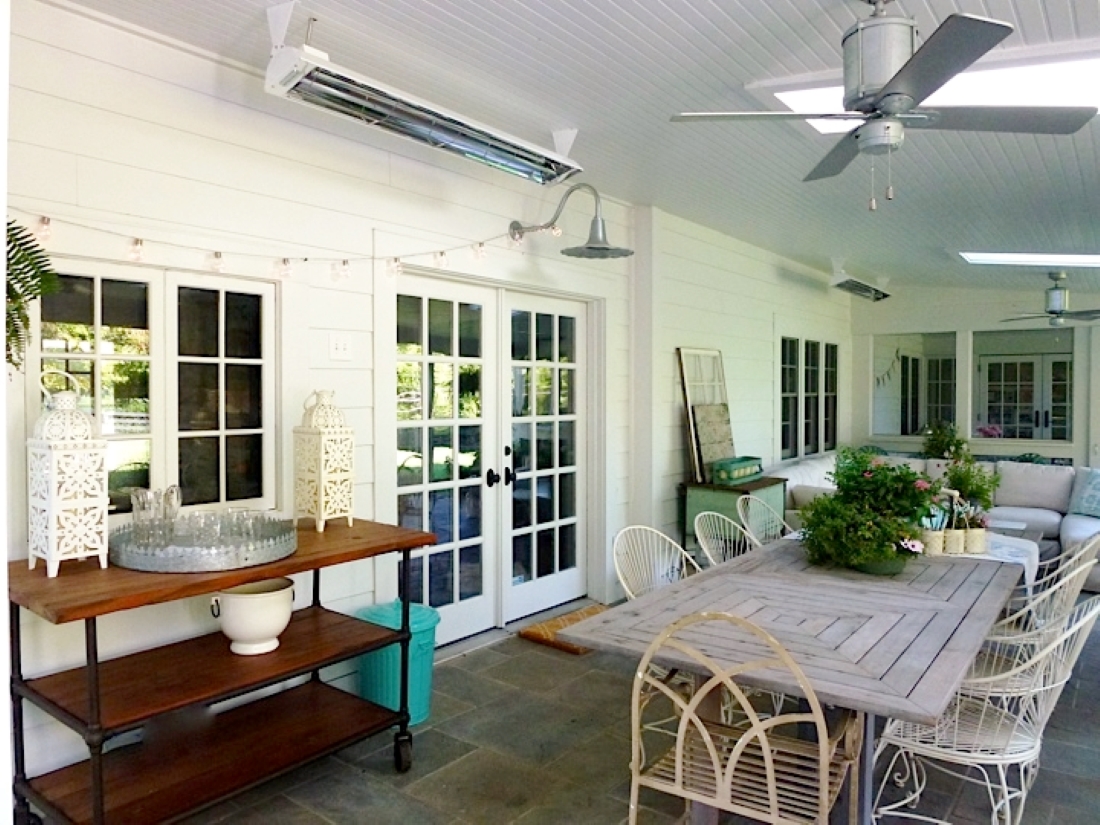 Galvanized Fans, Gooseneck Light Offer Eclectic Look to Porch
Who's ready for fall entertaining? Here in Florida, we're used to broiling temps six months out of the year, but much of the country has baked Florida-style this summer. We know many of you are ready to welcome the crisper fall season and a chance to return to outdoor spaces for entertaining.
One of our favorite, long-term customers is Emily from Ohio who was featured on the blog when her gorgeous retro kitchen won first place in our photo contest. Emily moved three years ago and has been slowly renovating her "new" home. Today we check out her amazing back porch where a soothing neutral palette, cozy fireplace, and galvanized fans set the stage for fall entertaining.
"The porch is part of our ongoing renovations," Emily says. "I was going for a relaxed, farmhouse, been-here-forever, added-on-over-time feel." To complement the tile floor, neutral colors, and rock accents, Emily chose two Machine Age Galvanized Fans for the space. With hints of styling from the Industrial Age, these ceiling fans are customized with 42″ Silver blades.
"I love the fans because they are just different," she explains. "I like an eclectic look, and even though they are a little more industrial, I really like the juxtaposition of that with the classic beadboard and other things going on."
Over the French doors, a Galvanized Seaside Gooseneck Light offers a fun splash of light to the space.
"I feel like the Galvanized finish is neutral so it goes with everything. And I'm a sucker for the radial wave," Emily admits. "I like the soft lines and curves.
Just off the porch is what we would call the Florida room, although in Ohio, perhaps not. This space gives the feeling of being outdoors with all the comforts — and heat — of home during the winter months. Emily chose another Machine Age Galvanized Fan for this space but customized it with larger 51″ blades. She also chose the option Light Kit which includes a 12″ warehouse shade to provide plenty of light.
"I love the lighting from Barn Light Electric because I feel like you can plug those lights into any space, from any era, and it will pull things together," Emily says. "They can infuse color and whimsy without being too cutesy."
Be sure to stop back next week when we take a look at Emily's adjoining mudroom which is so charming it deserves a better name!
Photos courtesy of the homeowner