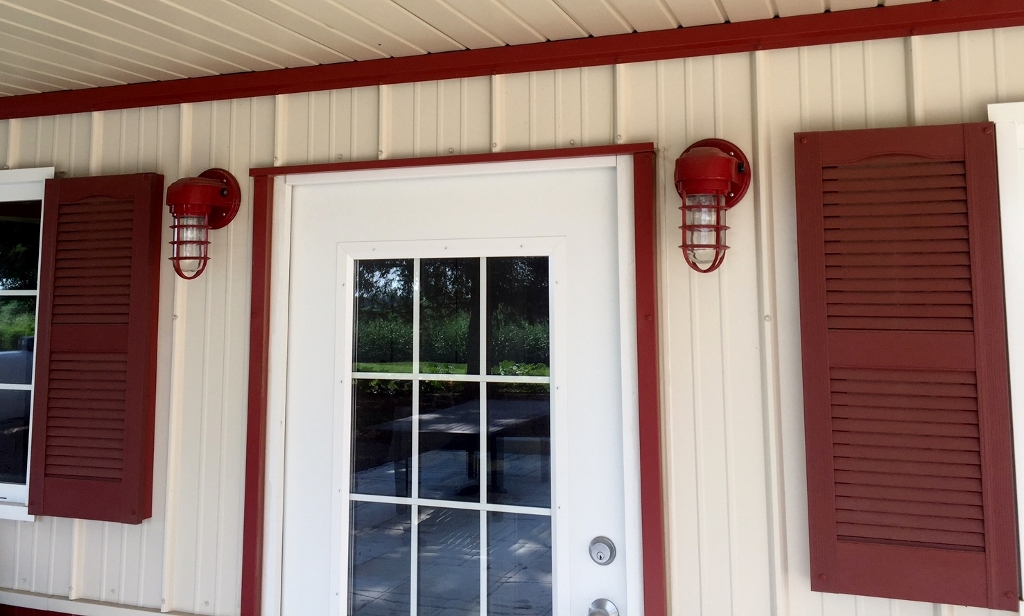 Custom Wall Lights Offer Industrial Touch to Family Farm
In Monday's blog post, we visited with Mary Ann of Will County, Illinois, as she shared pics of the interior of her new home filled with porcelain enamel lights and copper pendants. Today, we take a walk outside where Mary Ann chose classic wall lights to highlight the exterior. Buying quality, American-made lighting was high on Mary Ann's list as she searched for new lights.
"While not the least expensive option, buying Barn Light Electric fixtures has been an investment worth making," she says. "You cannot find lights of this quality anywhere else. I cannot tell you how many websites I searched and how many products got returned."
To brighten several doorways, Mary Ann chose the industrial look of the Streamline Industrial Guard Sconce.
"We live on a farm and we liked the look of these wall lights," Mary Ann notes. "They have an industrial feel that fits on a residential house or garage. We also had some space limitations on the back door of the garage which worked well with this light."
Mary Ann customized these American-made rustic wall sconces with a standard cast guard, Barn Red finish, and clear glass. A dusk-to-dawn photocell turns her lights on at dusk and off again at dawn.
"The red finish matches our wainscoting and trim on the house and barn," she explains. "And the photocell makes it easy as I don't have to turn the lights off and on."
Complementing these industrial sconces are two Original™ Warehouse Gooseneck Lights. These gooseneck wall lights are customized with the same Barn Red finish and photocell. Mary Ann chose the 12″ shade with a G17 arm for the doorway above, while a larger 16″ shade on a G14 arm casts light over the large garage door.
"The larger shade over the garage door is 14 feet off the ground so we needed a larger size with a wider spread," she says. These lights are also customized with the optional cast guard and clear glass.
"We liked the look of the cast guard. Again it's a little industrial and we wanted protection for the light bulbs," Mary Ann explains. "And the clear glass offered a brighter, cleaner option for us."
Moving from the garage into the house, Mary Ann enjoys a combination mud room and laundry space. She wanted a fixture that provided a lot of light but with a classic design. The Primary Schoolhouse Sconce offered the quality and style she wanted and the clear glass shade provides clean, bright light. This wall light is customized with a Vintage Green finish, a favorite of Mary Ann's.
Another hard-working wall light — the Esso Gooseneck Light — does duty over the washer and dryer. Sporting a compact 10″ shade and finished in the same Vintage Green, this gooseneck light pops nicely against the pale green walls.
"There is a little bit of whimsy in the styles Barn Light Electric offers and we like that," Mary Ann says. "The customer service and ease of purchase made it very easy. We had to return things, change things, need things immediately, and Barn Light Electric came through every time."
Photos courtesy of the homeowner