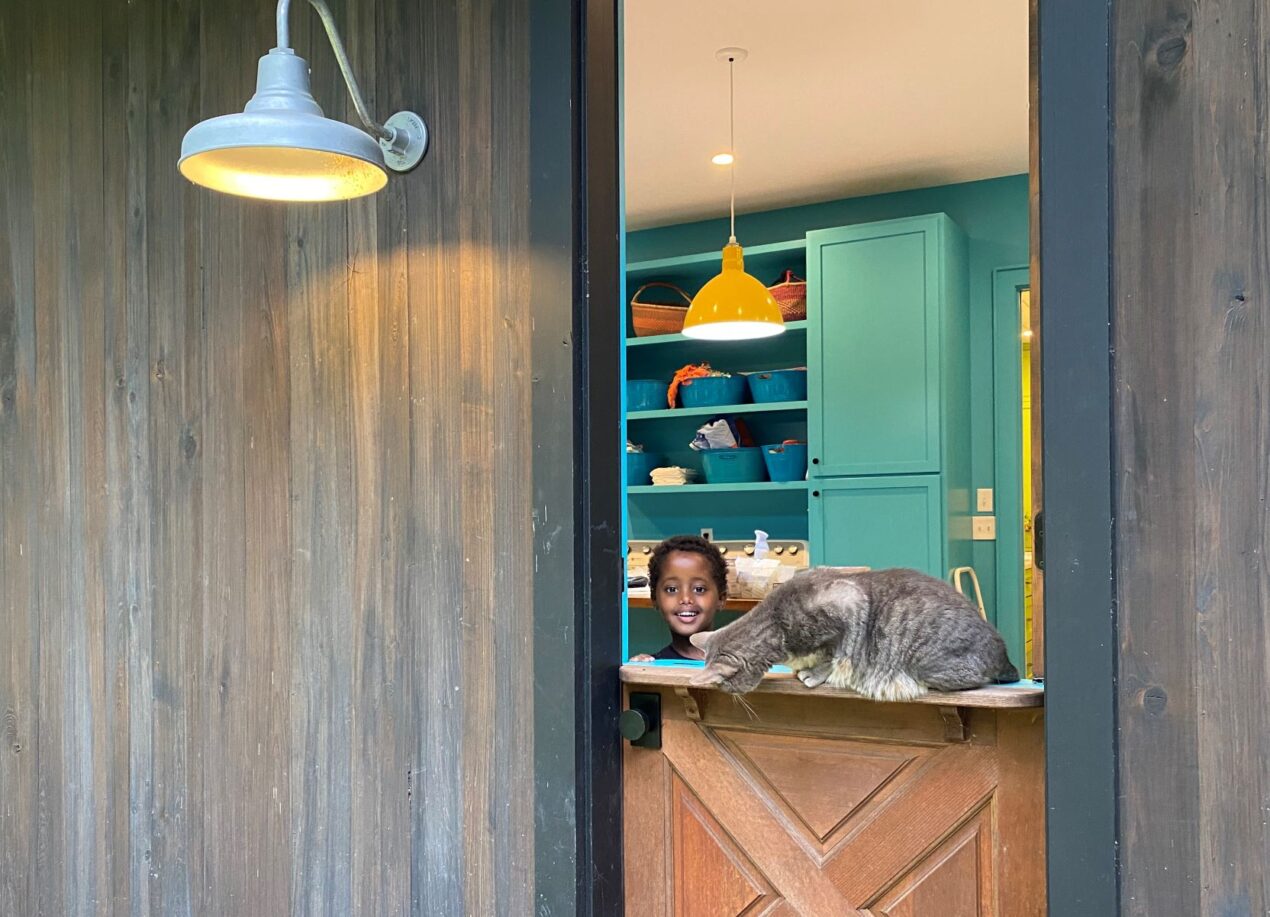 Galvanized Lighting Blends Industrial & Farmhouse Styles
The Barn Light Electric blog has been chock full of color the last two Mondays as we toured Allison and Steve's new Alabama home. If you missed the posts, be sure to check them out here and here.
Today we're venturing outside to see how this home blends peacefully into the surrounding landscape while still exuding plenty of farmhouse style.
"The exterior has a modern farmhouse feel on this large, wooded lot," says Richard Long, lead architectural designer for Long and Long Design who handled the project. "The dark stained siding allows the home to blend with the nature that surrounds it. We used authentic, natural materials that will stand the test of time."
One of Allison's go-to fixtures for the exterior lighting plan was the Union Gooseneck Light. Over the front door, she customized this handcrafted, American-made gooseneck light with a 16″ shade, Galvanized finish, and G15 gooseneck arm.
"These are just so classic," she says. "I didn't want to use different fixtures, but I needed different scales for each location. The front door required the largest size both for the arm and the shade. We needed something that could stand up to the tall façade of the house and also be friendly and welcoming."
Just inside the swinging gates, slightly smaller 14″ Union Goosenecks, mounted on G26 arms, bring light to this area.
And brightening the Dutch door into the mud/laundry room is the 12″ version of the Union also on a G26 gooseneck arm. Allison chose the Galvanized finish for all of the exterior lighting which provides a pop of color against the dark siding. And check out that beautiful Wilcox Pendant in the background!
On the rear of the home, Allison opted for the Esso Gooseneck Light which offers a slightly larger profile than the Union.
"I wanted fixtures with a bigger presence to meet the scale of the house," she explains. "We were able to put three of these in between the French doors where they provide functional beauty to the back terrace."
These handspun gooseneck lights feature 10″ shades, the same Galvanized finish as the other exterior lights, and the G26 gooseneck arm.
For the screened porch, which serves as the bridge between the indoor and outdoor spaces, Allison wanted fixtures that echoed her interior choices but with the Galvanized finish of the exterior lighting. She chose six Industrial Guard Sconces to bring illumination to their evenings on the porch.
"I LOVE these fixtures on the porch!" Allison notes. "Using similar fixtures means the spaces speak to each other. These don't take up a lot of space and the cast guard gives the light more personality. And I don't have to worry about the kids throwing a ball around. The frosted glass gives off a soft light."
Crafted from commercial-grade materials, the Industrial Guard Sconce brings the perfect blend of rugged industrial style to the space.
"When these fixtures are on, the screened porch turns into this special space that is warm and inviting," Allison says. "The lights cast a golden glow over the room. It's just so beautiful!"
Photos courtesy of the homeowner and Jean Allsopp