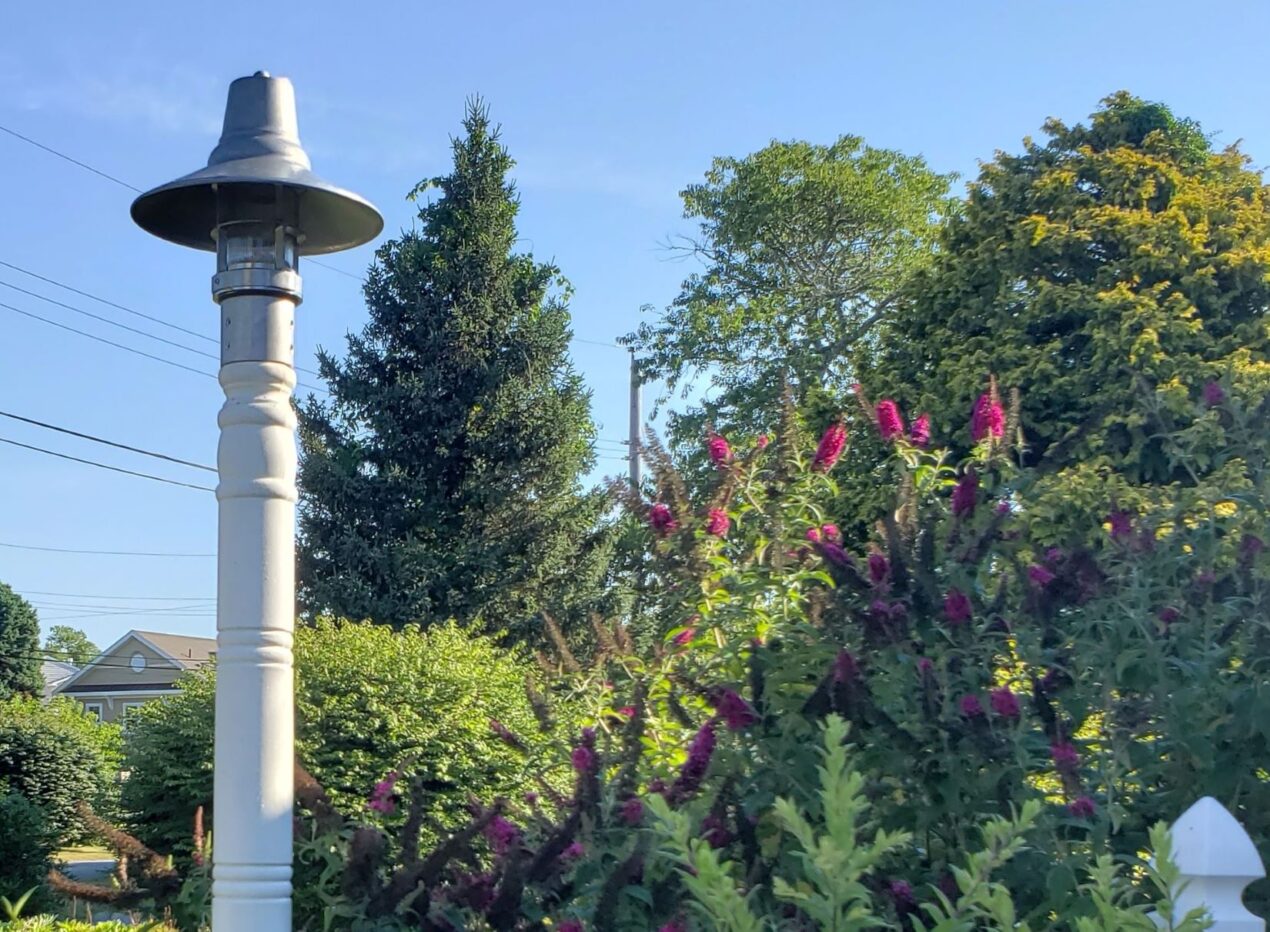 Rugged Outdoor Lighting in Variety of Mounts Suits Homeowner's Style
When shopping for outdoor lighting, some customers seek rugged materials to stand up to the elements. For others, a variety of finish colors is important.
When Tina renovated her 1950s-era ranch home on the coast of Rhode Island, she not only wanted durable lights in a variety of colors, but she also wanted to find the same style of fixture in a variety of mounting options.
"It is actually quite challenging to find lighting sets that have a matching family for post mounts as well as wall lighting," Tina says. "I'm very particular about aesthetics and quality, and I wanted lighting that wasn't trendy, but unique. Lights that are high quality and American made are an excellent bonus."
Luckily, Tina found Barn Light Electric during her Google search and quickly realized this vast collection of lights checked all the boxes. She replaced the builder-grade exterior lights with commercial-grade, cast-guard-and-glass fixtures that are available in gooseneck, wall sconce, pendant, chandelier, vanity, and even post top mounts.
"I wanted something that looked more vintage and beachy than colonial," Tina explains. "And I wanted something that cast light downward to minimize the light pollution in our rural area."
For the front of her home, Tina chose the Aero LED Industrial Guard Post Mount Light. She customized these two fixtures with 12″ shades, a Galvanized finish, and ribbed glass. She also chose a 1600 lumen LED with a 2700K warm white color temperature.
"The excellent quality will help them withstand the elements here, and the price was reasonable compared to lesser quality products," she notes. "Even our electrician commented on the weight and quality of the lights."
For the front porch, Tina stayed in the same family of lights and chose the Industrial Guard Gooseneck Light to flank the front door. She customized these wall lights with a Buttery Yellow finish and G11 gooseneck arms in a contrasting Galvanized finish. These rugged wall lights also feature a flared shade, heavy duty cast guard, and ribbed glass.
"I wanted something different near the main doors and the gooseneck makes a statement!" Tina says. She also installed one of these gooseneck lights on the rear patio by the door of their guest studio.
"The bright yellow matches the black-eyed Susans and sunflowers that we have in our summer garden," she adds. "Yellow is a happy vintage color and goes well with the gray and navy on the exterior."
Tina also purchased another Industrial Guard Gooseneck to add a touch of light between the garage doors. This fixture has a Galvanized finish and a G4 straight gooseneck arm. It has the matching flared shade, heavy-duty cast guard, and ribbed glass as the yellow goosenecks Tina chose.
"The lights are both timeless and vintage," Tina says. "I love the quality and the pop of color."
Barn Light makes it easy to find the right mounting for each family of fixtures. Just go to the Shop By Shade page and click on your favorite style of shade to see every mounting available!