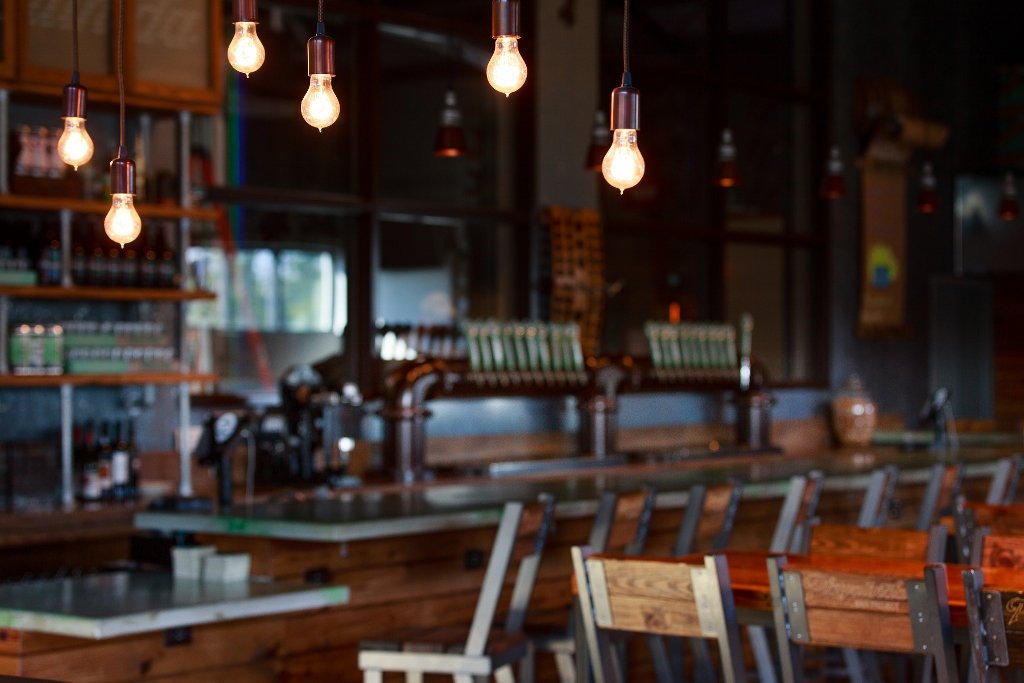 Local Brewpub Taps Industrial Modern Design Elements
Barn Light Electric customers can be found from Atlanta to Australia, but one of our very favorite customers lies right down the street. Playalinda Brewing Company's Brix Project, a craft brewery and restaurant, is a popular Space Coast destination for locals and tourists alike.
Set in a stylishly renovated former lumberyard in south Titusville, Brix Project includes a production and distribution brewery, a full kitchen, outdoor beer garden plus indoor community, private, and bar seating. A varied selection of industrial-style lighting serves as functional, decorative elements.
"We take our guest experience very seriously at Playalinda Brewing Company, and lighting plays a huge role in crafting the Playalinda vibe," says Laura Sasaninejad, marketing manager for PBC. With open ceilings and exposed ductwork above, pendant lights serve to cozy up the setting with warm finishes and Edison style light bulbs.
In addition to bar seating, the main dining area features large community tables highlighted by custom chandeliers crafted with Fire Chief Sign Lights in a Galvanized finish. These multi-light fixtures are suspended from wooden planks to add warmth and visual interest.
"One of the unique things about Brix Project is the variety of lighting around the taproom," Laura explains. "Guests are able to transform their individual experiences by sitting in different places. Sitting at the front of the taproom under the glow of vintage Edison bulbs gives a different feel from sitting under the funky antique fixtures over the booth. The lighting enables us to create new and special moments for those visiting the taproom each time they come."
The one booth in the taproom is a popular spot thanks to the array of vintage fixtures overhead. These one-of-a-kind antique lights hail from the early 20th century when porcelain enamel lighting was the industry standard.
"We definitely get comments on the light fixtures, and the booth is a special place for people to sit while being in the middle of the taproom, but feeling completely private," Laura notes.
The fixtures lining the walls also have deep vintage roots but sport modern finishes and options. The Original™ Warehouse Gooseneck Lights that highlight these tables are suspended on rugged G36 gooseneck arms that extend the shade to the perfect position over the tables.
In addition to craft beer, craft cocktails, and ciders on tap, Brix offers an eclectic menu of seasonally inspired foods. The wood-fired oven, flanked by Wilcox Deep Bowl Pendant Lights, produces delectable flatbread pizzas each day.
Even the bathrooms at Brix have an industrial flair! This custom SoHo Vanity Light brightens one room with its Jadite shades…
…while this Industrial Guard Vanity Light was also custom made to perfectly suit the space.
Outside, porcelain enamel lighting stands strong against Florida's harsh sunshine. Handspun and coated with multiple layers of porcelain enamel glass, these fixtures will never fade and always provide a welcoming glow to Brix. Stop by the next time you're on the Space Coast and check it out!