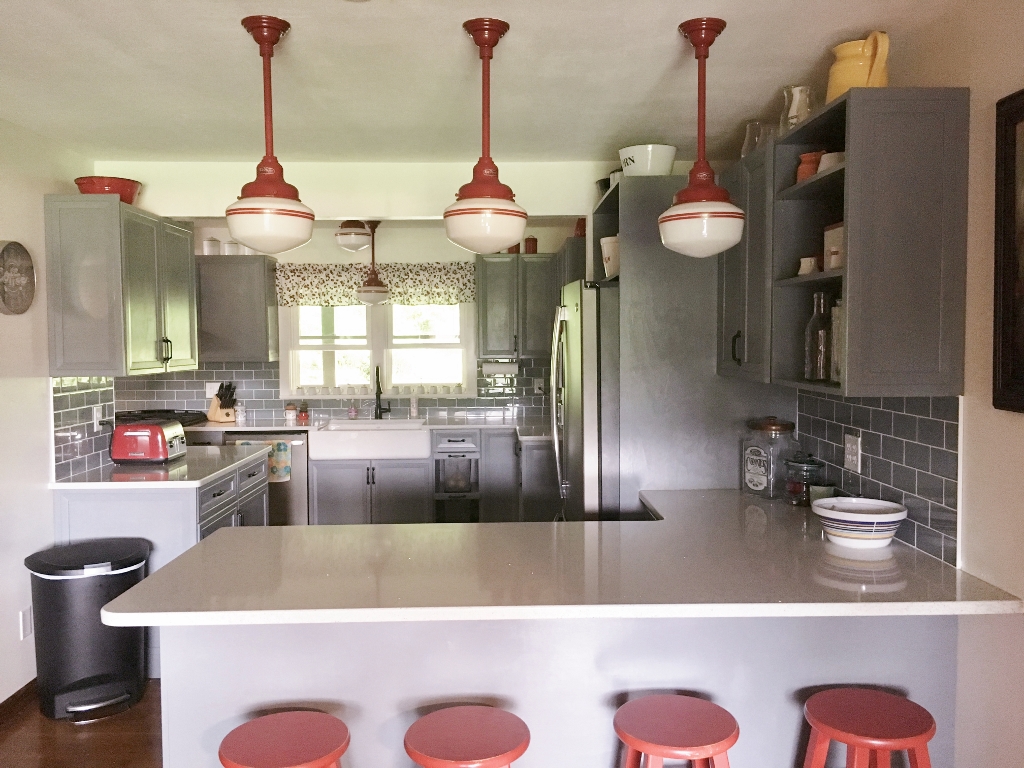 Schoolhouse Lighting Adds Color, Retro Style in Kitchen Remodel
The 1950s post-war enthusiasm influenced many aspects of home design. The clean lines of the mid-century modern style reined supreme and color found its way back into the home.
Lighting was no longer just a functional piece of equipment, but instead became an integral part of a room's design. Sculpted shades and intriguing new shapes made lighting fun again!
Angela's home in North Carolina was built during these post-war years. Though remodeled in the 1980s, Angela decided to embrace the original style of her home during a recent remodel with retro style schoolhouse lighting.
"We redesigned the kitchen layout to make the current dining room part of the new kitchen," Angela says. Angela's husband built new cabinetry for the expanded space while she picked out a large farmhouse sink, a quartz countertop, and glass tiles for the backsplash.
"We started with lots of grays and whites, but I knew I wanted to have some color in there," Angela adds. "I have always like cherry red as an accent. I didn't want the kitchen to look too serious so I added pops of color with a bit of a farmhouse and retro vibe with the lighting."
Angela chose the Primary Schoolhouse Stem Mount Light to accent her new kitchen peninsula and kitchen sink. She customized these fixtures with small opaque globes and a double band of Cherry Red. Matching stems, fitters, and canopies complete the look.
"I have always been a huge fan of statement lighting," she notes. "I like things that are different. I saw a Barn Light Electric ad in a magazine and saved the picture so when it came time to pick out lighting, I had that as an example." With Barn Light's endless array of customizing options, Angela not only found the retro look she wanted, but added the pop of color she envisioned as well.
"I like all of the color options available, and the shape of the globe also really appealed to me," she explains. "It looks retro like it's from the 50s. Definitely a statement piece." Angela also chose the complementary Primary Schoolhouse Semi-Flush Mount Light to accent the space. This fixture sports the same double bands of Cherry Red with a matching fitter.
"I was concerned about the size and if they would look right in the space," Angela notes. "I think they look fantastic. The size is proportionate to the space and there is plenty of light."
Although Angela was unsure about which finish color to choose, she asked the Barn Light sales team for color samples prior to ordering her new lighting.
"I was trying to decide between the two red colors available and having the color swatch in person was really helpful," she says. "My favorite thing is just how cheerful they are. They make me smile. We've gotten so many compliments on them. Some people say they look like they came out of an old-fashioned ice cream soda shop. I love that."
Photos courtesy of the homeowner