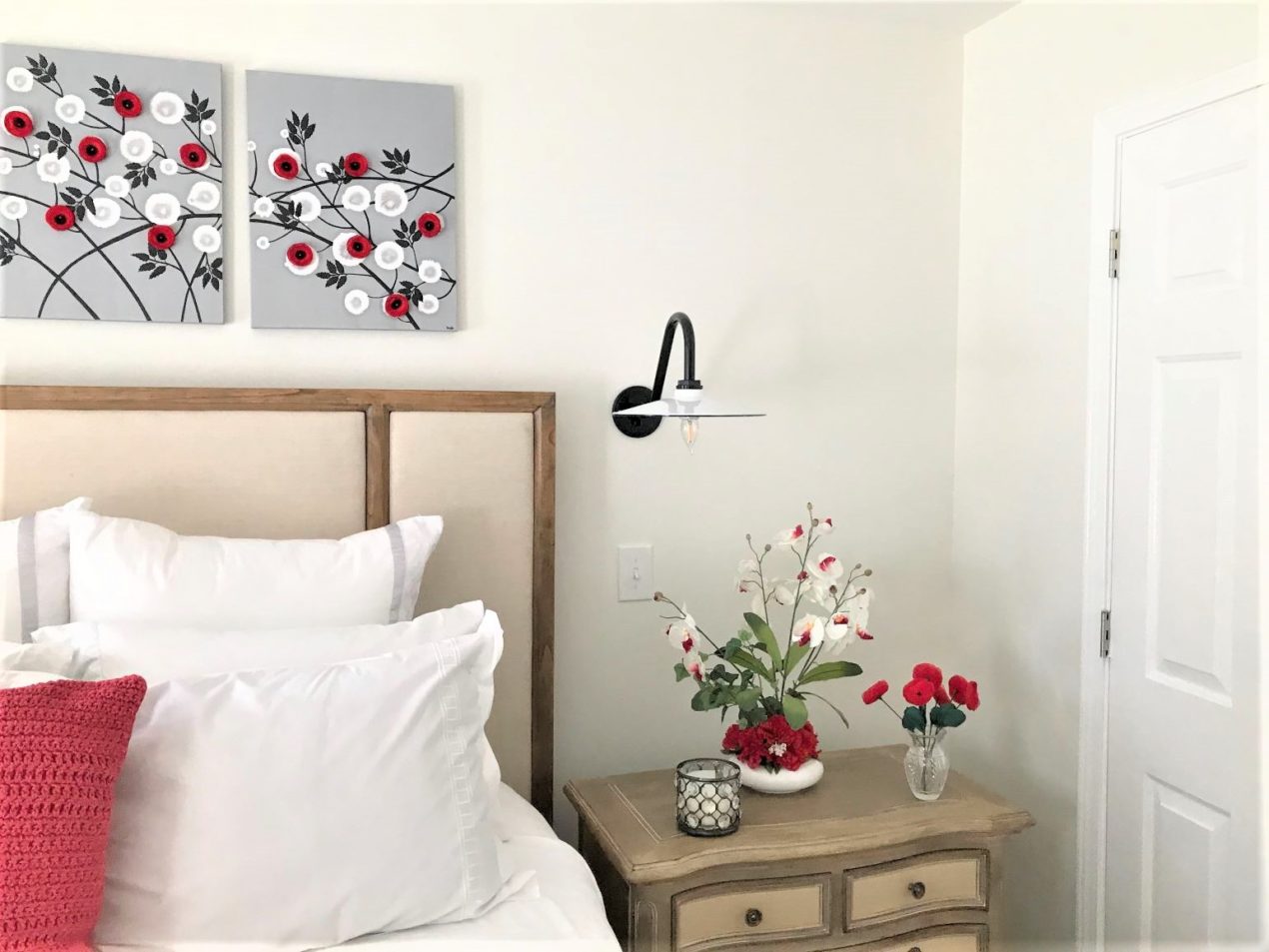 Porcelain Gooseneck Lights Adorn Bedside with Elegant Style
Transforming a whimsical child's bedroom into a more elegant and upscale guest room qualifies as a major remodel. Cecilia approached this task recently in her Sharpsburg, Georgia, home with this photograph from a magazine as inspiration.
"I wanted an all-white room using accent colors to define the space. And I chose the lighting based on this picture," Cecilia says. "I wanted as close to the style as pictured, so I searched the internet and found Barn Light Electric. They had, what I felt, was very close to the lighting I desired."
Cecilia selected the Conoco Gooseneck Light to flank her new guest bed. She customized these handspun wall lights with 12″ shades, a White porcelain enamel finish, and G26 gooseneck arms in Black. Neutral furniture and creamy walls keep the room light and airy while Cecilia's accessories and artwork add eye-catching and dramatic pops of color.
"I wanted a different motif on the walls so I chose a handmade floral design over the bed and on three of the walls," she explains. The white porcelain enamel wall lights, with the contrasting black rims and arms, add style without overpowering the space.
"The Conoco Goosenecks are perfect. I love the fact that I was able to customize the fixture. The lights are stunning and I was very pleased with the installation."
The Conoco Gooseneck Light, like all of our porcelain enamel lights, is handcrafted from commercial grade steel and coated with multiple layers of porcelain enamel glass. The shades are fired in our porcelain oven at 1500 degrees to seal the glass to the shade. This time-honored process creates a high-gloss finish that will never fade and is easy to maintain.
"I am pleased with how the room turned out," Cecilia says. "The lighting is the first thing that company comments on when entering the room!"
Photos courtesy of the homeowner