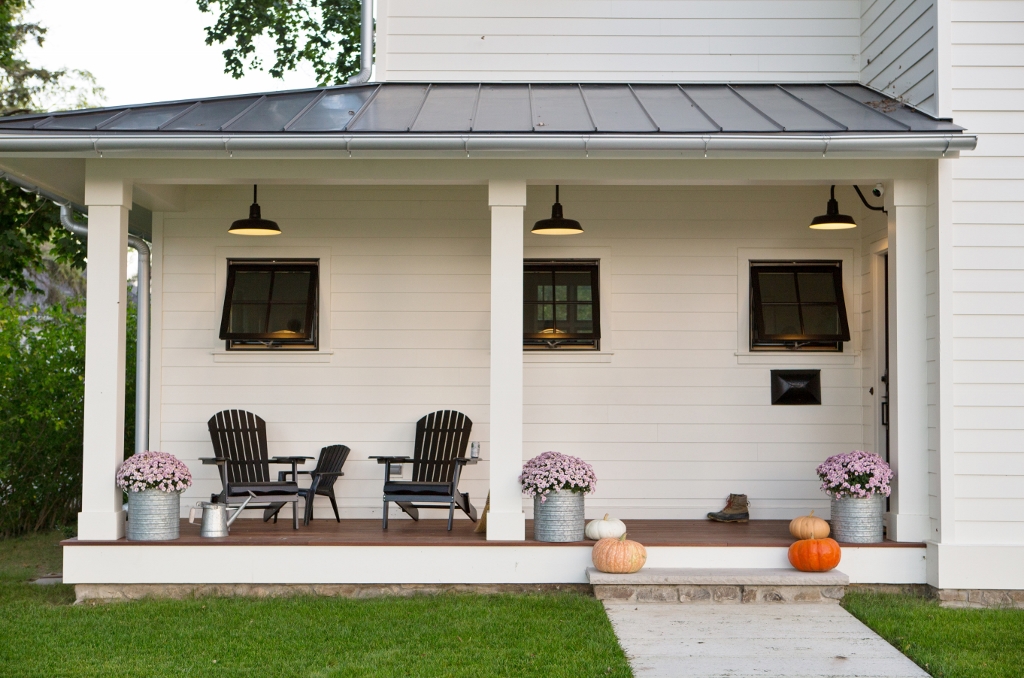 Vintage-Inspired Lighting Brings Old Style to New Farmhouse
On Wednesday, we started a tour of a gorgeous new farmhouse in northwest Ohio that many people mistake as a thoughtful renovation of an older home. The homeowners took great care to include many of the details of a classic farmhouse in their design including a natural stone foundation, a standing seam metal roof, and barn lights.
Ryan and his wife designed the home and chronicled the build on Instagram @OhFarmhouse. In Wednesday's post, we checked out the front porch where the family enjoys watching the flow of the neighborhood. This popular spot is highlighted by two Original™ Stem Mount Pendants.
For the front door, Ryan chose a matching Original™ Warehouse Gooseneck Light. He customized this classic barn light with a 12″ shade, Black finish, and G22 gooseneck arm.
"We chose barn lights because of their modern form, yet traditional farmhouse appearance," Ryan explains. "We wanted to use a gooseneck light to signify the entrance because our front door is a side entrance not visible from the curb." The black finish on both the gooseneck and pendants matches the windows and doors perfectly.
On the small rear porch, Ryan chose another classic — the Primary Schoolhouse Semi-Flush Mount Light.
"We used this schoolhouse light on the rear porch because it's so inviting with its painted bands on the milk glass," he notes. "For some reason, it just seemed the perfect fixture for a small back porch." This American-made light is customized with a small globe, and triple painted bands of Black to match the fitter and canopy.
"We love seeing the light glow through the kitchen windows," Ryan adds. "It's the perfect size to illuminate the porch." You can see more pics of their gorgeous kitchen here.
And while Ryan's lighting exhibits the vintage details he loves, the lights also boast modern technology.
"We use wifi-enabled, programmable bulbs in the lights so they turn on at dusk each night to beautifully illuminate the porches and provide security," he says. "We can also operate them via our mobile phone or tablets. They are high-tech barn lights! The lights are the one element of the exterior passers-by compliment the most."
Photos courtesy of the homeowner