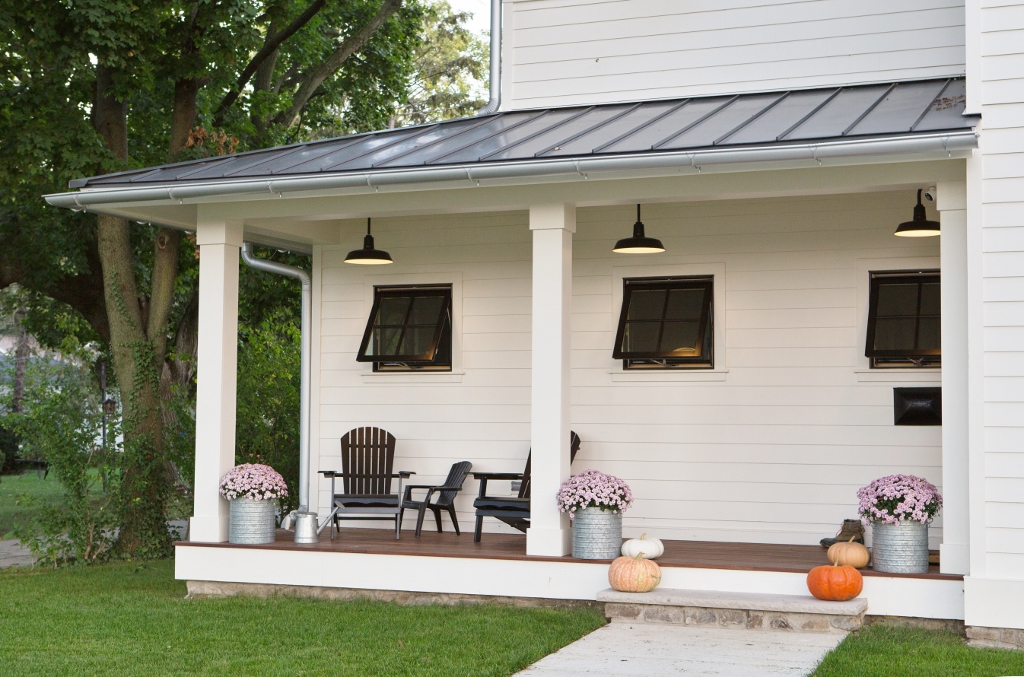 Classic Barn Lighting for Urban Farmhouse
The highest compliment Ryan receives is when someone asks about the remodel of his old farmhouse in northwest Ohio.
Funny thing though.
It's a brand new home with such attention to detail that people often think it's been standing for decades.
"We built the house in an urban area where we tore down a very old farmhouse," Ryan explains. "We wanted the new house to mimic the look of the previous home with its traditional form and simple lines so that it fit into the neighborhood."
The new home, which Ryan shares with his wife and son, features white shiplap siding, barn lighting, a standing seam porch roof, galvanized half-round gutters, and a natural stone-clad foundation to further the modern farmhouse style.
With the clean look of the white siding, Ryan wanted to use black for the windows and lighting as the perfect accent. He chose two Original™ Stem Mount Pendants for the front porch where the family often sits to enjoy the outdoors.
Ryan customized these ceiling pendants with 12″ shades, a Black powder coat finish, and 12″ stems. Like all of the lighting we handcraft in our manufacturing facility, these barn pendants are hand spun from high-quality aluminum on a lathe to form the shade. The fixture is then powder coated by hand and finished in our Assembly Department.
"We chose these pendants because we wanted the lights to hang down beneath the porch roof so they are visible from the curb," Ryan notes. "And we didn't want hanging lights that would sway in the wind."
The home was built when Ryan and his family were still living in Chicago, and they struggled with choosing the appropriate size for the porch.
"We had to hold the lights up and try to envision how they would look on a house 250 miles away," he says. "I don't recommend choosing light fixtures that way!" But when construction was completed, he was more than happy with the outcome.
"We love that the form of the lights contributes to the modern vibe, while still being very much a part of the farmhouse vernacular," he says. Be sure to stop back on Friday when we continue our tour of Ryan's home and see what other lights he chose to complete the farmhouse look. We can't wait to show you the back porch!
Photos courtesy of the homeowner