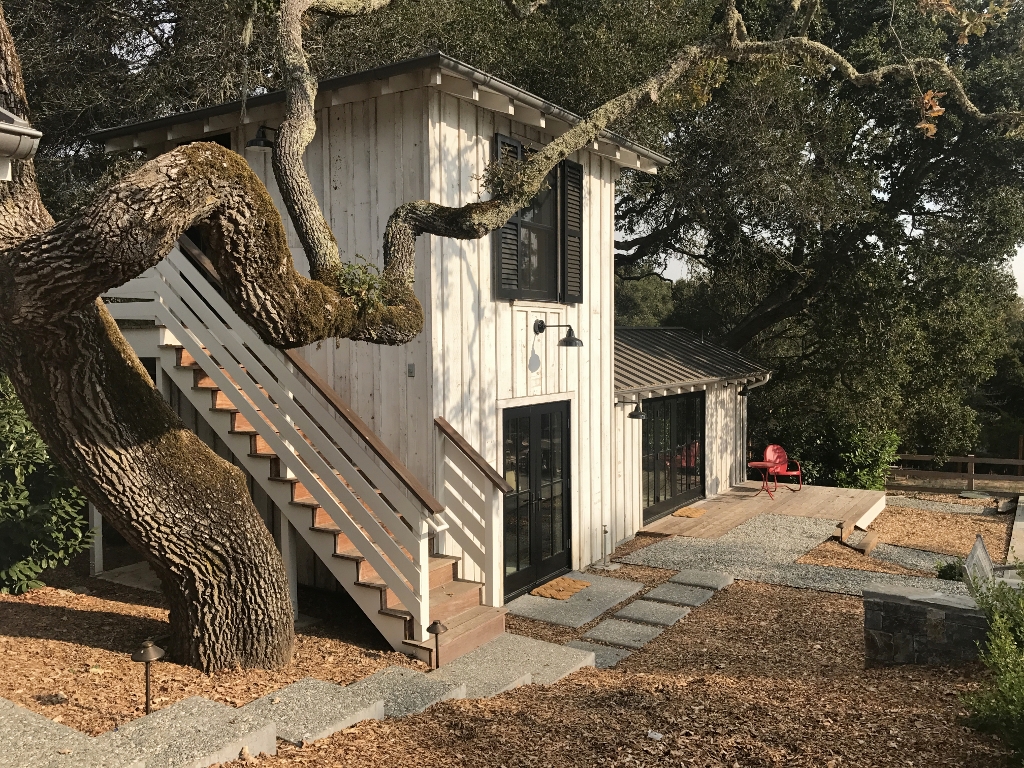 American-Made LED Lighting Offers Vintage, Modern Mashup
When you're a third generation carpenter, you know a thing or two about fulfilling client's dreams. The Gomez family, principals of Allwood Construction in San Carlos, California, have perfected the art of building dream homes and completing historic renovations for more than 40 years.
One of their recent projects was a new build in Woodside, California, which included a home and a barn plus a remodeled potting shed and a new two-story water tower built in the same place and likeness as a 100-year-old water tower that was removed.
"The design was to embrace the existing oak trees and natural setting," says Matt Gomez, Jr. "Both the exterior and interior were designed with finishes that would have been present in farm houses from years past while incorporating modern conveniences and construction techniques."
Barn lighting was a natural fit for the home, but Matt wanted to spec LED lighting as much as possible.
"LED lighting offers minimal environmental impact and energy efficiency," he explains. "American-made companies like Barn Light fit our needs perfectly since we wanted authentic design elements while offering today's technology in light output."
Matt chose three Original™ Stem Mount LED Pendants to accent the front porch. These hand-spun barn lights are customized with 16″ shades, a 36″ stem, and an Oil-Rubbed Bronze finish.
"The stem mount fixtures give a more formal aesthetic to the porch by having a similarity to a chandelier while also casting additional light into the sitting area of the porch," Matt says. "This draws attention to the porch instead of illuminating the wall of the house."
For the bulk of the exterior lighting, Matt specified the Avalon Porcelain LED Gooseneck Light. These handcrafted barn lights offer the classic farmhouse look Matt desired but with the very latest in LED technology.
"They fit the traditional simple style of a farm house while not casting light upward or outward," he notes. "We are mindful of light pollution when we build homes and want to provide neighbors a sense of privacy by keeping the light source as hidden as possible."
Matt customized these American-made gooseneck lights with 12″ shades, Black porcelain enamel finish, and G11 gooseneck arms.
"The gooseneck arm has a visually appealing shape and was chosen to keep the fixture from overpowering the building," Matt says. "We felt the contrast between black and white on the home provided enough attention to the fixture, and we didn't need additional size to accomplish our goals."
For the water tower building, he used a G8 straight gooseneck arm to clear a lower roof structure. Matt adds that with Barn Light's array of design options, he was able to use the same fixture in different applications basically creating custom fixtures made to match throughout.
"We like that the modern light output was merged with a traditional fixture in such a clean way," Matt says. "It keeps the aesthetic true to the character of the project while offering an energy efficient and low maintenance solution."
Photos courtesy of Allwood Construction