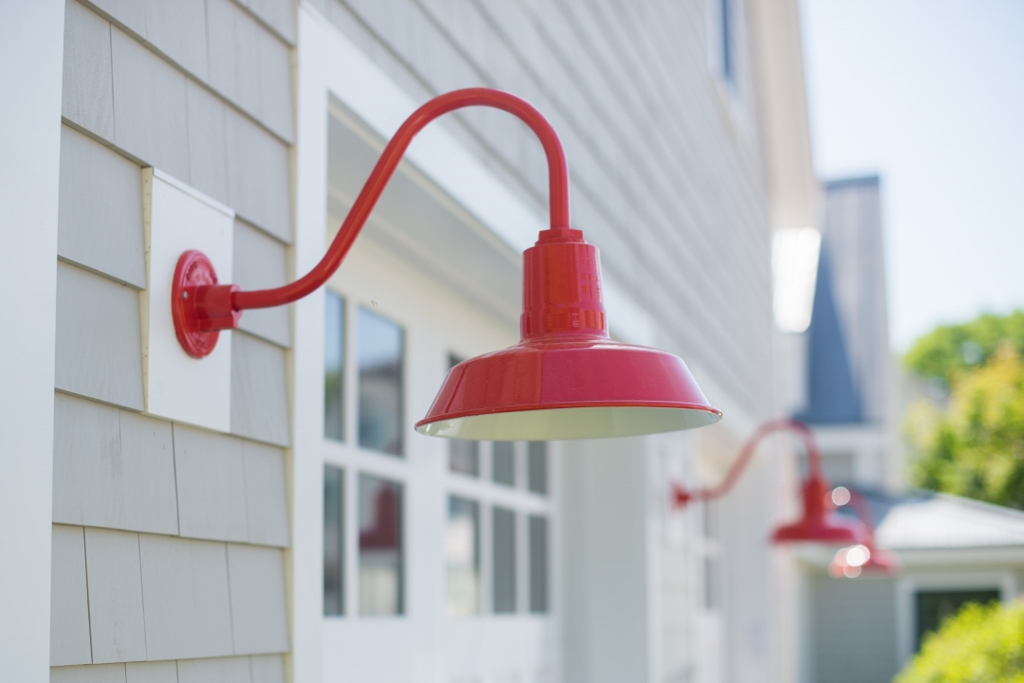 Traditional Barn Light Shows Off Playful Color in New Build
Classic gooseneck barn lights typically cry out for traditional finish colors. Black, galvanized, and even vintage green are often the perfect choice. But here at Barn Light, the place where vintage and modern collide, we know that, every now and then, a space demands a splash of something bolder.
When we introduced four new finish colors earlier this year, we heard from many who fell in love with the new hues of Watermelon, Mint, Sunflower, and Chartreuse. When we spotted this photo on Instagram, we had to follow up!
Sara Simpson and Ann-Marie Waterhouse, co-owners of Alice+Bird Interiors, were tapped for a new build in York Beach, Maine, where the pair assisted the homeowners with furnishings, fixtures, and finishes. As they searched for exterior lighting, their wish list included quality, American-made products with plenty of style and a broad selection of color choices.
"The architecture of this residence is a lovely mixture of classic New England, but with just the right amount of contemporary flair," says Sara. "You see barn style lighting in our neck of the woods a lot, so we thought it was a perfect fit."
Sara and Ann-Marie chose the Original™ Warehouse Gooseneck Light to highlight the home's exterior. They customized the lights with 12″ shades, G15 gooseneck arms, and a lively Watermelon finish color.
"We took advantage of ordering a color sample from Barn Light which came in very handy when making the final decision," Anne-Marie explains. "This was a client request and we agreed that the finish complements the home well. It sings against the gray shingled exterior!"
The Original™ is easily our most popular shade and has deep roots in early 20th century lighting styles. Once used in factories and other commercial spaces, these warehouse shades most often sported a galvanized finish. Today, Barn Light offers 24 powder coat finish colors, five natural finishes, and 11 porcelain enamel finish colors.
Classic styles. Rugged construction. Dozens of colors. Truly where vintage and modern collide!
Photos by Brea McDonald Photography