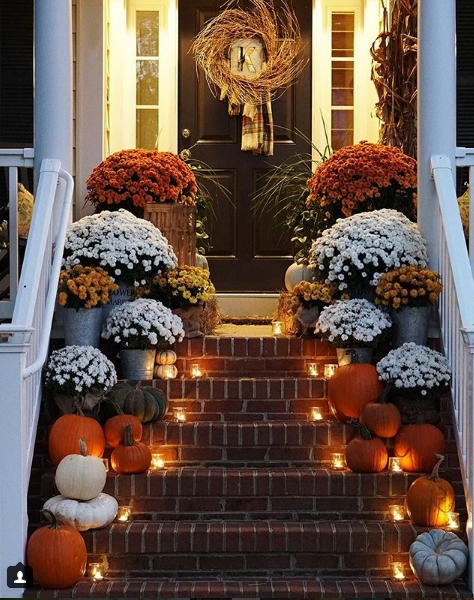 How To | Welcome the Season With Color, Texture & Lighting
Our Instagram feed has been overflowing of late and everyone seems to be focusing on the front porch. Is there a friendly competition going on for Best Fall Porch Décor?!
Prepping your front porch for the holidays is fun and can show off your personality to family, friends, and passersby. And while pumpkins, wreaths, and pretty flowers can add color and texture to a porch, don't forget that thoughtful exterior lighting can add the finishing touch to the overall scene.
Our friend Brooke, @nestingwithgrace, created this beautiful entryway to her home. The variety of pumpkins, the splash of brass, and the unexpected scarf on the doorknocker all add layers of warmth and character. Brooke also used touches of brass inside her home with a Downtown Minimalist Chandelier which you can read about here.
What a joy to linger on this extra deep porch and enjoy the monochrome pumpkins accented by purple mums. The homeowners @ourfeatheredfarmhouse chose the Original™ Stem Mount Pendant to highlight their enviable front porch.
We love the texture on this front porch found in @e.lynndesign's Instagram feed. From the flocked trees to the wheat grass wreath, the feeling of fall, with a hint of the holidays to come, is clear. Even the stack of wood adds a delightful rustic touch! And we can't help but point out that the barn wall sconces will offer plenty of downward directed light at night bringing illumination to the porch without adding a lot of glare.
This pic makes us want to curl up in one of those wicker chairs and just enjoy the view beneath those beefy, 16″ Wilcox Vented Gooseneck Lights. Liz Marie, from @lizmariegalvan, hosted Better Homes & Gardens for a photo shoot of her gorgeous space earlier this month!
And just because the sun goes down doesn't mean your decor disappears in the dark. In addition to wall sconces, ceiling pendants, and gooseneck lights, consider adding accent lighting. We think this front porch from @jenn_k_design is gorgeous both day and night! The simple addition of glass-enclosed votives offers an inviting glow against the brick stairs.
Jenna, from @parish.oaks.farm, collected iconic pieces of life on the farm to create this charming porch. From the old fashioned milk jug and bale of hay to the rubber boots that no doubt get a workout, this front porch tells a story of the family inside. What story is your front porch conveying this season?