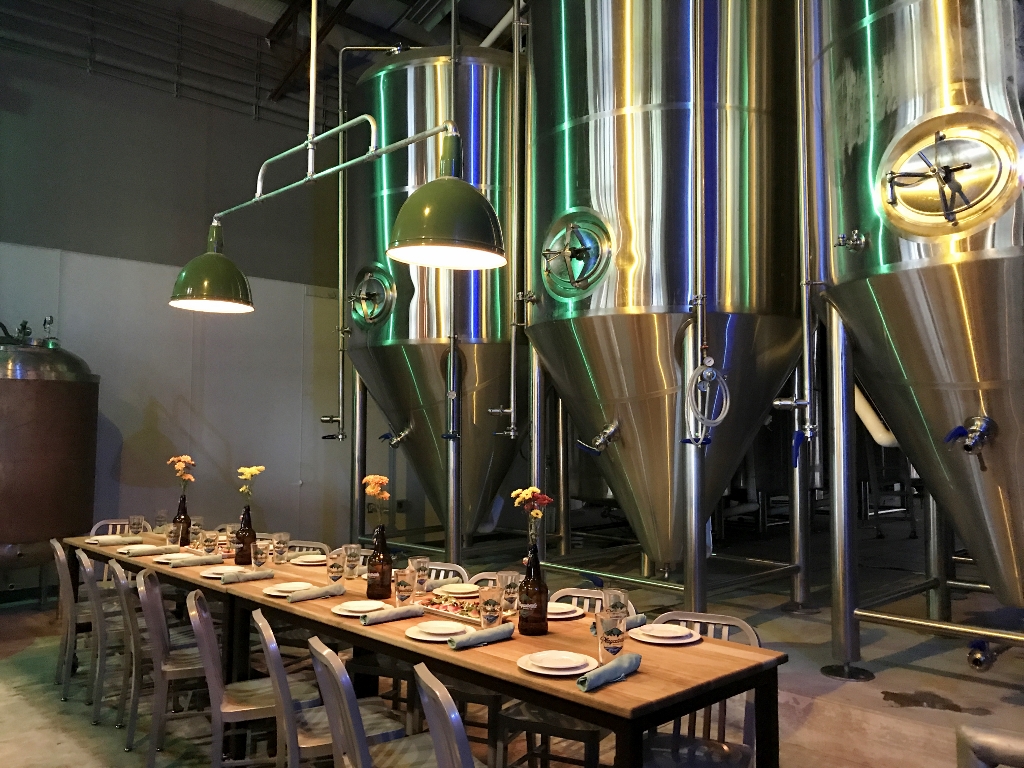 Handcrafted Brewer's Table A Focal Point in Local Brewery
One of our neighbors here on the Space Coast, Playalinda Brewing Company, was in search of a custom piece of furniture for their newest location known as Brix Project. They envisioned a long table to be housed right in the thick of the brewery so patrons could have an up-close dining experience with the brewing process.
"The idea for the Brewer's Table came up as we were trying to identify a way to capture the essence of Brix Project and how it is such an integral part of Playalinda Brewing Company," says Laura Sasaninejad, marketing manager for Playalinda. "Why not allow our guests to be a part of the brewery by dining in it?"
The solution was to create a dining space within the brewing area so that guests could get an up-close look at where the brewing takes place while enjoying great beer, craft cocktails, and the unique brewpub menu. Two seven-foot tables serve as the centerpiece of the dining space seating up to 16 people.
"We wanted to reflect the modern, industrial, and repurposed feel that the taproom and beer garden embrace, so that was a huge inspiration in the look we were going for," Laura explains. Our talented craftsmen constructed the table tops from solid oak and finished them with tung oil. The steel base is powder coated in a copper vein with locking casters. The industrial lighting above the table are vintage shades from the personal collection of Barn Light Electric's owners.
"Having the tables on wheels enables us to move them freely around our working brewery while the butcher block tops create an elevated, industrial feel," Laura notes. "The thing we love most is that while the wood is gorgeous and the legs are sturdy, the tables feel comfortable. Guests can laugh, eat, drink, and build new memories which is what any dining table should do."
Thoughtful craftsmanship goes into every piece of furniture we create from Dining Room seating, Office furniture, and must-have pieces for the Kitchen to the Brewer's Table at Brix.
"We've had a great response from customers so far," Laura says. "Guests always want to go into the brewing area, so the Brewer's Table is the perfect place for a party or just a unique space to meet up with friends."
Photos courtesy of Playalinda Brix Project