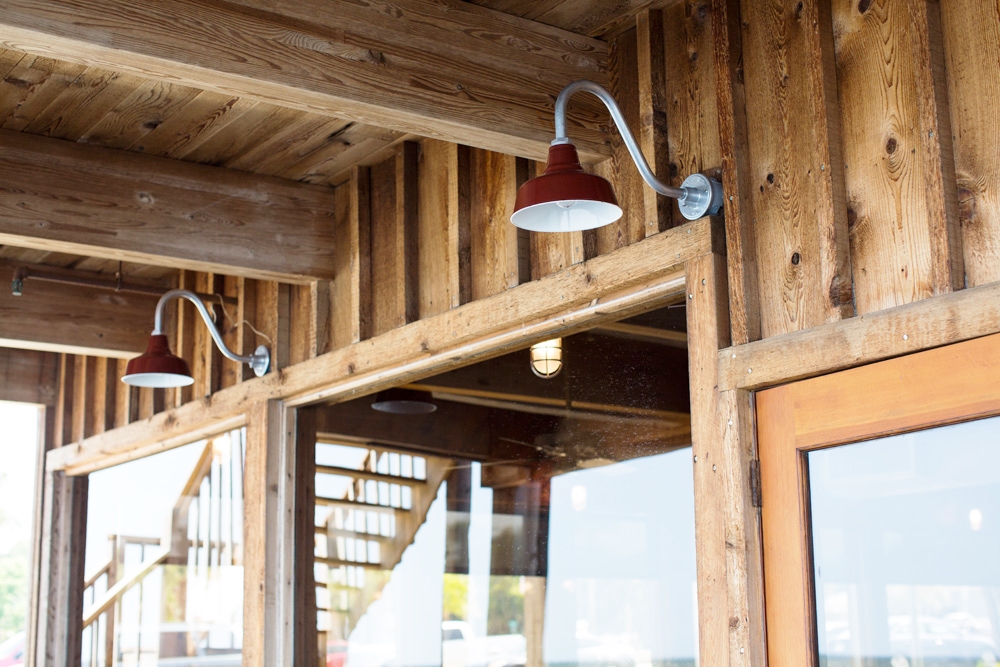 Rustic Lighting Lends Old-Florida Feel to New Restaurant
The words "location, location, location" may bring to mind a home perched on a mountaintop with a stunning view. Or a beer-and-brat stand right outside the gates of a university.
Location is everything, especially in commercial operations, and the recent opening of Shiloh's Steak and Seafood right here in our hometown of Titusville, Florida, bears witness to that.
Located on the shores of the scenic Indian River, the owners of Shiloh's recently remodeled the former restaurant with a focus on the idyllic view. Patrons enjoy not only wonderful fare, but also fresh breezes, boat traffic, and wildlife cruising by outside.
"We were going for an industrial, coastal-casual-meets-old-Florida feel," says Marie Fitzwater who works in the front office of Shiloh's. Before the restoration began, the building was extremely dark and the owners wanted to brighten the place up with lighter woods and plenty of rustic lighting.
In the main dining area, the owners chose the Factory Overhead 6-Light Chandelier, a distinctive industrial fixture featuring a patchwork of stems with six atomic cast guard units. American made with a number of customizing options including finish color, mounting, guard, and glass options, this rugged factory light provides plenty of illumination to the tables below.
They also installed several Sputnik 4-Light Chandeliers which have a sturdy stem mounting and four vapor proof cast guard units. This industrial pendant has plenty of retro-modern flavor and is rugged enough for commercial lighting needs. Both the Sputnik and the Factory Overhead were customized with a Galvanized finish, standard cast guard, and frosted glass.
"We liked the combination of the industrial look, the vintage feel, and the brightness of the finish on these fixtures," Marie notes.
Lining the walls and highlighting the four-top tables are Industrial Guard Sconces customized with a Galvanized finish, standard cast guard, and frosted glass. Inspired by mid-century ship wall lights, these rustic wall sconces are the perfect accent as you gaze out to the river.
A double version of this popular wall sconce hangs over the doorway. The Atomic Topless Double Industrial Guard Sconce makes a bold statement and offers plenty of light through its double jelly jar glasses.
The owners also chose a classic Original™ Warehouse Gooseneck Light for some of the interior walls. These gooseneck barn lights were customized with the matching Galvanized finish and installed on a G15 gooseneck arm to give almost 17″ of projection from the wall surface.
Two Austin Wall Sconces complement the abundance of brickwork and add to the rustic style of the space. These barn wall sconces are a compact 10″ making them the perfect wall-hugging fixture for hallways, bathrooms, and as accent lights in commercial spaces.
"Customers have said the restaurant is crisp and clean with the lighter tile flooring and less décor than before, but every piece is eye-catching and accented with light," Marie says. "We love the design and how it completes the era-specific look we wanted while brightening the space overall."