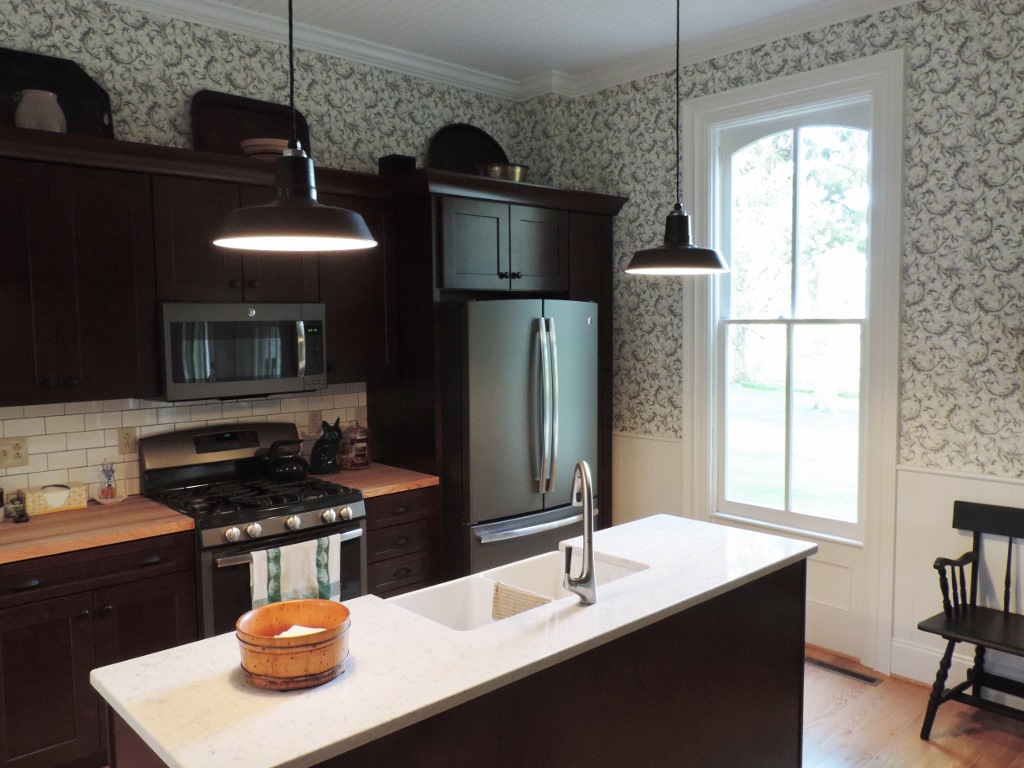 Barn Light Original Pendants for Historic Farmhouse
With their only daughter married and living on her own, Bob and Susan pondered the question many empty nesters face. The couple have lived in the family farmhouse, affectionately known as Earle Manor, in central New York state for all of their 29 married years. And Bob has lived in the house since he was born — as his own father did. After several months of consideration, they decided to embrace the family history and stay. But a kitchen remodel was in order.
"After looking at smaller properties, we felt compelled to stay here," Susan says. "We took down some walls and added about 250 square feet to the kitchen." There is appreciable history in the home with years of accumulated memories and belongings. Susan wanted to keep the old house true to the period — it was built in 1865 and formerly a dairy farm.
"We were determined to show respect for history with the luxuries of modern appliances," she explains. "The closet with the barn door accentuates our old hanging lamp, while the black warehouse pendants accentuate the quartz and butcher block islands."
Susan and Bob went with a classic light for their new kitchen space — the Original™ Warehouse Pendant Light. This American-made ceiling pendant features a design with roots going back to the RLM Standard Dome produced in the early 1900s. Hand spun from commercial-grade materials, this barn light is one of our most popular pendants especially for kitchen spaces. The couple customized their new lighting with a 14″ shade, a black finish, and a black cotton cord for even more vintage appeal.
"We had an open house recently and the kitchen was met with lots of oohs and aahs," Susan notes. "Everyone thought the warehouse pendants were the perfect choice to honor this historic home."
Susan found Barn Light Electric when she was in the planning stages and spent many hours browsing decorating magazines with a cup of coffee in hand. The Barn Light Electric print ads caught her attention and she placed her order online.
"We put the lights on dimmers and they look awesome at night," she says. "They are absolutely wonderful."
Photos courtesy of the homeowner