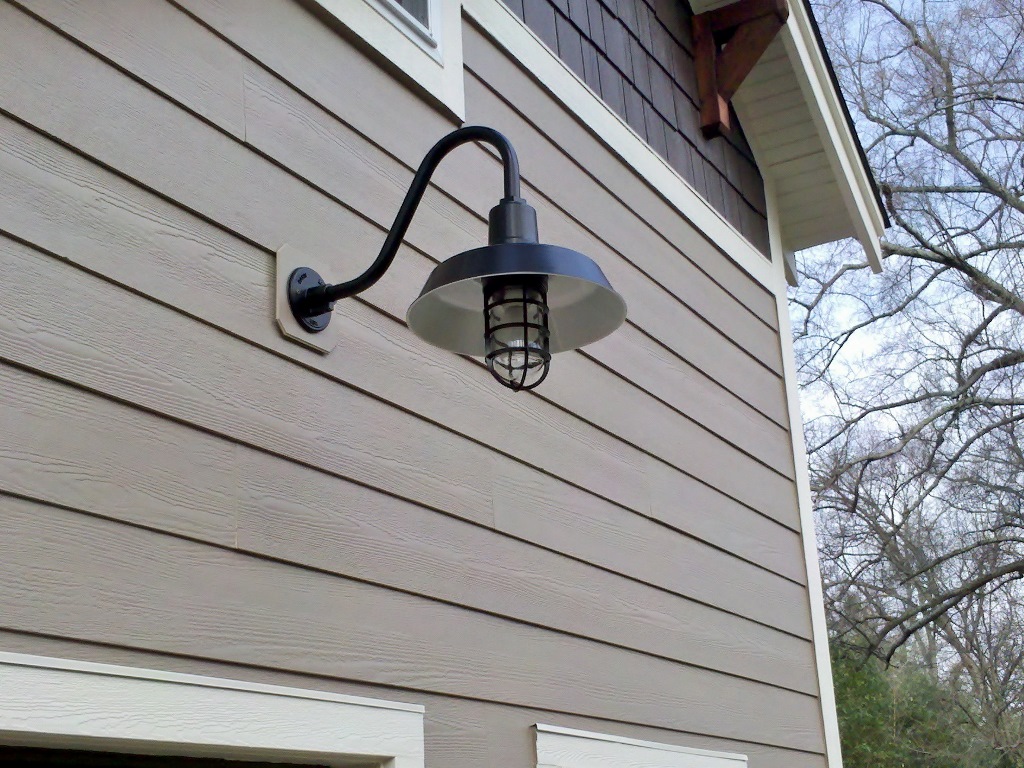 Rustic Wall Sconces, Gooseneck Lights Add Historic Feel to Garage
Additions can be tricky. These necessary spaces we add to our homes when we have a baby, bring in an aging parent, or need dedicated room for a hobby. It takes effort to make the addition look like part of the original and not stick out like a sore thumb.
In Greenville, South Carolina, Paul wanted to add a garage to his property but wanted the new building to complement his 1920s-era home.
"I wanted a historical look," Paul says. While the garage is a new build, Paul added some historic, Craftsmen-style detailing to the building such as overhanging eaves, decorative braces under the gables, and a mix of materials used on the façade. And, for the final touch, he turned to Barn Light Electric for some period authentic lighting.
Paul chose two Industrial Guard Sconces in a Black finish to flank the side doors. These rustic wall sconces were customized with a heavy-duty cast guard and ribbed glass. Featuring a mini flared shade, this industrial wall light comes in more than two dozen powder coat finish colors and several paint-to-match porcelain shades. This fixture can also be customized with a dawn-to-dusk photocell that will automatically turn the light on at dusk and off at dawn.
"The website was easy to navigate and helpful in making a selection," Paul says, "but with so many options, it was difficult to choose."
On the other side of the building, Paul decided on the classic Original™ Warehouse Gooseneck Light also in Black finish. He customized the 14″ shade with a G15 gooseneck arm also finished in Black to provide about 16″ of projection from the wall surface. This allows the shade to focus the light downward over the garage doors where it's needed most. This RLM-inspired warehouse shade is customized with a Black cast guard and clear glass.
"The gooseneck style is what you typically see driving through the country here in South Carolina," Paul notes, "and both lights are classic in my mind with unique style." These American-made rustic wall sconces and warehouse shades give Paul's new building the historic touch he was looking for.
"I like how the barn light scallops the front of the building," he says. "I wanted to provide good lighting, but not with the same style you see everywhere."
Photos courtesy of the homeowner