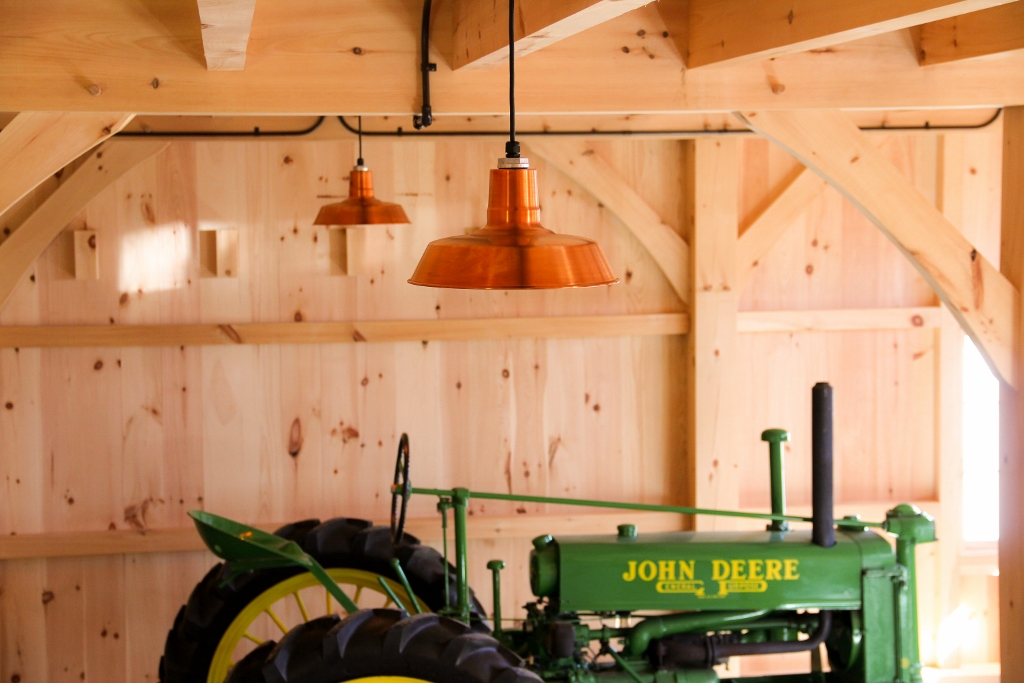 Copper Pendants for Post-and-Beam Carriage Barn
A family business that spans three generations must be doing something right. The folks at The Barn Yard & Great Country Garages have been crafting post-and-beam barns, custom garages, pool houses, and sheds for more than 30 years now. The group of designers, engineers, and builders offer one-stop shopping with a focus on quality materials and commitment to customer satisfaction.
They're singing our song!
One of their recent builds, located in Ellington, Connecticut, is a 22′ x 32′ post-and-beam carriage barn. When searching for lighting for the new model, the designers turned to Barn Light Electric.
"We are all about barns and rustic appeal," says Chris Skinner, vice president of the company. "We want lights that are high quality, well made, and complement the barn."
The design team selected the Original™ Warehoue Pendant Light to highlight the interior spaces of the barn. Handspun from solid copper, these lights feature 14″ shades crafted in the style of traditional RLM warehouse shades found on many barns during the early 20th century. The Raw Copper finish adds an updated and elegant touch to this classic barn light.
"In post-and-beam construction, there are spaces naturally created by the posts," Skinner explains. "The pendants light each quadrant perfectly and fit the look we wanted to achieve."
The team also chose nostalgic Edison Style Light Bulbs to provide a soft glow to the space. The squirrel cage filament in these 1910 Era 60 watt bulbs lends a throwback look to the pendants.
This particular Carriage Barn features authentic timber frame joinery throughout with every timber meticulously prepped for precise and tight-fitting connections. High-quality, American-made lighting complements the design of the structure and completes the whole package the Barn Yard team strives to deliver.
"Our barns are based on 1800s designs and these lights fit the aesthetic perfectly," Skinner says. "Our barns are unique and we feel these lights best fit our style."
Photos courtesy of The Barn Yard & Great Country Garages