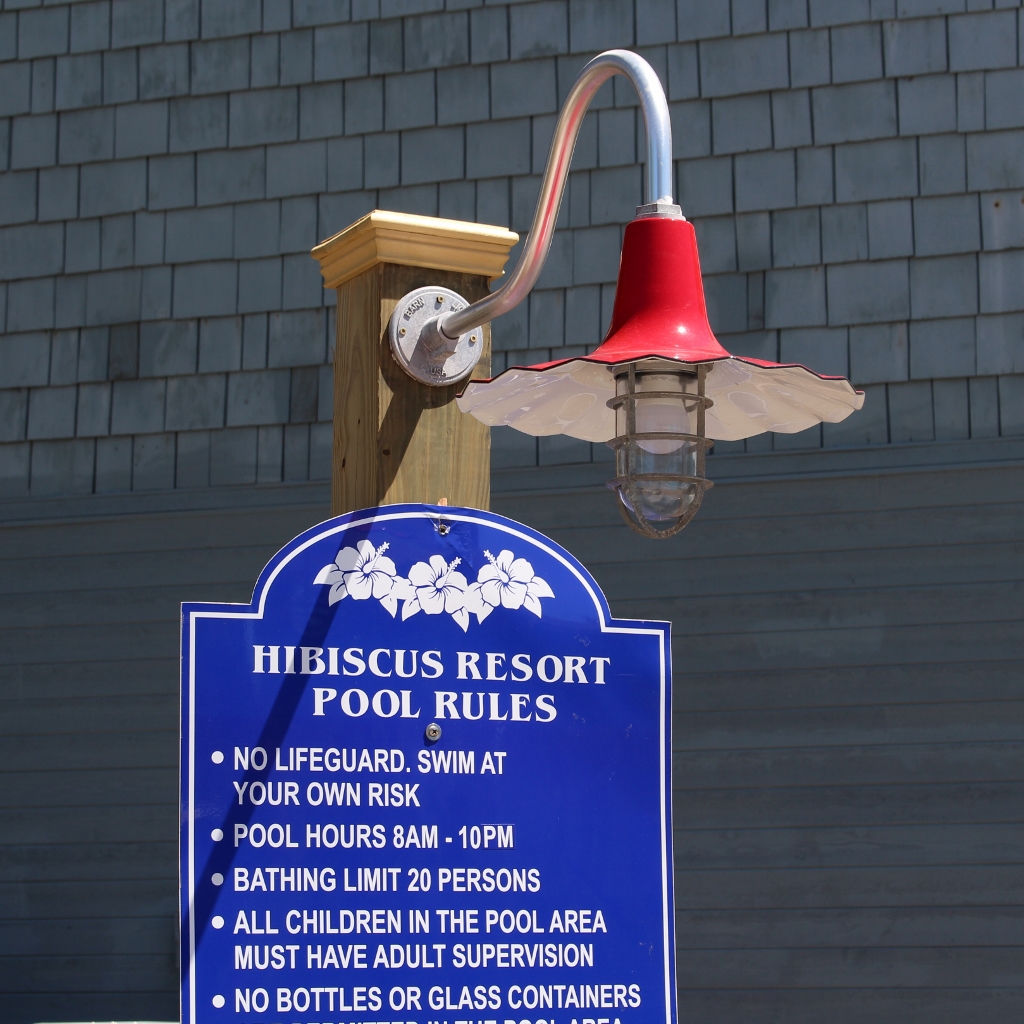 Porcelain Enamel Lights Stand Up to Florida Sunshine
What's the best thing about porcelain enamel lighting? Some say it's the rugged steel they're made from. Others suggest it's the deep rich finish. And still others say they enjoy the low maintenance qualities of porcelain enamel.
If you ask the folks at Patton Hospitality Management in St. Augustine, Florida, the best thing about porcelain enamel lighting is that it never fades even in our abundant Florida sunshine.
The Hibiscus Resort, located on State Road AIA, offers a lush tropical setting and fabulous ocean view. Built in 1985, six buildings house 55 condos which are rented daily, weekly and monthly.
"The original lighting was red and looked like a hibiscus flower," says Gail Gray, general manager for the property management firm. "But, as you can see, the lights faded in the sun and we have been replacing them."
Gail chose the Seaside Gooseneck Light to place throughout the property. The gooseneck lights are affixed to posts and to outbuildings to provide lighting at night on the walkways and poolside.
"The Seaside is very similar to the original lights, and we chose the red finish color for the hibiscus flowers located throughout our property," she notes. "The barn style lights also reflect the rustic wood buildings on the property."
Gail customizes each porcelain gooseneck light with a 16″ shade, Cherry Red finish, and a G22 gooseneck arm finished in Brushed Aluminum. She further customizes these American-made lights with a Galvanized cast guard and clear glass for maximum illumination.
Handcrafted just down the road in our manufacturing facility in Titusville, each of these gooseneck barn lights is hand spun from commercial grade steel. Multiple layers of porcelain enamel glass, in that gorgeous Cherry Red, are also hand applied. The shades are then baked in a special porcelain oven at 1,500 degrees to seal the glass to the shade. This creates the signature high-gloss finish that looks so beautiful against the blue sky!
"We felt that the durability of the lights and the materials they're made from would stand up well at the beach," Gail says. "All of the owners love the red color and the look of the lights."
The lights offer a bright pop of red against the green palm trees and other vegetation on the property and provide plenty of down lighting onto the walkways below.
"We are very happy with the lights," Gail says, "and Barn Light Electric is a great company to work with."