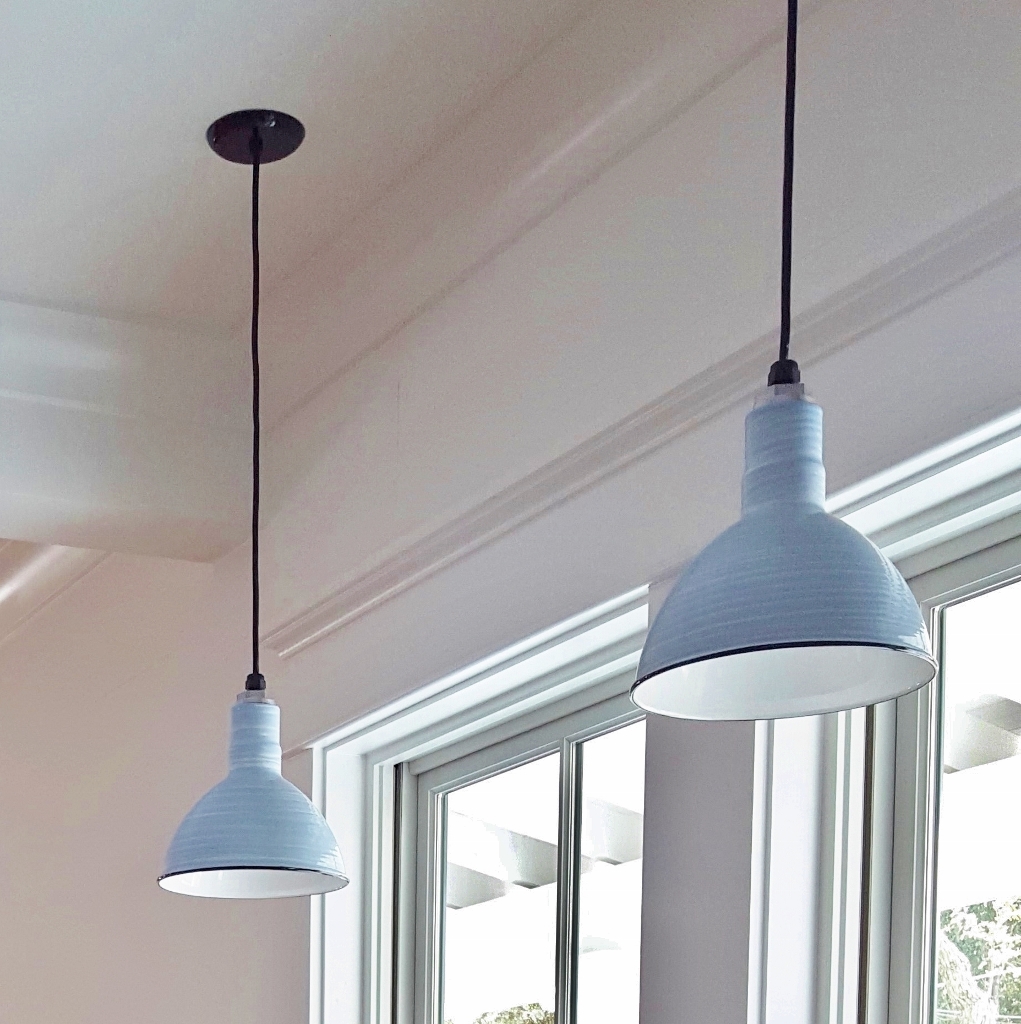 American-Made Barn Lights Bring Timeless Look to Coastal Home
When Steve packed up and moved from New Jersey to South Carolina two years ago, he felt compelled to find the perfect spot for a new home. Sullivan's Island, a narrow spit of land just outside of Charleston, is where Steve created his dream home full of southern charm, period details, and authentic barn lighting.
"We live on the edge of an historic district with many period homes," Steve says. "We wanted to build a residence that looked like it was constructed in the 1930s and complemented the classic architecture that defines the surrounding neighborhood."
With a nod to the Arts & Crafts style, Steve's light-filled home features white siding, an inviting gray wraparound porch, and forest green window trim. Moving through the construction process, Steve notes that buying American-made products was critical.
"We did everything we could to buy products made in America, from doors and windows to faucets and light fixtures," Steve explains. "That's where Barn Light Electric entered the picture. Not only are the products manufactured by Americans here in the United States, but they are well made, stylish, and reasonably priced."
Outside over the three-car garage, Steve chose the Union Gooseneck Light. These hand-spun barn lights feature 14″ shades, a Dark Green powder coat finish color, and G15 gooseneck arms.
"These gooseneck lights are the perfect color to highlight the dark green doors and windows of the home," he says.
Inside, Steve opted for classic porcelain enamel lighting for his kitchen which features a soothing crisp, blue-and-white color palette.
"These blue lights are the highlight of our kitchen," Steve notes. "We even painted the center island the same color as the lights." Three Seaside Pendants are the focal point over the island. These 12″ wavy shades are finished in Delphite Blue and are mounted with a standard black cord. The canopies are finished in Delphite Blue to add a pop of color to the white ceiling.
Over the sink, Steve opted for the eye-catching Pollock No. 13 Pendant. This porcelain pendant is handcrafted from commercial grade steel then finished with multiple layers of porcelain enamel glass. Because of the hands-on application of the finish colors, no two fixtures will be exactly alike.
"The Pollock fixtures have an industrial feel, but not too extreme," Steve says. "The finish is lovely." Because the radial wave pendants and the Pollocks are in the same room, he wanted them to be similar.
"That being said, we didn't want too many of the exact same design," he adds. "We (and you) nailed it. They look killer."
Once the house was completed, Steve was thrilled that it looks like it's been there for almost 100 years, just like the surrounding homes that are indeed that old.
"The lights look amazing both inside and out. They complement the house without overwhelming it," Steve says. "I love telling people they were made to order in Florida."
Photos courtesy of the homeowner